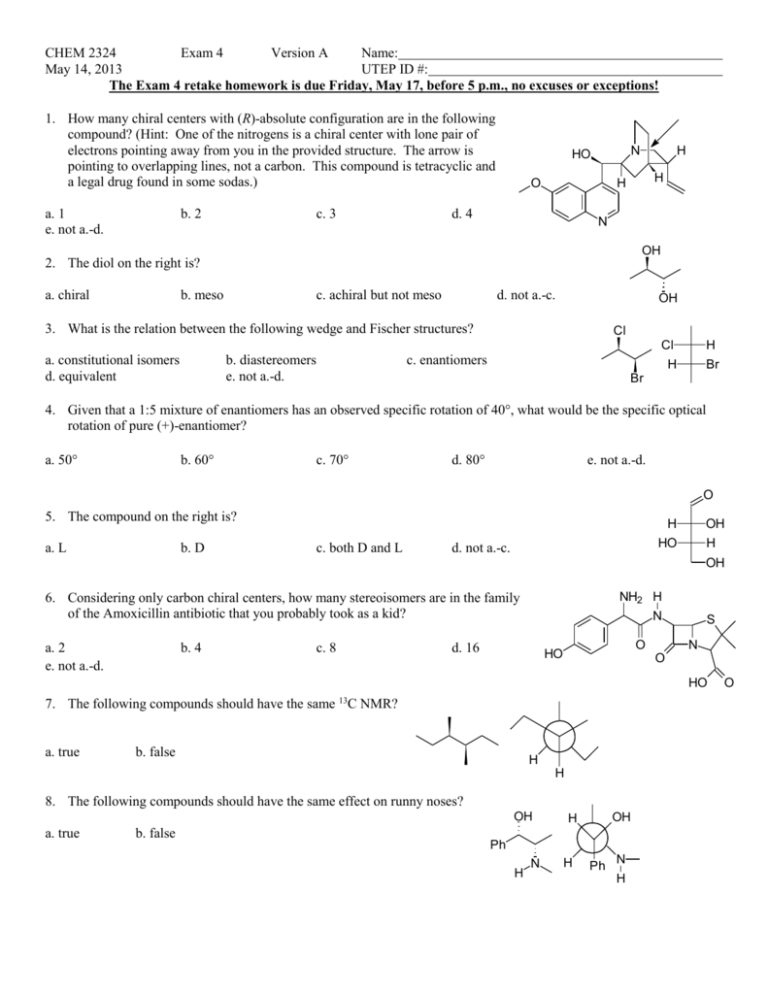 CHEM 2324
Exam 4
Version A
Name:
May 14, 2013
UTEP ID #:
The Exam 4 retake homework is due Friday, May 17, before 5 p.m., no excuses or exceptions!
1. How many chiral centers with (R)-absolute configuration are in the following
compound? (Hint: One of the nitrogens is a chiral center with lone pair of
electrons pointing away from you in the provided structure. The arrow is
pointing to overlapping lines, not a carbon. This compound is tetracyclic and
a legal drug found in some sodas.)
a. 1
e. not a.-d.
b. 2
c. 3
N
HO
O
H
H
H
d. 4
N
OH
2. The diol on the right is?
a. chiral
b. meso
c. achiral but not meso
d. not a.-c.
OH
3. What is the relation between the following wedge and Fischer structures?
a. constitutional isomers
d. equivalent
b. diastereomers
e. not a.-d.
Cl
Cl
H
c. enantiomers
H
Br
Br
4. Given that a 1:5 mixture of enantiomers has an observed specific rotation of 40°, what would be the specific optical
rotation of pure (+)-enantiomer?
a. 50°
b. 60°
c. 70°
d. 80°
e. not a.-d.
O
5. The compound on the right is?
a. L
b. D
c. both D and L
H
HO
d. not a.-c.
NH2 H
6. Considering only carbon chiral centers, how many stereoisomers are in the family
of the Amoxicillin antibiotic that you probably took as a kid?
a. 2
e. not a.-d.
b. 4
c. 8
OH
H
OH
N
d. 16
O
HO
S
N
O
HO
7. The following compounds should have the same 13C NMR?
a. true
b. false
H
H
8. The following compounds should have the same effect on runny noses?
OH
a. true
b. false
OH
H
Ph
H
N
H
Ph
N
H
O
9.-13. Match each pair of hydrogens on the left (referring to the labeled hydrogens in the 3,4-dimethylhexane isomer
structures to the far right) to a topicity relationship. Answers
HH H
HH H
may be repeated.
H1
9.
10.
11.
12.
13.
H1 and H2
H3 and H4
H5 and H6
H7 and H8
H5 and H8
a. constitutional heterotopic
b. diastereotopic
c. enantiotopic
d. equivalent
e. not a.-d.
H4 H
H
H
H3 H
H
H
H5
H2
H
H
HHH
H8 H
H7 H
H
H6
H
HHH
14.-18. Match each hexane isomer to the number of 13C NMR signals that it should have. Answers may be repeated.
14.
15.
16.
17.
18.
a. 2
b. 3
c. 4
d. 5.
e. not a.-d.
19.-23. Match the each 1H NMR listings to a structure on the right.
19. 3.189 (3H, s), 3.171 (2H, d) , 1.828 (1H, non), 0.912 (6H, d)
a.
20. 3.296 (2H, t), 3.183 (3H, s), 1.644 (2H, quin), 1.391 (2H, sex), 0.876 (3H, t)
b.
21. 3.367 (2H, q), 3.334 (2H, t), 1.675 (2H, sex), 1.202 (3H, t), 0.929 (3H, t)
c.
O
O
O
O
22. 3.575 (1H, sex), 3.215 (3H, s), 1.558 (2H, quin), 1.123 (3H, d), 0.933 (3H, t)
d.
23. 3.703 (1H, sep), 3.414 (2H, q), 1.222 (3H, t), 1.123 (6H, d)
e.
O
24. Match the following infrared spectrum to a compound below. An infrared table is attached.
OH
a.
b.
O
c.
O
d.
O
e. not a.-d.