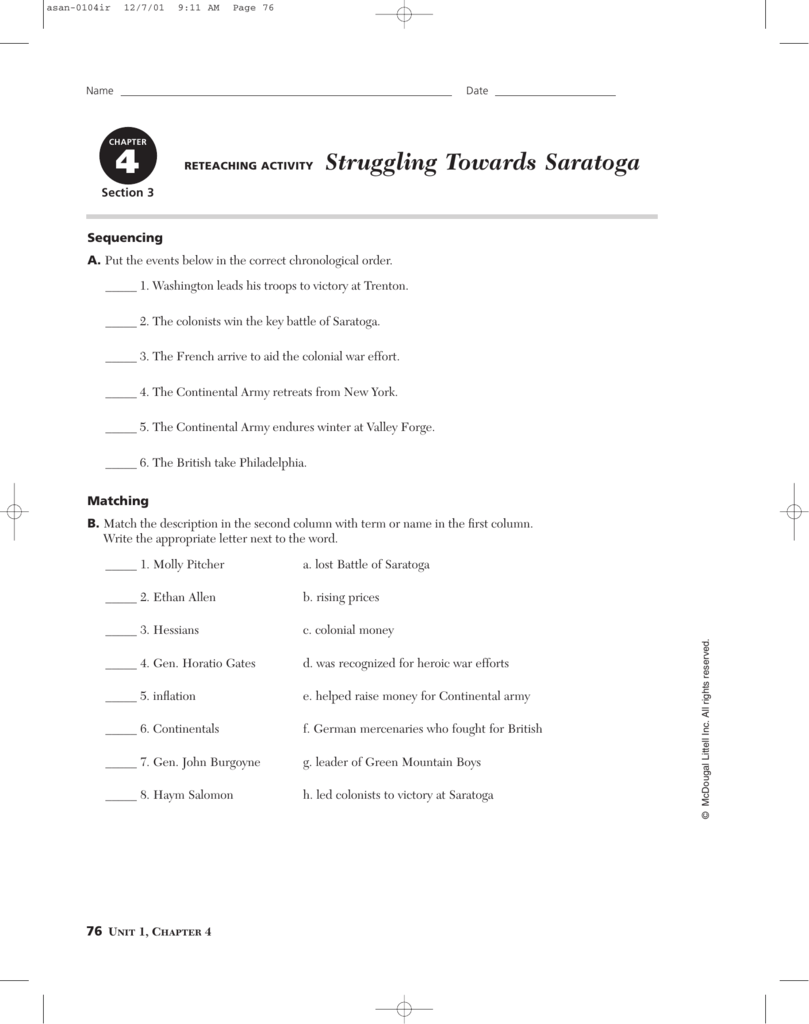 asan-0104ir
12/7/01
9:11 AM
Page 76
Name
Date
CHAPTER
4
RETEACHING ACTIVITY
Struggling Towards Saratoga
Section 3
Sequencing
A. Put the events below in the correct chronological order.
_____ 1. Washington leads his troops to victory at Trenton.
_____ 2. The colonists win the key battle of Saratoga.
_____ 3. The French arrive to aid the colonial war effort.
_____ 4. The Continental Army retreats from New York.
_____ 5. The Continental Army endures winter at Valley Forge.
_____ 6. The British take Philadelphia.
Matching
_____ 1. Molly Pitcher
a. lost Battle of Saratoga
_____ 2. Ethan Allen
b. rising prices
_____ 3. Hessians
c. colonial money
_____ 4. Gen. Horatio Gates
d. was recognized for heroic war efforts
_____ 5. inflation
e. helped raise money for Continental army
_____ 6. Continentals
f. German mercenaries who fought for British
_____ 7. Gen. John Burgoyne
g. leader of Green Mountain Boys
_____ 8. Haym Salomon
h. led colonists to victory at Saratoga
76 Unit 1, Chapter 4
© McDougal Littell Inc. All rights reserved.
B. Match the description in the second column with term or name in the first column.
Write the appropriate letter next to the word.