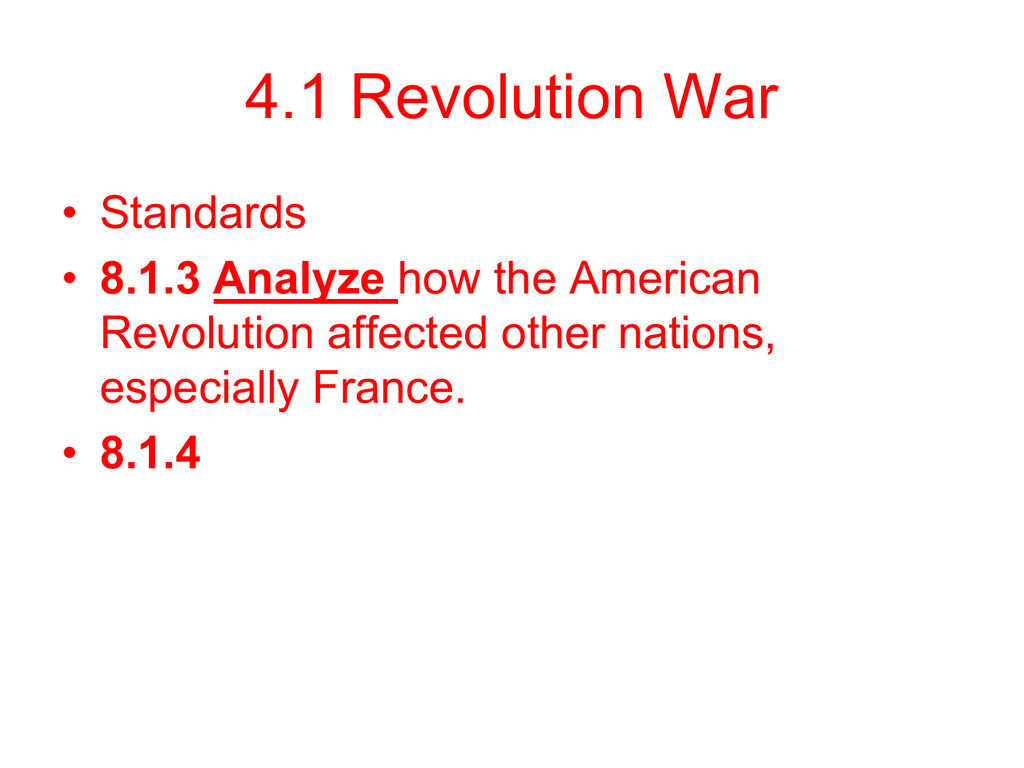 4.1 Revolution War
• Standards
• 8.1.3 Analyze how the American
Revolution affected other nations,
especially France.
• 8.1.4
Essential Questions
1. How important were foreign alliances to
the American victory in the Revolutionary
War?
2. In which ways did the American
Revolution influence other nations?
3. How is a democracy different from a
republic?
Ch 4.3 Struggling Toward
Saratoga
MAIN IDEA
After a series of setbacks, American
forces win at Saratoga and survive.
WHY IT MATTERS NOW
All types of Americans join the fight
for common ideals and freedoms.
Defeat in New York
• 32,000 British troops
overrun the city late
summer 1776.
• 10,000 German
mercenaries.
-Hessians.
• Ill-trained rebels
retreat to
Pennsylvania.
Battle of Trenton
• Christmas 1776,
Washington
crosses Delaware
River into New
Jersey.
• Surprised Hessian
garrison, wins.
• Eight days later
wins Battle of
Princeton.
Fight for Philadelphia, 1777
• Gen. William
Howe beats
Washington at
Brandywine, PA.
-Takes U.S.
capital of
Philadelphia.
-Continental
Congress flees.
Victory at Saratoga
• Gen. John Burgoyne leads British
and allies south from Canada.
• Keeps losing to rebel militia.
• Surrounded at Saratoga
-surrenders to Gen. Gates.
Early French Alliances
• Since 1776, been
sending weapons.
• Recognize
American
independence and
sign treaty, Feb.
1778.
• No peace until
Britain recognizes
U.S.
Winter at Valley Forge
• Continental Army winter camp (17771778).
• 20% died of cold and hunger.
Financing the War
• Sells Bonds to investor and
foreign Governments
• Prints paper money, cause
inflation (rising prices).
• Smuggle through naval blockade.
• Profiteering- sell scarce goods
for profit.
Civilians at War
• Women
-manage homes and businesses.
-follow troops; wash, cook, mend, and
fight.
• African-Americans
-escape to cities or frontier.
-5,000 serve in Continental Army
• Native Americans
-Most stay out of conflict.