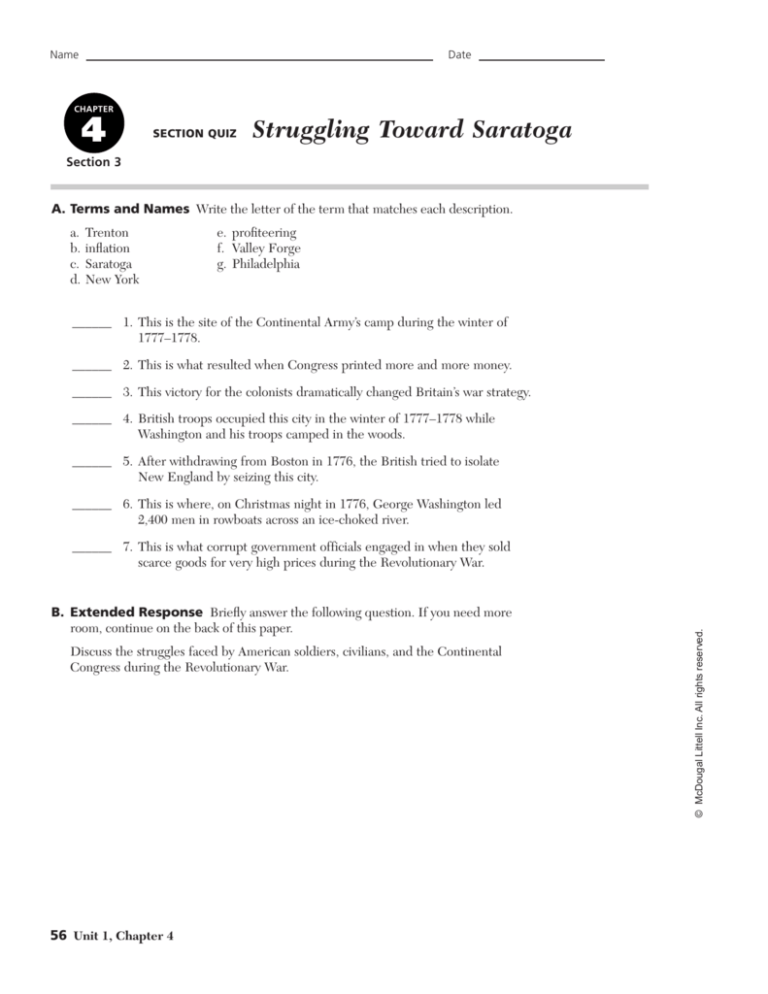 Name
Date
CHAPTER
4
SECTION QUIZ
Struggling Toward Saratoga
Section 3
A. Terms and Names Write the letter of the term that matches each description.
a.
b.
c.
d.
Trenton
inflation
Saratoga
New York
e. profiteering
f. Valley Forge
g. Philadelphia
______ 1. This is the site of the Continental Army's camp during the winter of
1777–1778.
______ 2. This is what resulted when Congress printed more and more money.
______ 3. This victory for the colonists dramatically changed Britain's war strategy.
______ 4. British troops occupied this city in the winter of 1777–1778 while
Washington and his troops camped in the woods.
______ 5. After withdrawing from Boston in 1776, the British tried to isolate
New England by seizing this city.
______ 6. This is where, on Christmas night in 1776, George Washington led
2,400 men in rowboats across an ice-choked river.
B. Extended Response Briefly answer the following question. If you need more
room, continue on the back of this paper.
Discuss the struggles faced by American soldiers, civilians, and the Continental
Congress during the Revolutionary War.
56 Unit 1, Chapter 4
© McDougal Littell Inc. All rights reserved.
______ 7. This is what corrupt government officials engaged in when they sold
scarce goods for very high prices during the Revolutionary War.