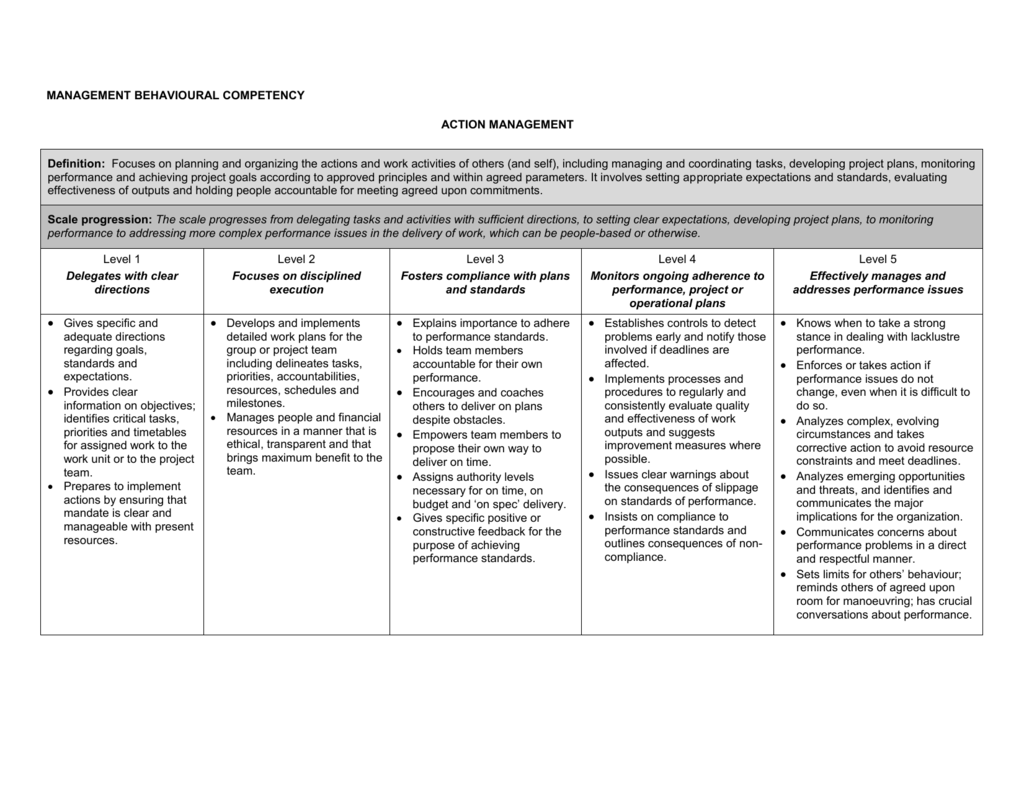 MANAGEMENT BEHAVIOURAL COMPETENCY
ACTION MANAGEMENT
Definition: Focuses on planning and organizing the actions and work activities of others (and self), including managing and coordinating tasks, developing project plans, monitoring
performance and achieving project goals according to approved principles and within agreed parameters. It involves setting appropriate expectations and standards, evaluating
effectiveness of outputs and holding people accountable for meeting agreed upon commitments.
Scale progression: The scale progresses from delegating tasks and activities with sufficient directions, to setting clear expectations, developing project plans, to monitoring
performance to addressing more complex performance issues in the delivery of work, which can be people-based or otherwise.
Level 1
Delegates with clear
directions
Level 2
Focuses on disciplined
execution
Level 3
Fosters compliance with plans
and standards
 Gives specific and
 Develops and implements
 Explains importance to adhere
adequate directions
regarding goals,
standards and
expectations.
 Provides clear
information on objectives;
identifies critical tasks,
priorities and timetables
for assigned work to the
work unit or to the project
team.
 Prepares to implement
actions by ensuring that
mandate is clear and
manageable with present
resources.
detailed work plans for the
group or project team
including delineates tasks,
priorities, accountabilities,
resources, schedules and
milestones.
 Manages people and financial
resources in a manner that is
ethical, transparent and that
brings maximum benefit to the
team.





to performance standards.
Holds team members
accountable for their own
performance.
Encourages and coaches
others to deliver on plans
despite obstacles.
Empowers team members to
propose their own way to
deliver on time.
Assigns authority levels
necessary for on time, on
budget and 'on spec' delivery.
Gives specific positive or
constructive feedback for the
purpose of achieving
performance standards.
Level 4
Monitors ongoing adherence to
performance, project or
operational plans
 Establishes controls to detect
problems early and notify those
involved if deadlines are
affected.
 Implements processes and
procedures to regularly and
consistently evaluate quality
and effectiveness of work
outputs and suggests
improvement measures where
possible.
 Issues clear warnings about
the consequences of slippage
on standards of performance.
 Insists on compliance to
performance standards and
outlines consequences of noncompliance.
Level 5
Effectively manages and
addresses performance issues
 Knows when to take a strong





stance in dealing with lacklustre
performance.
Enforces or takes action if
performance issues do not
change, even when it is difficult to
do so.
Analyzes complex, evolving
circumstances and takes
corrective action to avoid resource
constraints and meet deadlines.
Analyzes emerging opportunities
and threats, and identifies and
communicates the major
implications for the organization.
Communicates concerns about
performance problems in a direct
and respectful manner.
Sets limits for others' behaviour;
reminds others of agreed upon
room for manoeuvring; has crucial
conversations about performance.