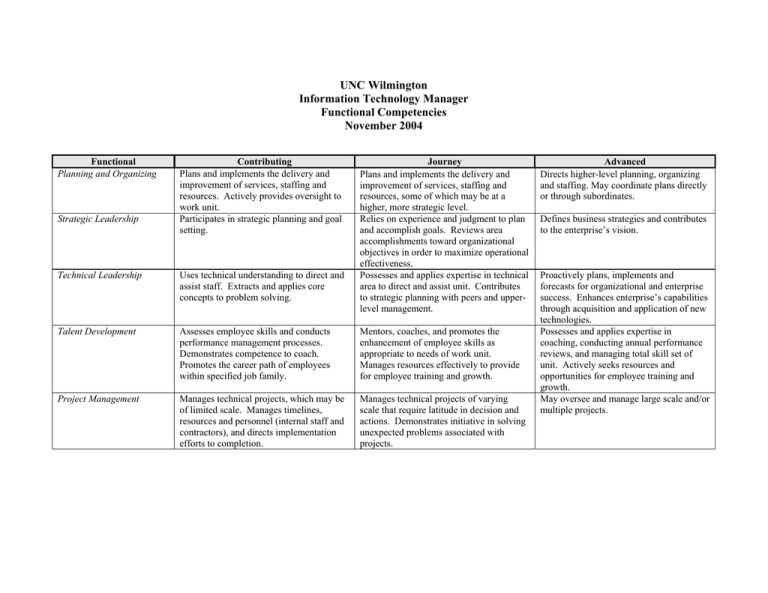 UNC Wilmington
Information Technology Manager
Functional Competencies
November 2004
Functional
Planning and Organizing
Strategic Leadership
Contributing
Plans and implements the delivery and
improvement of services, staffing and
resources. Actively provides oversight to
work unit.
Participates in strategic planning and goal
setting.
Journey
Plans and implements the delivery and
improvement of services, staffing and
resources, some of which may be at a
higher, more strategic level.
Relies on experience and judgment to plan
and accomplish goals. Reviews area
accomplishments toward organizational
objectives in order to maximize operational
effectiveness.
Possesses and applies expertise in technical
area to direct and assist unit. Contributes
to strategic planning with peers and upperlevel management.
Technical Leadership
Uses technical understanding to direct and
assist staff. Extracts and applies core
concepts to problem solving.
Talent Development
Assesses employee skills and conducts
performance management processes.
Demonstrates competence to coach.
Promotes the career path of employees
within specified job family.
Mentors, coaches, and promotes the
enhancement of employee skills as
appropriate to needs of work unit.
Manages resources effectively to provide
for employee training and growth.
Project Management
Manages technical projects, which may be
of limited scale. Manages timelines,
resources and personnel (internal staff and
contractors), and directs implementation
efforts to completion.
Manages technical projects of varying
scale that require latitude in decision and
actions. Demonstrates initiative in solving
unexpected problems associated with
projects.
Advanced
Directs higher-level planning, organizing
and staffing. May coordinate plans directly
or through subordinates.
Defines business strategies and contributes
to the enterprise's vision.
Proactively plans, implements and
forecasts for organizational and enterprise
success. Enhances enterprise's capabilities
through acquisition and application of new
technologies.
Possesses and applies expertise in
coaching, conducting annual performance
reviews, and managing total skill set of
unit. Actively seeks resources and
opportunities for employee training and
growth.
May oversee and manage large scale and/or
multiple projects.