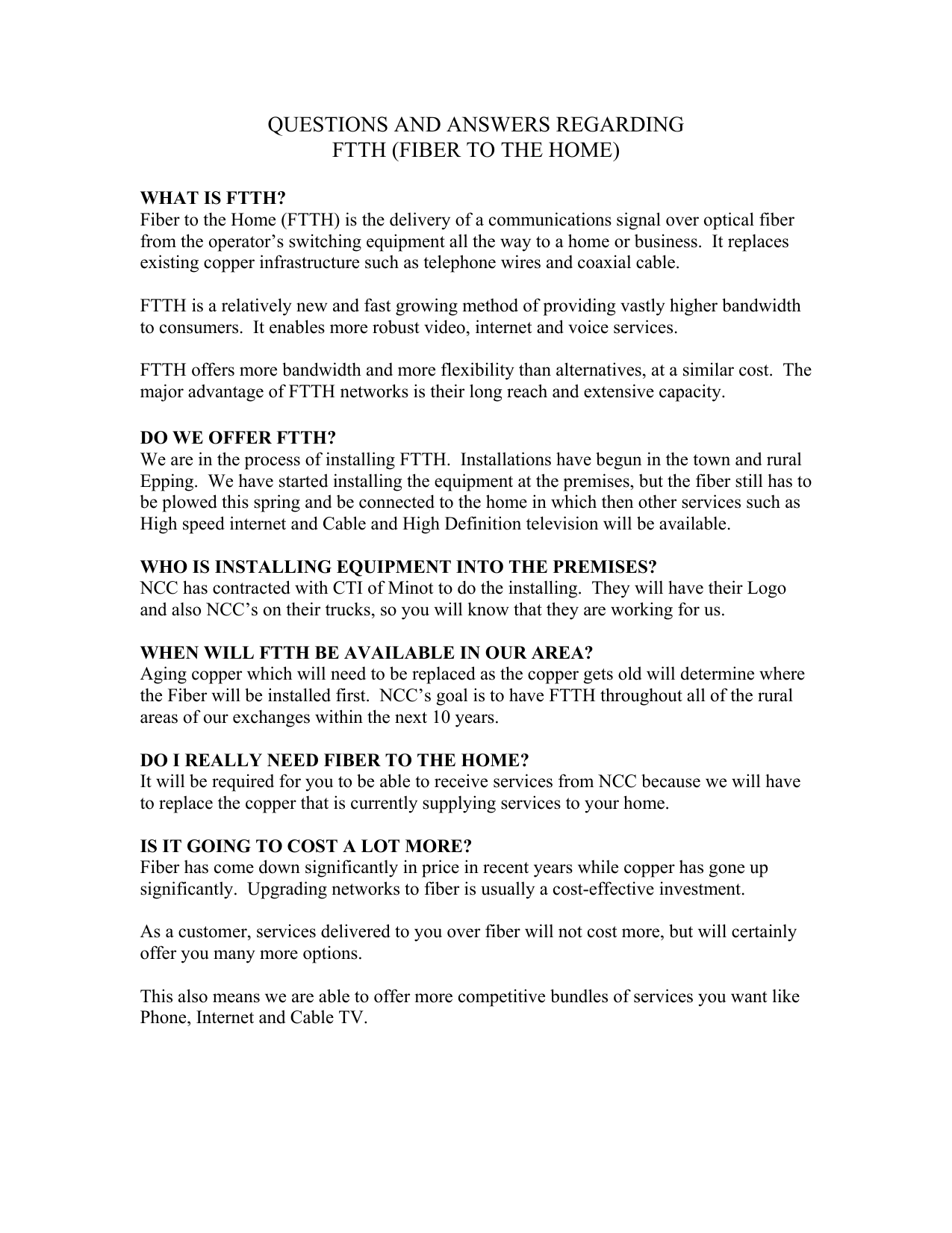 QUESTIONS AND ANSWERS REGARDING
FTTH (FIBER TO THE HOME)
WHAT IS FTTH?
Fiber to the Home (FTTH) is the delivery of a communications signal over optical fiber
from the operator's switching equipment all the way to a home or business. It replaces
existing copper infrastructure such as telephone wires and coaxial cable.
FTTH is a relatively new and fast growing method of providing vastly higher bandwidth
to consumers. It enables more robust video, internet and voice services.
FTTH offers more bandwidth and more flexibility than alternatives, at a similar cost. The
major advantage of FTTH networks is their long reach and extensive capacity.
DO WE OFFER FTTH?
We are in the process of installing FTTH. Installations have begun in the town and rural
Epping. We have started installing the equipment at the premises, but the fiber still has to
be plowed this spring and be connected to the home in which then other services such as
High speed internet and Cable and High Definition television will be available.
WHO IS INSTALLING EQUIPMENT INTO THE PREMISES?
NCC has contracted with CTI of Minot to do the installing. They will have their Logo
and also NCC's on their trucks, so you will know that they are working for us.
WHEN WILL FTTH BE AVAILABLE IN OUR AREA?
Aging copper which will need to be replaced as the copper gets old will determine where
the Fiber will be installed first. NCC's goal is to have FTTH throughout all of the rural
areas of our exchanges within the next 10 years.
DO I REALLY NEED FIBER TO THE HOME?
It will be required for you to be able to receive services from NCC because we will have
to replace the copper that is currently supplying services to your home.
IS IT GOING TO COST A LOT MORE?
Fiber has come down significantly in price in recent years while copper has gone up
significantly. Upgrading networks to fiber is usually a cost-effective investment.
As a customer, services delivered to you over fiber will not cost more, but will certainly
offer you many more options.
This also means we are able to offer more competitive bundles of services you want like
Phone, Internet and Cable TV.
WHY FTTH?
The FCC will require us at some point to discontinue offering Cable TV and Wireless
services off the MMDS system we currently use. FTTH will allow us to provide these
services and more to all of our subscribers.
WHAT KIND OF EQUIPMENT DO I HAVE TO HAVE AT MY HOME?
There are no modems like there are with cable or DSL. An ONT (small box) that's
located at your home converts the fiber signal so it can be distributed over the existing
wiring in your home.
You will be able to receive faster internet speeds, Cable and High Definition television.
WHAT IS THE DIFFERENCE BETWEEN DSL AND FIBER?
Fiber uses light instead of electricity to carry a signal. It can carry more information over
longer distances. DSL uses copper which can also carry high bandwidth, but only a few
hundred yards.
KEY DIFFENCES:
• CUSTOMER SATISFACTION
• RELIABILITY
o Fewer electronics=greater reliability
o Reduced lightening strike risks=reduction in significant outages
• INCREASED PROPERTY VALUES
o There is evidence that FTTH actually increases property value by around
$4,000 to $5,000 per home.