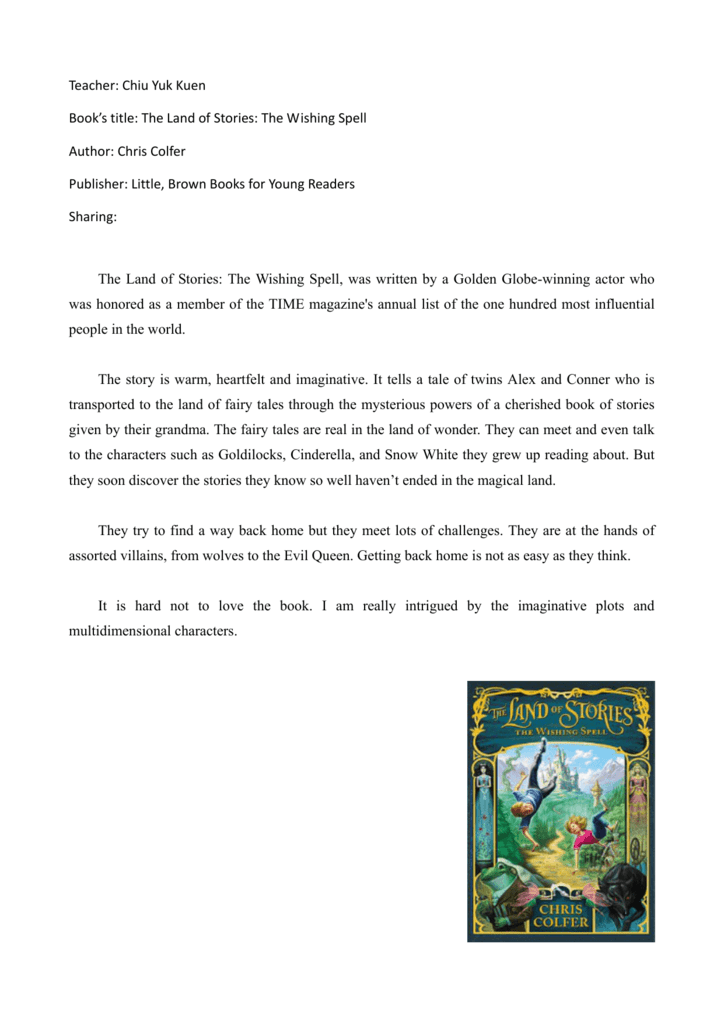 Teacher: Chiu Yuk Kuen Book's title: The Land of Stories: The Wishing Spell Author: Chris Colfer Publisher: Little, Brown Books for Young Readers Sharing: The Land of Stories: The Wishing Spell, was written by a Golden Globe-winning actor who
was honored as a member of the TIME magazine's annual list of the one hundred most influential
people in the world.
The story is warm, heartfelt and imaginative. It tells a tale of twins Alex and Conner who is
transported to the land of fairy tales through the mysterious powers of a cherished book of stories
given by their grandma. The fairy tales are real in the land of wonder. They can meet and even talk
to the characters such as Goldilocks, Cinderella, and Snow White they grew up reading about. But
they soon discover the stories they know so well haven't ended in the magical land.
They try to find a way back home but they meet lots of challenges. They are at the hands of
assorted villains, from wolves to the Evil Queen. Getting back home is not as easy as they think.
It is hard not to love the book. I am really intrigued by the imaginative plots and
multidimensional characters.