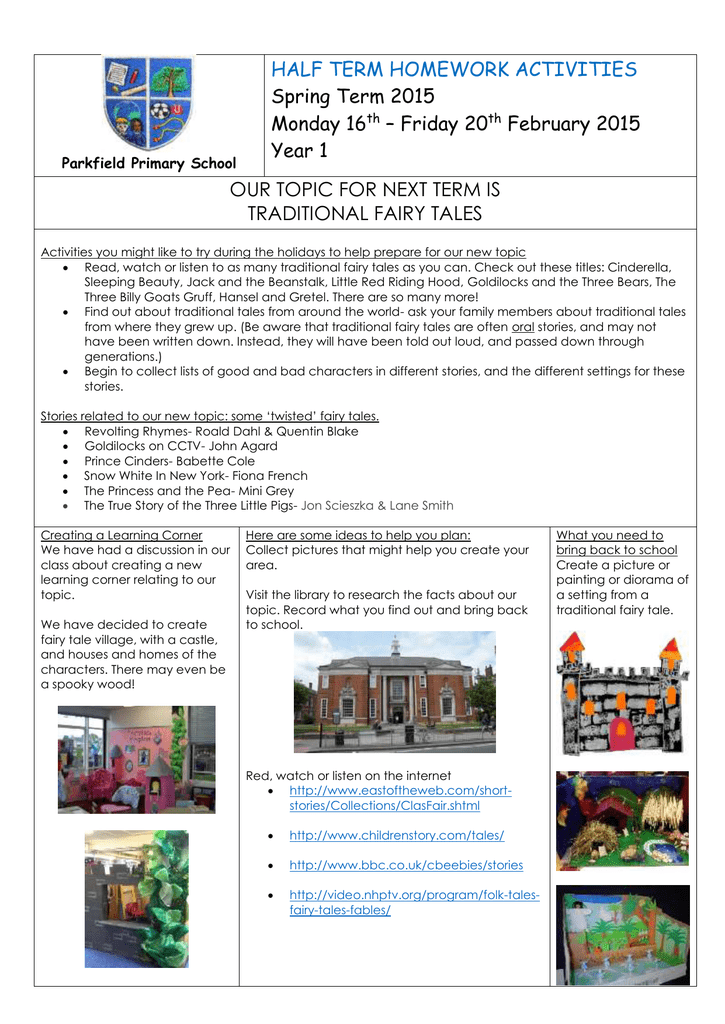 Parkfield Primary School
HALF TERM HOMEWORK ACTIVITIES
Spring Term 2015
Monday 16th – Friday 20th February 2015
Year 1
OUR TOPIC FOR NEXT TERM IS
TRADITIONAL FAIRY TALES
Activities you might like to try during the holidays to help prepare for our new topic
 Read, watch or listen to as many traditional fairy tales as you can. Check out these titles: Cinderella,
Sleeping Beauty, Jack and the Beanstalk, Little Red Riding Hood, Goldilocks and the Three Bears, The
Three Billy Goats Gruff, Hansel and Gretel. There are so many more!
 Find out about traditional tales from around the world- ask your family members about traditional tales
from where they grew up. (Be aware that traditional fairy tales are often oral stories, and may not
have been written down. Instead, they will have been told out loud, and passed down through
generations.)
 Begin to collect lists of good and bad characters in different stories, and the different settings for these
stories.
Stories related to our new topic: some 'twisted' fairy tales.
 Revolting Rhymes- Roald Dahl & Quentin Blake
 Goldilocks on CCTV- John Agard
 Prince Cinders- Babette Cole
 Snow White In New York- Fiona French
 The Princess and the Pea- Mini Grey
 The True Story of the Three Little Pigs- Jon Scieszka & Lane Smith
Creating a Learning Corner
We have had a discussion in our
class about creating a new
learning corner relating to our
topic.
We have decided to create
fairy tale village, with a castle,
and houses and homes of the
characters. There may even be
a spooky wood!
Here are some ideas to help you plan:
Collect pictures that might help you create your
area.
Visit the library to research the facts about our
topic. Record what you find out and bring back
to school.
Red, watch or listen on the internet
 http://www.eastoftheweb.com/shortstories/Collections/ClasFair.shtml

http://www.childrenstory.com/tales/

http://www.bbc.co.uk/cbeebies/stories

http://video.nhptv.org/program/folk-talesfairy-tales-fables/
What you need to
bring back to school
Create a picture or
painting or diorama of
a setting from a
traditional fairy tale.