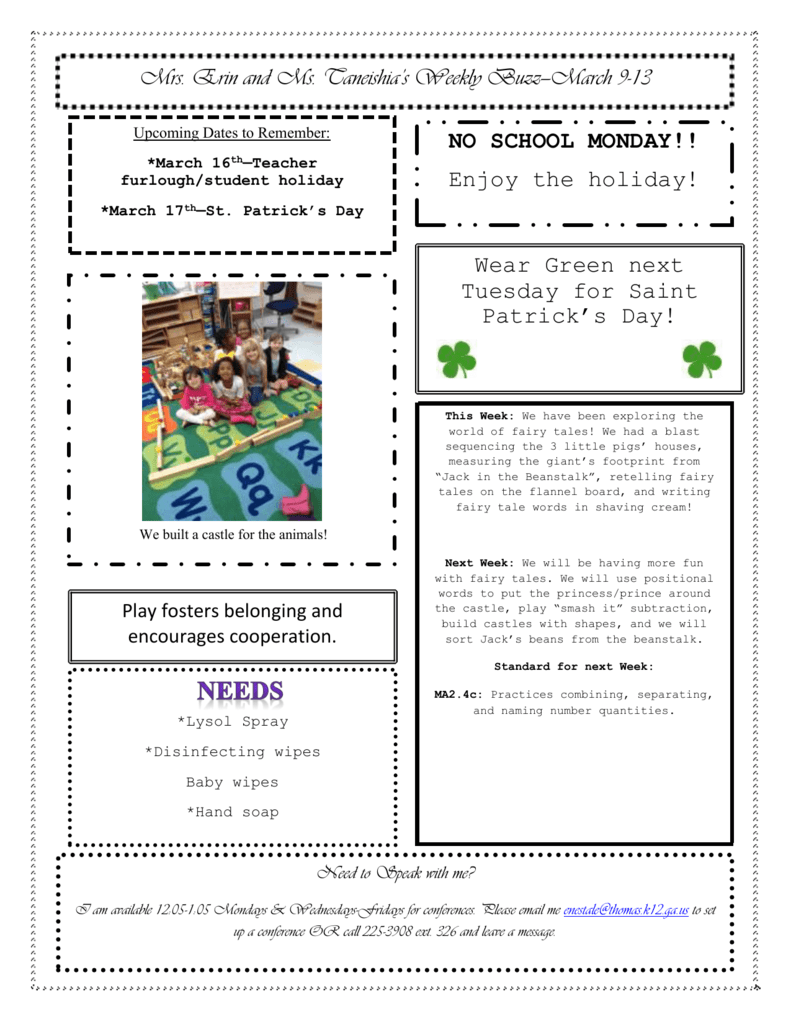 Mrs. Erin and Ms. Taneishia's Weekly Buzz—March 9-13
Upcoming Dates to Remember:
16th—Teacher
*March
furlough/student holiday
NO SCHOOL MONDAY!!
Enjoy the holiday!
*March 17th—St. Patrick's Day
Wear Green next
Tuesday for Saint
Patrick's Day!
This Week: We have been exploring the
world of fairy tales! We had a blast
sequencing the 3 little pigs' houses,
measuring the giant's footprint from
"Jack in the Beanstalk", retelling fairy
tales on the flannel board, and writing
fairy tale words in shaving cream!
We built a castle for the animals!
Play fosters belonging and
encourages cooperation.
Next Week: We will be having more fun
with fairy tales. We will use positional
words to put the princess/prince around
the castle, play "smash it" subtraction,
build castles with shapes, and we will
sort Jack's beans from the beanstalk.
Standard for next Week:
MA2.4c: Practices combining, separating,
and naming number quantities.
*Lysol Spray
*Disinfecting wipes
Baby wipes
*Hand soap
Need to Speak with me?
I am available 12:05-1:05 Mondays & Wednesdays-Fridays for conferences. Please email me [email protected] to set
up a conference OR call 225-3908 ext. 326 and leave a message.