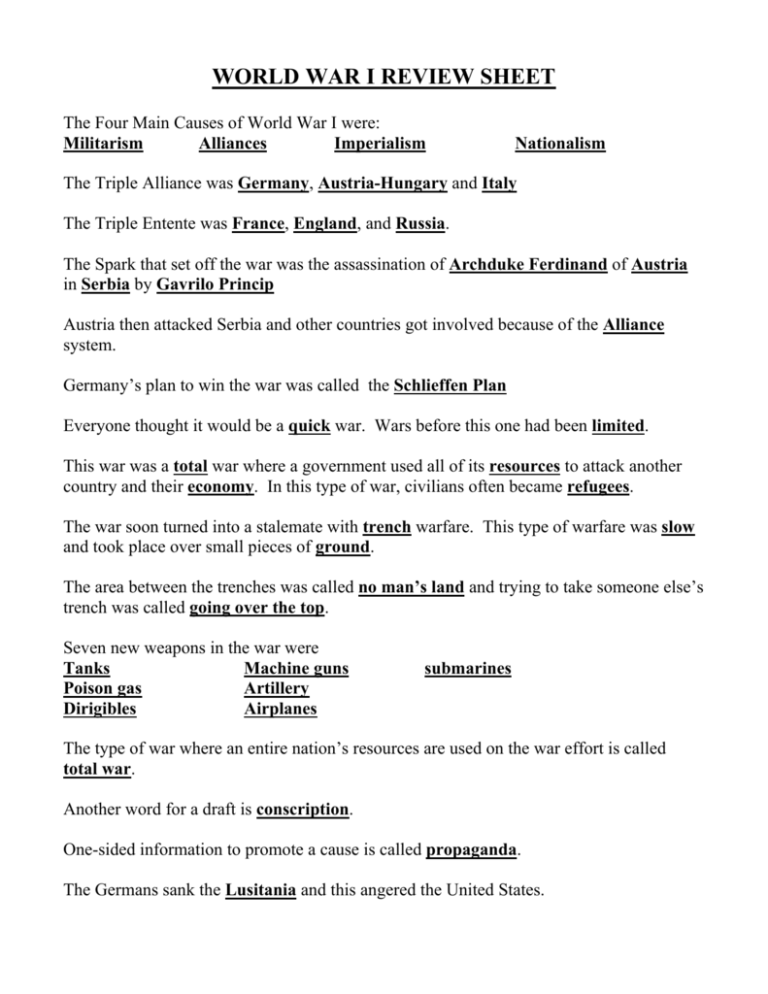 WORLD WAR I REVIEW SHEET
The Four Main Causes of World War I were:
Militarism
Alliances
Imperialism
Nationalism
The Triple Alliance was Germany, Austria-Hungary and Italy
The Triple Entente was France, England, and Russia.
The Spark that set off the war was the assassination of Archduke Ferdinand of Austria
in Serbia by Gavrilo Princip
Austria then attacked Serbia and other countries got involved because of the Alliance
system.
Germany's plan to win the war was called the Schlieffen Plan
Everyone thought it would be a quick war. Wars before this one had been limited.
This war was a total war where a government used all of its resources to attack another
country and their economy. In this type of war, civilians often became refugees.
The war soon turned into a stalemate with trench warfare. This type of warfare was slow
and took place over small pieces of ground.
The area between the trenches was called no man's land and trying to take someone else's
trench was called going over the top.
Seven new weapons in the war were
Tanks
Machine guns
Poison gas
Artillery
Dirigibles
Airplanes
submarines
The type of war where an entire nation's resources are used on the war effort is called
total war.
Another word for a draft is conscription.
One-sided information to promote a cause is called propaganda.
The Germans sank the Lusitania and this angered the United States.
Women worked in war industries and served as nurses.
War fatigue was what set in when both sides did not believe they could win the war.
Three reasons why the United States joined the war were cultural ties with England, the
Lusitania and The Zimmerman Note.
President Wilson's plan to end the war was called the 14 Points.
In 1918, there was an enormous outbreak of the flu.
Germany was required to take all blame for the war.
They also had to pay huge reparations to the winners.
Germany, Austria Hungary, and Russia were not invited to the Paris Peace Conference.