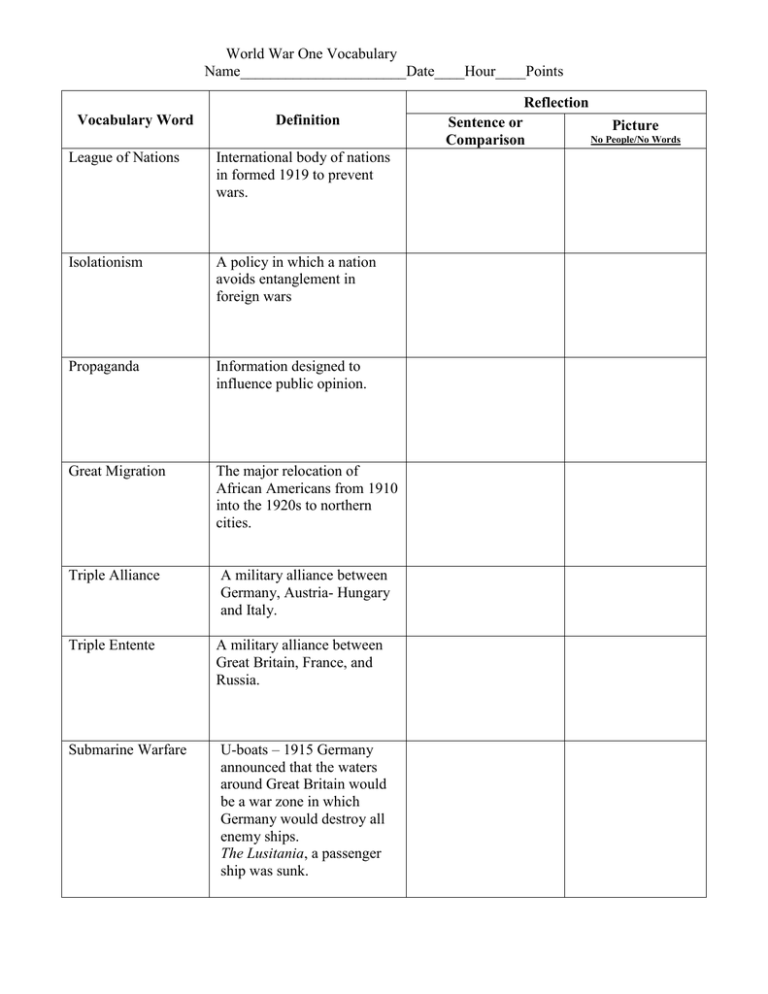 World War One Vocabulary
Name______________________Date____Hour____Points
Reflection
Vocabulary Word
Definition
League of Nations
International body of nations
in formed 1919 to prevent
wars.
Isolationism
A policy in which a nation
avoids entanglement in
foreign wars
Propaganda
Information designed to
influence public opinion.
Great Migration
The major relocation of
African Americans from 1910
into the 1920s to northern
cities.
Triple Alliance
A military alliance between
Germany, Austria- Hungary
and Italy.
Triple Entente
Submarine Warfare
A military alliance between
Great Britain, France, and
Russia.
U-boats – 1915 Germany
announced that the waters
around Great Britain would
be a war zone in which
Germany would destroy all
enemy ships.
The Lusitania, a passenger
ship was sunk.
Sentence or
Comparison
Picture
No People/No Words
World War One Vocabulary
Name______________________Date____Hour____Points
Zimmerman Note
A telegram sent to a German
official in Mexico before
World War I; it proposed an
alliance between Germany
and Mexico.
Bolshevik Revolution
A group of Russian radicals,
led by Vladimir Lenin, led a
revolution in 1917.
Chemical Warfare
Poison gas used on both sides.
Trench Warfare
A form of combat in which
soldiers dug trenches, or deep
ditches, to seek protection
from enemy fire and to
defend their positions.
Alliances
Partnerships
Fourteen Points
President Woodrow Wilson's
plan for organizing postWorld War I Europe and for
avoiding future wars.