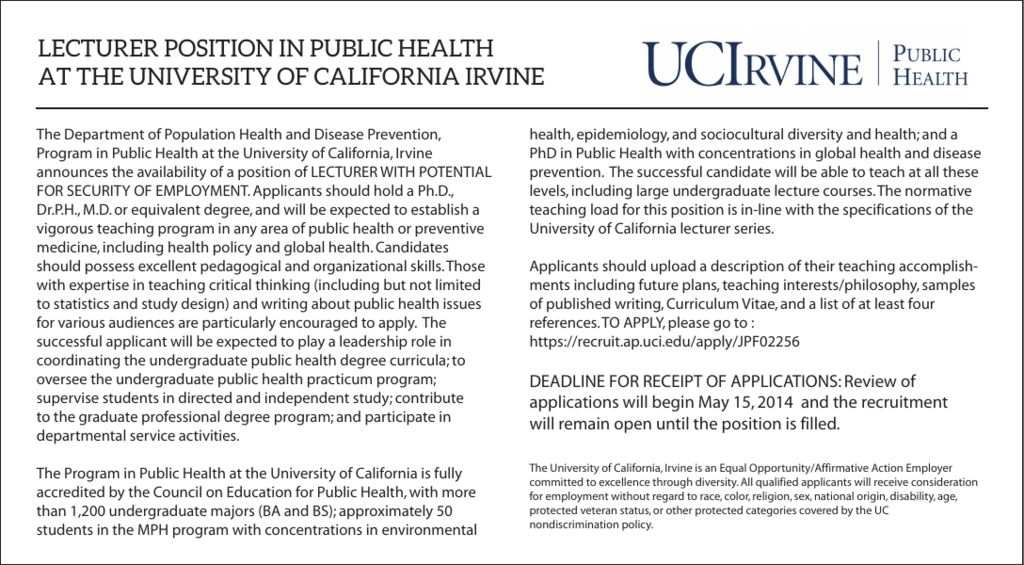 LECTURER POSITION IN PUBLIC HEALTH
AT THE UNIVERSITY OF CALIFORNIA IRVINE
The Department of Population Health and Disease Prevention,
Program in Public Health at the University of California, Irvine
announces the availability of a position of LECTURER WITH POTENTIAL
FOR SECURITY OF EMPLOYMENT. Applicants should hold a Ph.D.,
Dr.P.H., M.D. or equivalent degree, and will be expected to establish a
vigorous teaching program in any area of public health or preventive
medicine, including health policy and global health. Candidates
should possess excellent pedagogical and organizational skills. Those
with expertise in teaching critical thinking (including but not limited
to statistics and study design) and writing about public health issues
for various audiences are particularly encouraged to apply. The
successful applicant will be expected to play a leadership role in
coordinating the undergraduate public health degree curricula; to
oversee the undergraduate public health practicum program;
supervise students in directed and independent study; contribute
to the graduate professional degree program; and participate in
departmental service activities.
The Program in Public Health at the University of California is fully
accredited by the Council on Education for Public Health, with more
than 1,200 undergraduate majors (BA and BS); approximately 50
students in the MPH program with concentrations in environmental
health, epidemiology, and sociocultural diversity and health; and a
PhD in Public Health with concentrations in global health and disease
prevention. The successful candidate will be able to teach at all these
levels, including large undergraduate lecture courses. The normative
teaching load for this position is in-line with the specifications of the
University of California lecturer series.
Applicants should upload a description of their teaching accomplishments including future plans, teaching interests/philosophy, samples
of published writing, Curriculum Vitae, and a list of at least four
references. TO APPLY, please go to :
https://recruit.ap.uci.edu/apply/JPF02256
DEADLINE FOR RECEIPT OF APPLICATIONS: Review of
applications will begin May 15, 2014 and the recruitment
will remain open until the position is filled.
The University of California, Irvine is an Equal Opportunity/Affirmative Action Employer
committed to excellence through diversity. All qualified applicants will receive consideration
for employment without regard to race, color, religion, sex, national origin, disability, age,
protected veteran status, or other protected categories covered by the UC
nondiscrimination policy.