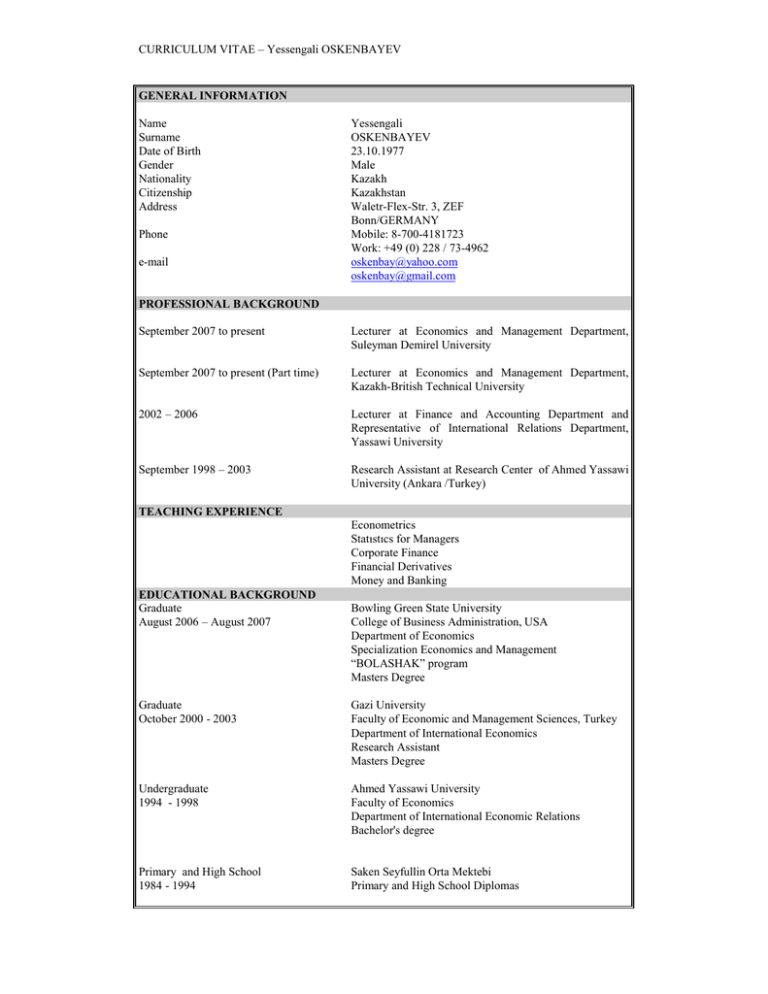 CURRICULUM VITAE – Yessengali OSKENBAYEV
GENERAL INFORMATION
Name
Surname
Date of Birth
Gender
Nationality
Citizenship
Address
Phone
e-mail
Yessengali
OSKENBAYEV
23.10.1977
Male
Kazakh
Kazakhstan
Waletr-Flex-Str. 3, ZEF
Bonn/GERMANY
Mobile: 8-700-4181723
Work: +49 (0) 228 / 73-4962
oskenbay@yahoo.com
oskenbay@gmail.com
PROFESSIONAL BACKGROUND
September 2007 to present
Lecturer at Economics and Management Department,
Suleyman Demirel University
September 2007 to present (Part time)
Lecturer at Economics and Management Department,
Kazakh-British Technical University
2002 – 2006
Lecturer at Finance and Accounting Department and
Representative of International Relations Department,
Yassawi University
September 1998 – 2003
Research Assistant at Research Center of Ahmed Yassawi
University (Ankara /Turkey)
TEACHING EXPERIENCE
Econometrics
Statıstıcs for Managers
Corporate Finance
Financial Derivatives
Money and Banking
EDUCATIONAL BACKGROUND
Graduate
August 2006 – August 2007
Bowling Green State University
College of Business Administration, USA
Department of Economics
Specialization Economics and Management
"BOLASHAK" program
Masters Degree
Graduate
October 2000 - 2003
Gazi University
Faculty of Economic and Management Sciences, Turkey
Department of International Economics
Research Assistant
Masters Degree
Undergraduate
1994 - 1998
Ahmed Yassawi University
Faculty of Economics
Department of International Economic Relations
Bachelor's degree
Primary and High School
1984 - 1994
Saken Seyfullin Orta Mektebi
Primary and High School Diplomas
CURRICULUM VITAE – Yessengali OSKENBAYEV
CERTIFICATION
1. Total Quality Management ACHIEVEMENT CERTIFICATE – Management System Program
Course, May 17 – July 28, 2001
2. Undergraduate Practice at The Ministry of Finance in Kazakhstan – 2 Month Undergraduate Practice
Course, 1998
3. Modern Management Technics CERTIFICATE – Türkiye ve Orta Doğu Amme İdaresi Enstitüsü,
December 15-28, 1999
LANGUAGE PROFICIENCY
Kazakh
Russian
Turkish
English
Fluent in both written and spoken
Fluent in both written and spoken
Fluent in both written and spoken
Fluent in both written and spoken
SPECIAL QUALIFICATIONS
Research Undergraduate Thesis in Kazakh
"Direct Investment Drawing Practice in Kazakhstan" 1998
( Undergraduate Diploma Thesis )
Research Thesis in Turkish
"Exchange Rate Effects on Capital Movements and
National Bank Policies in Kazakhstan (1992-2000)"
directed by Ass. Associate Dr. Selahattin TOGAY
Skills
Experienced in application programs such as SPSS/SAS,
EVIEWS, MINITAB.