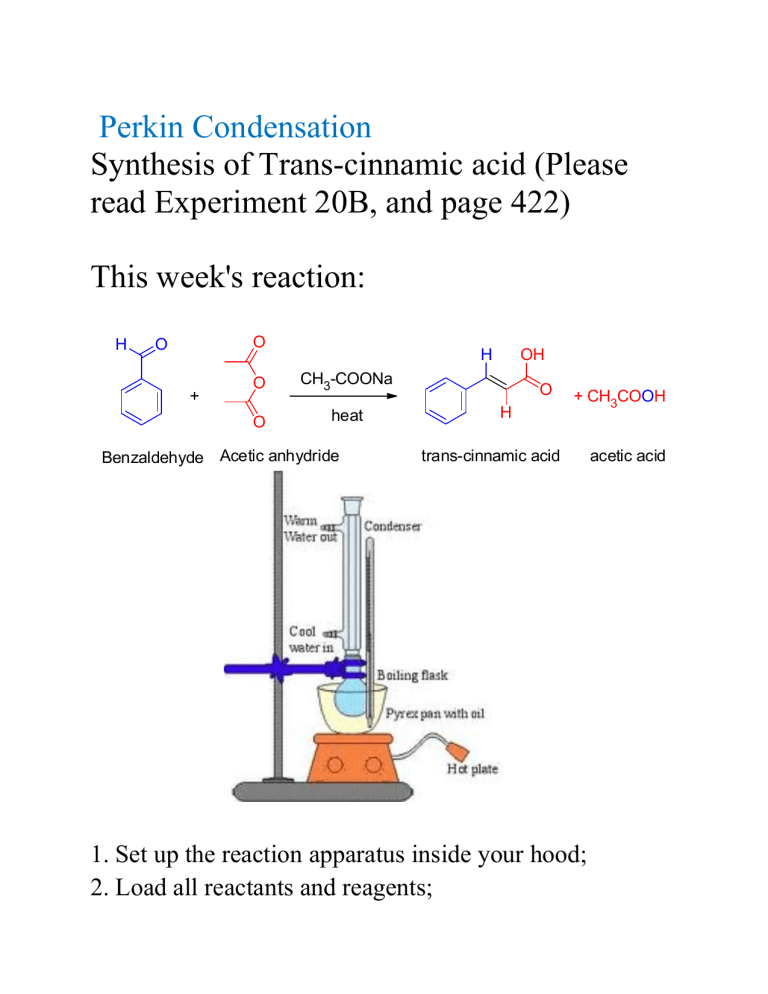 Perkin Condensation
Synthesis of Trans-cinnamic acid (Please read Experiment 20B, and page 422)
This week's reaction:
H O O
H OH
CH
3
-COONa
+
O
O
+ CH
3
CO O H heat
H
O
Benzaldehyde Acetic anhydride trans-cinnamic acid acetic acid
1. Set up the reaction apparatus inside your hood;
2. Load all reactants and reagents;
3. Heat the sand bath to between 170 and 190
°
C;
4. Stirring for one hour;
5. Work up last week's reaction ( 2,4-dinitroanisole );
6. Work up this reaction ( trans-Cinnamic acid ).
The Perkin condensation is a very useful organic reaction which provides a way to add two carbon atoms to the side chain of an aromatic ring. The mechanism of the Perkin reaction is complex. It involves the attack of the enolate anion of the acetic anhydride on the aromatic aldehyde . A series of rearrangement follows, with the overall effect of forming a carbon-carbon double bond (loss of water) and hydrolyzing the anhydride function. Usually the trans-isomer forms preferentially because it is more stable.