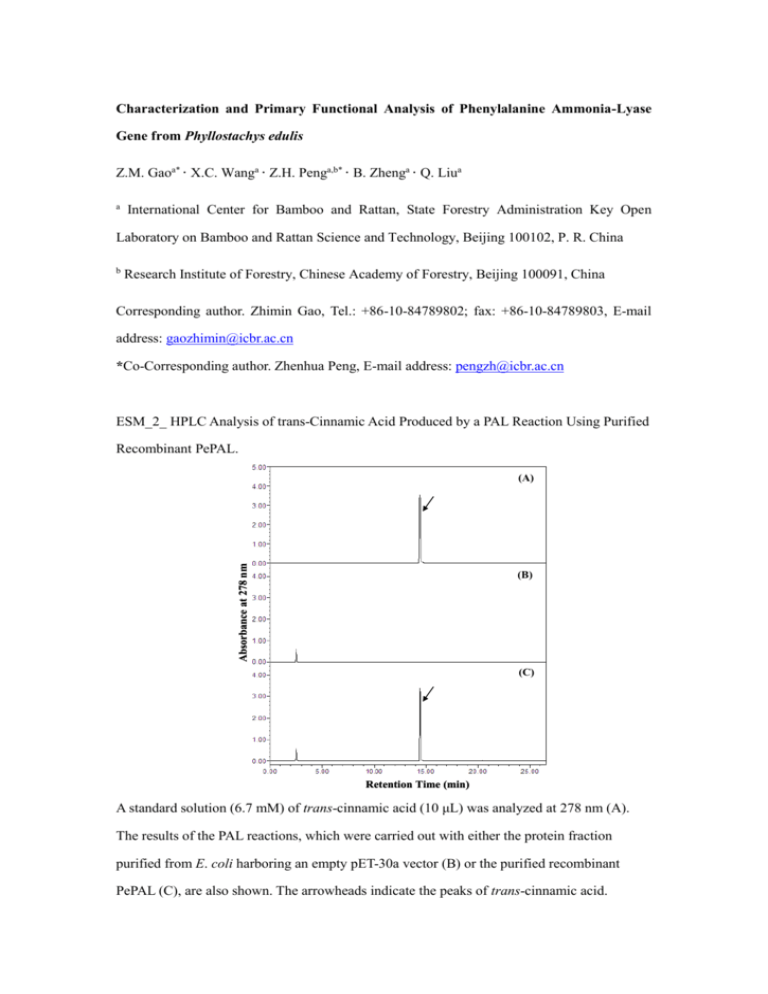 Characterization and Primary Functional Analysis of Phenylalanine Ammonia-Lyase
Gene from Phyllostachys edulis
Z.M. Gaoa* · X.C. Wanga · Z.H. Penga,b* · B. Zhenga · Q. Liua
a
International Center for Bamboo and Rattan, State Forestry Administration Key Open
Laboratory on Bamboo and Rattan Science and Technology, Beijing 100102, P. R. China
b
Research Institute of Forestry, Chinese Academy of Forestry, Beijing 100091, China
Corresponding author. Zhimin Gao, Tel.: +86-10-84789802; fax: +86-10-84789803, E-mail
address: gaozhimin@icbr.ac.cn
*Co-Corresponding author. Zhenhua Peng, E-mail address: pengzh@icbr.ac.cn
ESM_2_ HPLC Analysis of trans-Cinnamic Acid Produced by a PAL Reaction Using Purified
Recombinant PePAL.
Absorbance at 278 nm
(A)
(B)
(C)
Retention Time (min)
A standard solution (6.7 mM) of trans-cinnamic acid (10 μL) was analyzed at 278 nm (A).
The results of the PAL reactions, which were carried out with either the protein fraction
purified from E. coli harboring an empty pET-30a vector (B) or the purified recombinant
PePAL (C), are also shown. The arrowheads indicate the peaks of trans-cinnamic acid.