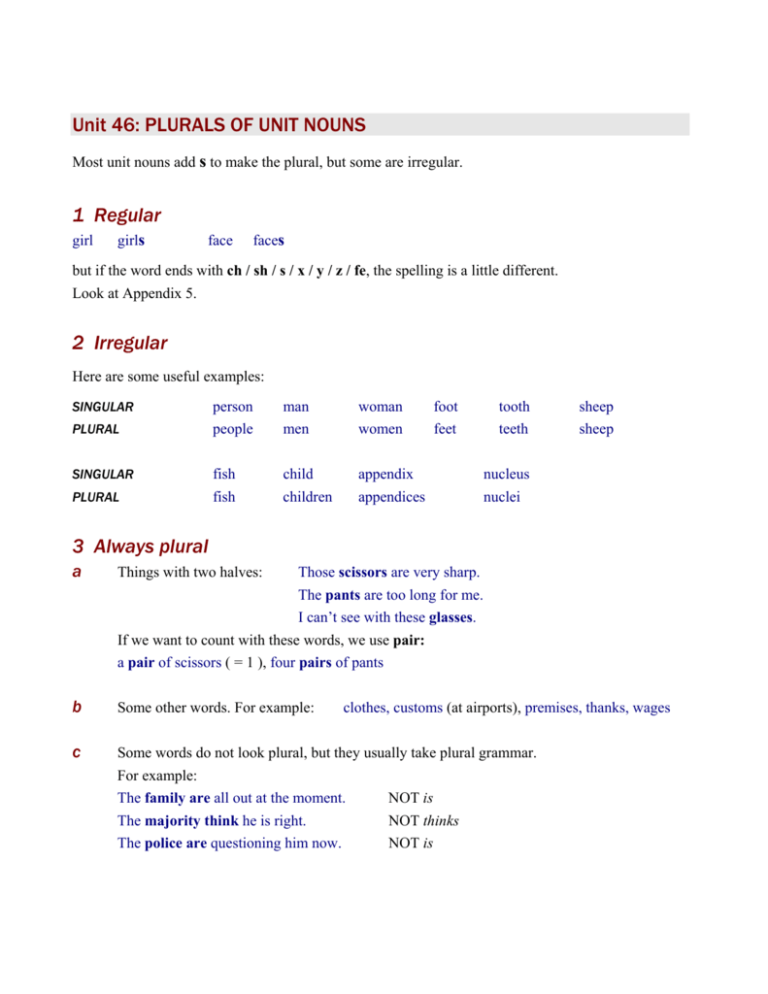 Unit 46: PLURALS OF UNIT NOUNS
Most unit nouns add s to make the plural, but some are irregular.
1 Regular
girl
girls
face
faces
but if the word ends with ch / sh / s / x / y / z / fe, the spelling is a little different.
Look at Appendix 5.
2 Irregular
Here are some useful examples:
SINGULAR
PLURAL
SINGULAR
PLURAL
person
people
man
men
woman
women
fish
fish
child
children
appendix
appendices
foot
feet
tooth
teeth
sheep
sheep
nucleus
nuclei
3 Always plural
a
Things with two halves:
b
Some other words. For example:
c
Some words do not look plural, but they usually take plural grammar.
For example:
The family are all out at the moment.
NOT is
The majority think he is right.
NOT thinks
The police are questioning him now.
NOT is
Those scissors are very sharp.
The pants are too long for me.
I can't see with these glasses.
If we want to count with these words, we use pair:
a pair of scissors ( = 1 ), four pairs of pants
clothes, customs (at airports), premises, thanks, wages
NOTICE:
News is not a plural. It is a mass noun. Mass nouns do not have a plural form
(Unit 47).