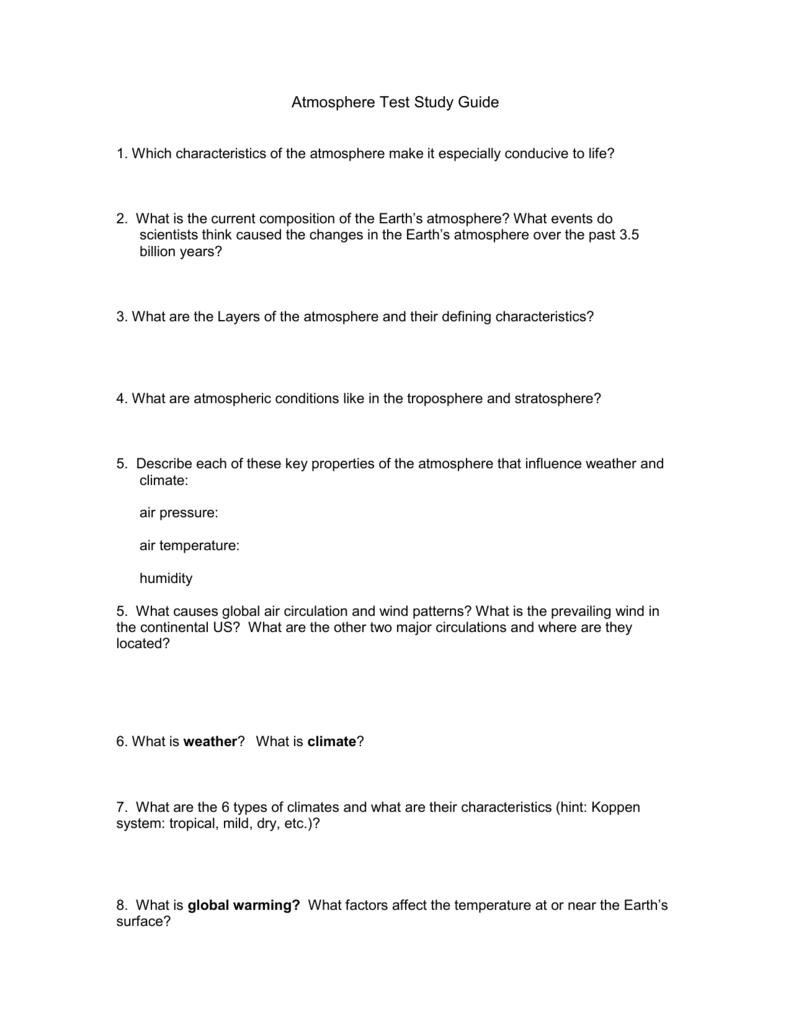 Atmosphere Test Study Guide
1. Which characteristics of the atmosphere make it especially conducive to life?
2. What is the current composition of the Earth's atmosphere? What events do
scientists think caused the changes in the Earth's atmosphere over the past 3.5
billion years?
3. What are the Layers of the atmosphere and their defining characteristics?
4. What are atmospheric conditions like in the troposphere and stratosphere?
5. Describe each of these key properties of the atmosphere that influence weather and
climate:
air pressure:
air temperature:
humidity
5. What causes global air circulation and wind patterns? What is the prevailing wind in
the continental US? What are the other two major circulations and where are they
located?
6. What is weather? What is climate?
7. What are the 6 types of climates and what are their characteristics (hint: Koppen
system: tropical, mild, dry, etc.)?
8. What is global warming? What factors affect the temperature at or near the Earth's
surface?
9. List the causes and characteristics of:
thunderstorms:
tornadoes:
hurricanes:
10. Describe the different types of clouds.
11. What causes the seasons?
12. Explain the Coriolis Effect.
13. What causes wind?
14. What are the five major air masses, what are their characteristics, and where do
they form?
15. What is the difference between a warm and a cold front?
16. What are the other two types of fronts? And what do their symbols look like?
17. Define:
Albedo:
Convection:
Conduction:
Radiation:
18. Which layer of the atmosphere is the ozone located? What does the ozone layer
do? What were we doing to destroy the ozone layer?
19. What do we use to measure pressure? What are isobars?
20. How do you know you reached the dewpoint?
21. As you increase your elevation what happens to pressure, density, and
temperature?
22. What does falling air pressure mean? What weather does it bring?
23.
Does warm or cold air hold more water?
24.
What are the two types of scales used to measure tornadoes and hurricanes? And
what are their ranges?
25.
What is El Nino and where does it impact?
26.
What are Heat Islands and Microclimate?