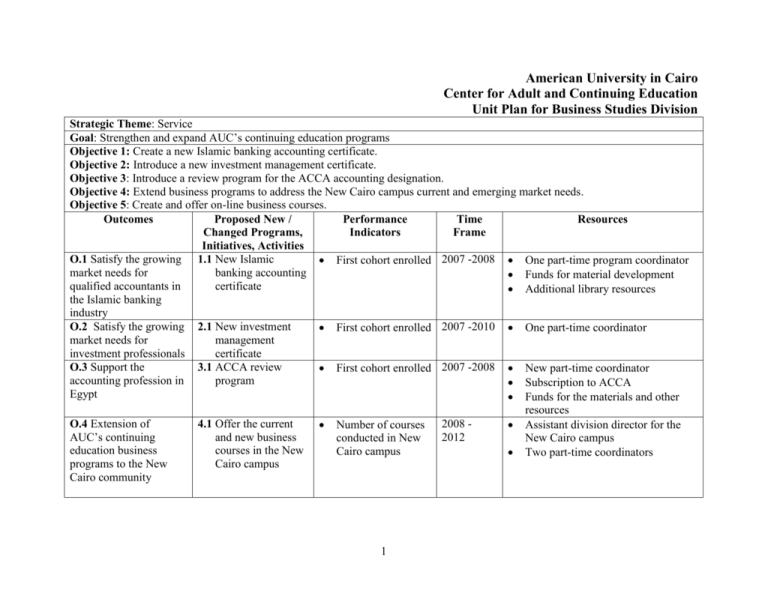 American University in Cairo
Center for Adult and Continuing Education
Unit Plan for Business Studies Division
Strategic Theme: Service
Goal: Strengthen and expand AUC's continuing education programs
Objective 1: Create a new Islamic banking accounting certificate.
Objective 2: Introduce a new investment management certificate.
Objective 3: Introduce a review program for the ACCA accounting designation.
Objective 4: Extend business programs to address the New Cairo campus current and emerging market needs.
Objective 5: Create and offer on-line business courses.
Outcomes
Proposed New /
Performance
Time
Resources
Changed Programs,
Indicators
Frame
Initiatives, Activities
O.1 Satisfy the growing 1.1 New Islamic
 First cohort enrolled 2007 -2008  One part-time program coordinator
market needs for
banking accounting
 Funds for material development
qualified accountants in
certificate
 Additional library resources
the Islamic banking
industry
O.2 Satisfy the growing 2.1 New investment
 First cohort enrolled 2007 -2010  One part-time coordinator
market needs for
management
investment professionals
certificate
O.3 Support the
3.1 ACCA review
 First cohort enrolled 2007 -2008  New part-time coordinator
accounting profession in
program
 Subscription to ACCA
Egypt
 Funds for the materials and other
resources
O.4 Extension of
4.1 Offer the current
 Number of courses 2008  Assistant division director for the
AUC's continuing
and new business
2012
conducted in New
New Cairo campus
education business
courses in the New
Cairo campus
 Two part-time coordinators
programs to the New
Cairo campus
Cairo community
1
Outcomes
O.5 Extending CACE's
programs to the Middle
East countries
Proposed New /
Changed Programs,
Initiatives, Activities
5.1 On-line
management
course offerings
Performance
Indicators


Number of courses
offered on line
Number of
students enrolled
Time
Frame
20072012
Resources





Unit Plan for Business Studies Division (cont.)
2
Web-CT capacity
Additional library electronic resources
One full time courseware specialist
Funds for course design and materials
Funds for advertising the programs in
the Middle East.