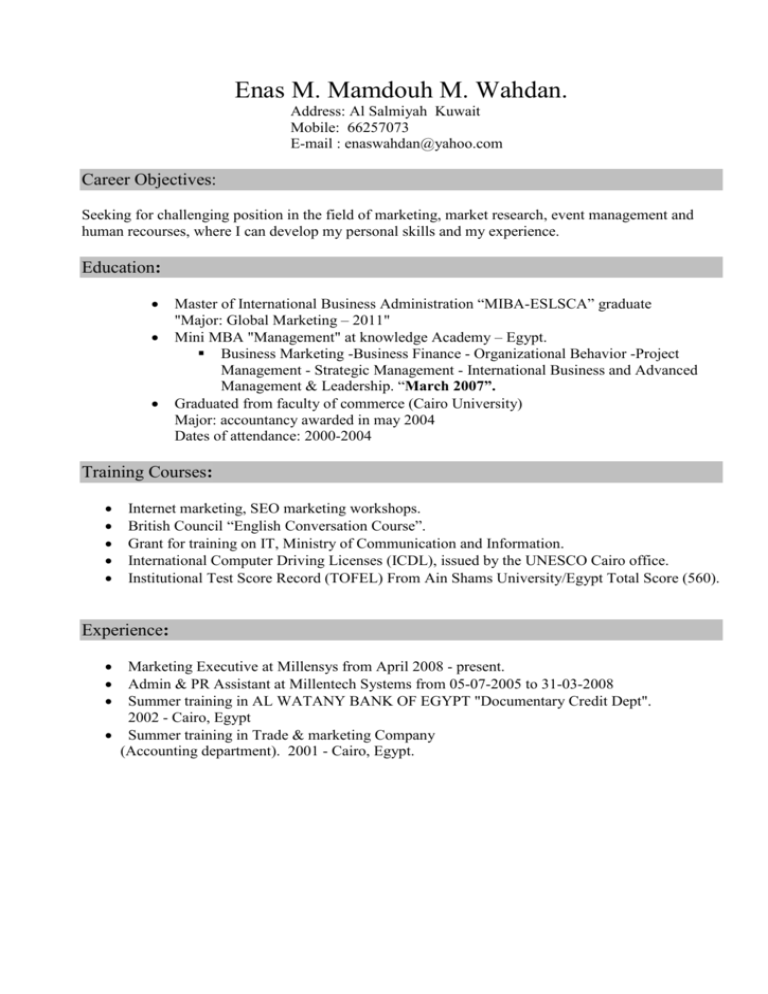 Enas M. Mamdouh M. Wahdan.
Address: Al Salmiyah Kuwait
Mobile: 66257073
E-mail : enaswahdan@yahoo.com
Career Objectives:
Seeking for challenging position in the field of marketing, market research, event management and
human recourses, where I can develop my personal skills and my experience.
Education:



Master of International Business Administration "MIBA-ESLSCA" graduate
"Major: Global Marketing – 2011"
Mini MBA "Management" at knowledge Academy – Egypt.
 Business Marketing -Business Finance - Organizational Behavior -Project
Management - Strategic Management - International Business and Advanced
Management & Leadership. "March 2007".
Graduated from faculty of commerce (Cairo University)
Major: accountancy awarded in may 2004
Dates of attendance: 2000-2004
Training Courses:





Internet marketing, SEO marketing workshops.
British Council "English Conversation Course".
Grant for training on IT, Ministry of Communication and Information.
International Computer Driving Licenses (ICDL), issued by the UNESCO Cairo office.
Institutional Test Score Record (TOFEL) From Ain Shams University/Egypt Total Score (560).
Experience:



Marketing Executive at Millensys from April 2008 - present.
Admin & PR Assistant at Millentech Systems from 05-07-2005 to 31-03-2008
Summer training in AL WATANY BANK OF EGYPT "Documentary Credit Dept".
2002 - Cairo, Egypt
 Summer training in Trade & marketing Company
(Accounting department). 2001 - Cairo, Egypt.
Skills:







Good business relation acquired during work
Good listing and communication skills
Inventive and creativity skills
Able to work under stress
Able to concentrate, Active, self-motivated and ambitious
Research Abilities.
Time management skills.
Computer skills:

Good working knowledge of computer and computer applications including (MS-Word,
MS-Excel, Access 'Data base', Network and Internet).
Language:


Excellent command of spoken and written Arabic
Excellent command of spoken and written English
Briefing of Entire Job:


Working as a Marketing Executive reporting directly to the CEO in a Medical Imaging and
Information Solutions company.
Job description include the following:
o Exhibitions and Events Management (International & Local).
 Responsible for organizing events and all preparations details.
o Marketing Issues " Brand awareness – Market Research – Marketing Campaigns"
o Advertising and Public Relations Issues.
o Quality Assurance.
o Customer care and loyalty program
o Business Intelligence.
Personal data:
Date of Birth
Place of Birth
Nationality
Marital Status
Mar., 16th, 1983.
Kuwait
Egyptian.
Single.
The position reference:
*All Reference Are Available upon request.