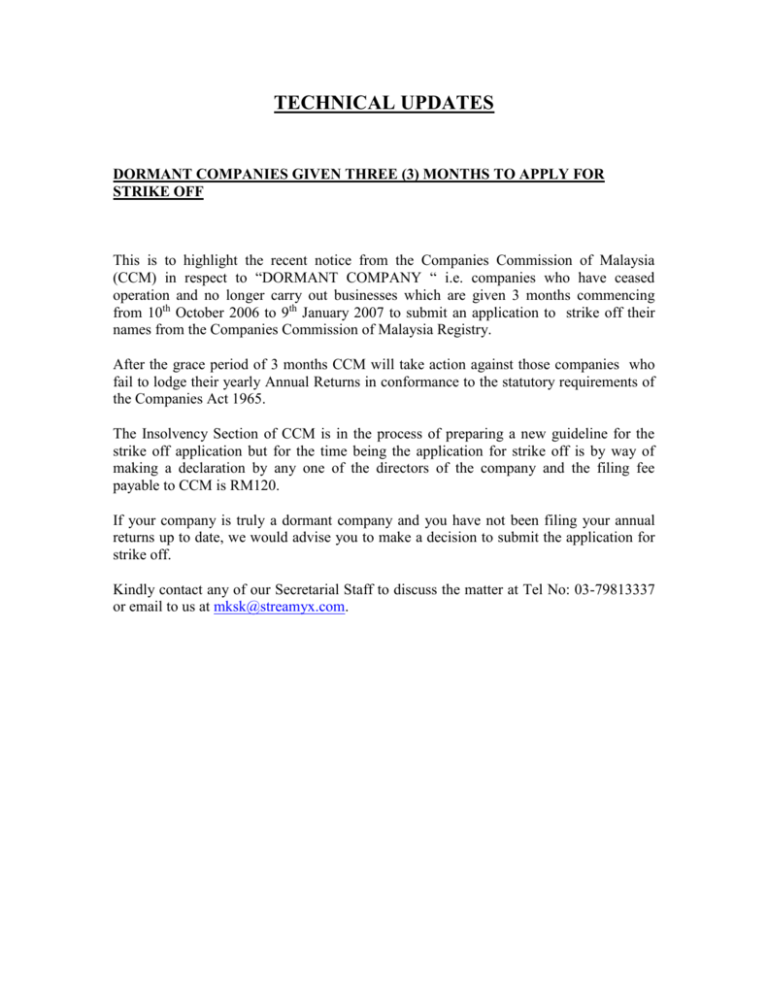 TECHNICAL UPDATES
DORMANT COMPANIES GIVEN THREE (3) MONTHS TO APPLY FOR
STRIKE OFF
This is to highlight the recent notice from the Companies Commission of Malaysia
(CCM) in respect to "DORMANT COMPANY " i.e. companies who have ceased
operation and no longer carry out businesses which are given 3 months commencing
from 10th October 2006 to 9th January 2007 to submit an application to strike off their
names from the Companies Commission of Malaysia Registry.
After the grace period of 3 months CCM will take action against those companies who
fail to lodge their yearly Annual Returns in conformance to the statutory requirements of
the Companies Act 1965.
The Insolvency Section of CCM is in the process of preparing a new guideline for the
strike off application but for the time being the application for strike off is by way of
making a declaration by any one of the directors of the company and the filing fee
payable to CCM is RM120.
If your company is truly a dormant company and you have not been filing your annual
returns up to date, we would advise you to make a decision to submit the application for
strike off.
Kindly contact any of our Secretarial Staff to discuss the matter at Tel No: 03-79813337
or email to us at mksk@streamyx.com.