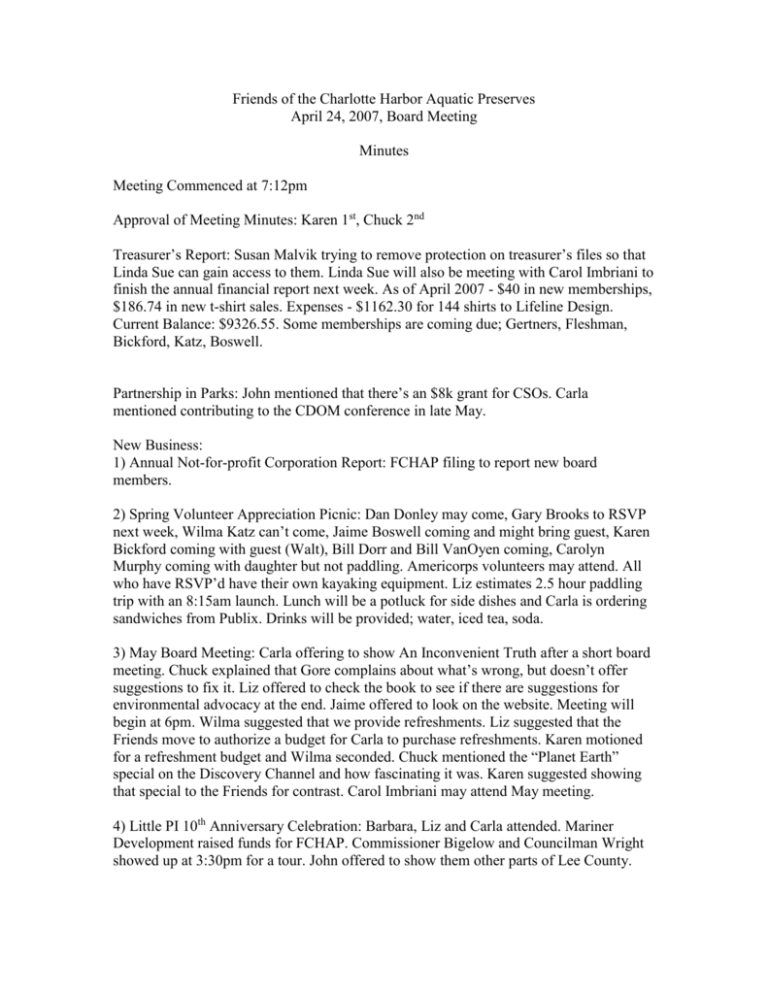 Friends of the Charlotte Harbor Aquatic Preserves
April 24, 2007, Board Meeting
Minutes
Meeting Commenced at 7:12pm
Approval of Meeting Minutes: Karen 1st, Chuck 2nd
Treasurer's Report: Susan Malvik trying to remove protection on treasurer's files so that
Linda Sue can gain access to them. Linda Sue will also be meeting with Carol Imbriani to
finish the annual financial report next week. As of April 2007 - $40 in new memberships,
$186.74 in new t-shirt sales. Expenses - $1162.30 for 144 shirts to Lifeline Design.
Current Balance: $9326.55. Some memberships are coming due; Gertners, Fleshman,
Bickford, Katz, Boswell.
Partnership in Parks: John mentioned that there's an $8k grant for CSOs. Carla
mentioned contributing to the CDOM conference in late May.
New Business:
1) Annual Not-for-profit Corporation Report: FCHAP filing to report new board
members.
2) Spring Volunteer Appreciation Picnic: Dan Donley may come, Gary Brooks to RSVP
next week, Wilma Katz can't come, Jaime Boswell coming and might bring guest, Karen
Bickford coming with guest (Walt), Bill Dorr and Bill VanOyen coming, Carolyn
Murphy coming with daughter but not paddling. Americorps volunteers may attend. All
who have RSVP'd have their own kayaking equipment. Liz estimates 2.5 hour paddling
trip with an 8:15am launch. Lunch will be a potluck for side dishes and Carla is ordering
sandwiches from Publix. Drinks will be provided; water, iced tea, soda.
3) May Board Meeting: Carla offering to show An Inconvenient Truth after a short board
meeting. Chuck explained that Gore complains about what's wrong, but doesn't offer
suggestions to fix it. Liz offered to check the book to see if there are suggestions for
environmental advocacy at the end. Jaime offered to look on the website. Meeting will
begin at 6pm. Wilma suggested that we provide refreshments. Liz suggested that the
Friends move to authorize a budget for Carla to purchase refreshments. Karen motioned
for a refreshment budget and Wilma seconded. Chuck mentioned the "Planet Earth"
special on the Discovery Channel and how fascinating it was. Karen suggested showing
that special to the Friends for contrast. Carol Imbriani may attend May meeting.
4) Little PI 10th Anniversary Celebration: Barbara, Liz and Carla attended. Mariner
Development raised funds for FCHAP. Commissioner Bigelow and Councilman Wright
showed up at 3:30pm for a tour. John offered to show them other parts of Lee County.
Carla planning on giving Cmr. Bigelow a tour soon. Phil Flood of SFWMD attended.
Carla described the event as "jubilant".
5) SWFL Nautical Flea Market & Boat Show: Carla said it did not go well because there
were way too many competing events. It was Earth Day and there were block parties,
clean ups, and other major events. Carla counted a total of 120 people that visited the
booth for the entire weekend and sold 4 t-shirts. She normally sells about 6-10 and has a
head count of closer to 200 people for a two day event. One person inquired about
purchasing a map and balked at the $10 price. There were good vendors overall, but the
attendance was poor due to competing events.
6) Volunteer work days with FGCU Colloquium Students and Boy Scouts: Arthur Kuhn
(troop leader) worked for 3 hours and took out 8 contractor bags of rosary pea. He's
interested in doing quarterly workdays and is going to present this as an opportunity to
other troop leaders. Carla met with Laurie Coventry-Pane who coordinates the
colloquium at FGCU last week. The students come from a wide variety of backgrounds.
Laurie is creating a form so that we can list opportunities on the FGCU website so that
the students can contact Annette Nielson directly to set up workdays. Carla mentioned
that listing the volunteer workday opportunities in the newsletter is not very effective.
She doesn't get any response unless she organizes a structured workday. Gary asked if
we set up a regular workday schedule. Carla responded that unless we get a steady flow
of people showing up for the event that it's a waste of staff time.
7) T-shirts: New t-shirts are in. Carla has already sold $200. There are upcoming events
at which the shirts normally sell very well. Carla orders the sizes on a "bell curve".
8) Summer Boys & Girls Paddles: Charlotte County Boys & Girls Club coordinator
wants to do the event before summer because many of the kids are from divorced homes
and go away for the summer. Carla suggested scheduling the paddle for them in early
June. Karen traveling mid to late June. Gary is gone for all of June and Chuck is gone for
first week of June. John is out of town the last week of June to the first week of July.
Carla will check with both Lee & Charlotte coordinators to get weekend dates.
9) Calusa Blueways: Karen mentioned CRCA sponsoring the Midpoint Paddle Sprint as
the kickoff event for the festival on 10/27. Kayak expo will be held again at Matlacha
Community Park.
10) Charlotte Harbor Nature Festival: Saturday 11/3 at the Charlotte County Sports
Complex.
11) National Estuaries Days: Month of November. Last year's went very well because the
weather was calmer and there was no competition with other events.
12) Old Business: Sans Souci Bay Project – Liz conveyed verbally to Paul Owen that we
appreciate the developer taking our recommendations into consideration, but we will not
be issuing a letter as it may be misconstrued. John submitted a letter recently and it was
misconstrued and appears to have been used in favor of the development. He has
contacted the City of Cape Coral Civic Association to explain that DEP & the developer
are not in negotiations and that there will be no favor given for the development. David
Scott has been involved with development negotiations for the duration.
13) David Scott's Donation: David donated all of the money collected from the sale of
the nautical charts to the Friends. Carla wrote a letter of thanks for the donation, his
membership and service to the board in past years. Liz moved to make him and his wife
life members at a previous meeting.
14) Babcock: Liz gave update. Charlotte County going through paperwork hell. Kitson
reapplying to Lee County for variances as well as to the WMD for general development
permits. Babcock Ranch operations is on the Lee County portion of the property and
Kitson is currently managing that. They have eliminated logging and hunting previously
on the management plan and now contend that the operation is running at a loss. There's
a request to DEP to reintroduce hunting and logging. Liz suggested that any interested
party could contact Tallahassee and ask DEP to wait a year before making a decision on
the management plan because the data collected thus far has not been audited. Other
recommendations are that rather than logging cypress, farm long-leaf pine as it is more
sustainable. Peace River Audubon may be working with Babcock Ranch, Inc to
coordinate a volunteer trail guide training course. Barbara asked that Bill Wilcox of BRI
come give an update on that program when they get this program gets established.
15) Charlotte Harbor Shoreline Survey: Jaime gave update. Jaime has given out all
assignments for developed sections of the Harbor. She's gotten back 2/3 of the
assignments. She's encountered some questions and concerns. She's getting ready to
mobilize volunteers to survey the natural shoreline sections. CHNEP will be reviewing
the proposals for georectifying the aerial photos this Friday. Some discussion of the
difference between seaside mahoe and seagrape.
Adjourned at 8:25pm.