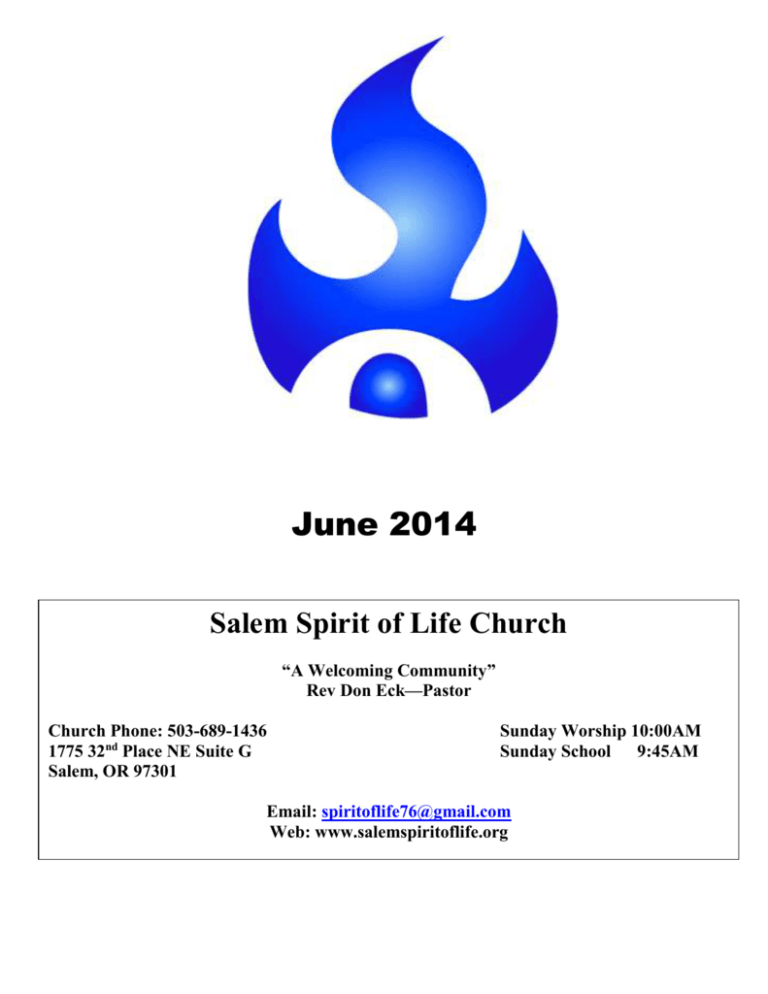 June 2014
Salem Spirit of Life Church
"A Welcoming Community"
Rev Don Eck—Pastor
Church Phone: 503-689-1436
1775 32nd Place NE Suite G
Salem, OR 97301
Sunday Worship 10:00AM
Sunday School 9:45AM
Email: spiritoflife76@gmail.com
A Message
From The Pastor
Web: www.salemspiritoflife.org
Dear Friends,
From The Pastor's Corner,
First of all I would like to welcome all of our
visitors back from May. We have been blessed
by your presence and want you to feel that
Salem Spirit of Life can be your new home.
As summer begins some of us will be taking
vacations and that means we may not see you
for a Sunday or two. We will pray for your safe
journey and return to us with a good tan!!!
Remember that Church expenses continue
even while your on vacation, so don't forget to
keep your commitment to tithing for the
month.
The Celebrate Recovery Team will be in need
of a few volunteers over the next few months.
If you would like to help with some fundraising
please see Regina to let her know your
availability. Once we begin the program we will
need assistance on the evening program for
volunteers to help serve food, clean up and
child care for a couple of hours. Please see
one of the term members for more information.
The team members are Bryan, Charmaine,
Keifer, Regina and Eva.
What's Happening Around SSOL:
Friday June 6th 7:30PM Confluence Summer Concert
First Congregational Church Advance Tickets $15
adult/$12 seniors and students. Tickets at the door
$18 adult/$15 seniors and students. Advance tickets
confluencechorus.org.
Sunday June 8th – Pentecost Sunday
Saturday June 14th – 12:00PM Celebration of Marriage
– Jules and Dimitri.
Tuesday June 17th HIV Alliance Meets at SSOL 4:00PM
Friday June 20th Pot Luck and Movie Night All Are
Welcome
Every Sunday The Celebrate Recovery Committee
meets at 5:00PM at SSOL. (Planning and Training
Time) June1st Larry Courtain, CR State Rep will visit
with the team.
From The Humor Corner:
Joining Nudist Colony!
Must sell washer and dryer $100.
There are two ways that you can help support our
programs:
1. Sign up your Fred Meyer Rewards Card for their
community support program.
2. When searching on the internet use Good Search.
There are flyers on the entry table to show you how
to use these two organizations to help us.
Please add these intercessions to your daily prayers:
For those who need healing.
For Emanuel Orphanage – Pastor Robert, John and
Sara and all the children.
For all members of our armed forces.
For all those with special needs.
For those in prison.
For those suffering from any addiction.
For God's blessings on all of our members present
and homebound or living out of town now.