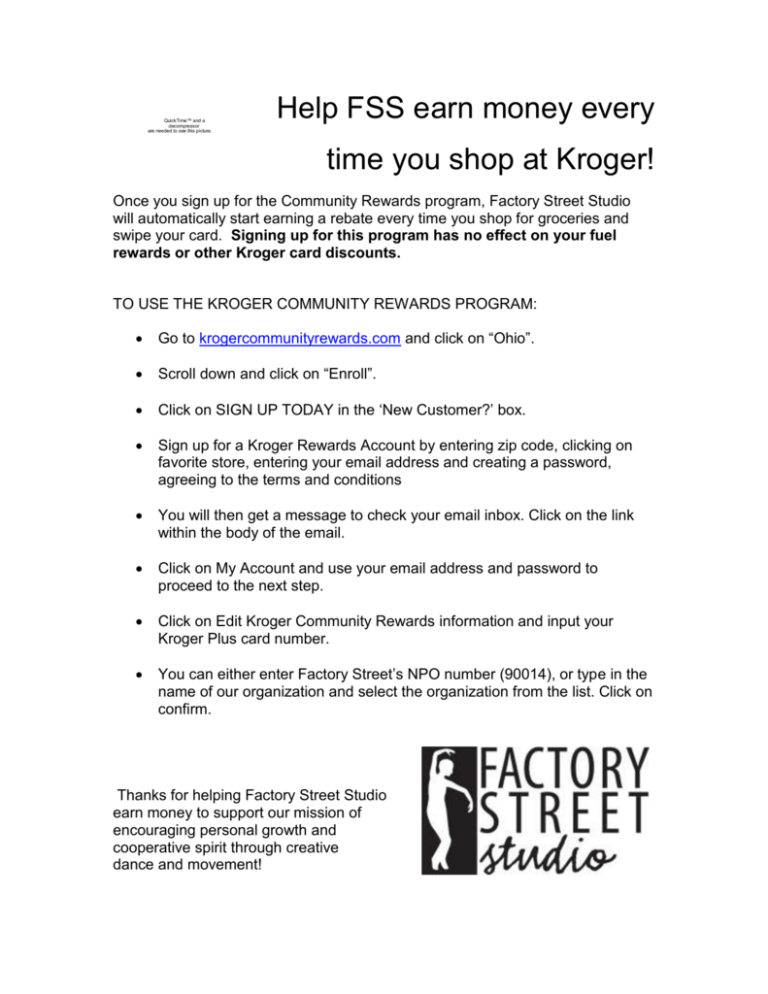 QuickTime™ and a
decompressor
are needed to see this picture.
Help FSS earn money every
time you shop at Kroger!
Once you sign up for the Community Rewards program, Factory Street Studio
will automatically start earning a rebate every time you shop for groceries and
swipe your card. Signing up for this program has no effect on your fuel
rewards or other Kroger card discounts.
TO USE THE KROGER COMMUNITY REWARDS PROGRAM:

Go to krogercommunityrewards.com and click on "Ohio".

Scroll down and click on "Enroll".

Click on SIGN UP TODAY in the 'New Customer?' box.

Sign up for a Kroger Rewards Account by entering zip code, clicking on
favorite store, entering your email address and creating a password,
agreeing to the terms and conditions

You will then get a message to check your email inbox. Click on the link
within the body of the email.

Click on My Account and use your email address and password to
proceed to the next step.

Click on Edit Kroger Community Rewards information and input your
Kroger Plus card number.

You can either enter Factory Street's NPO number (90014), or type in the
name of our organization and select the organization from the list. Click on
confirm.
Thanks for helping Factory Street Studio
earn money to support our mission of
encouraging personal growth and
cooperative spirit through creative
dance and movement!