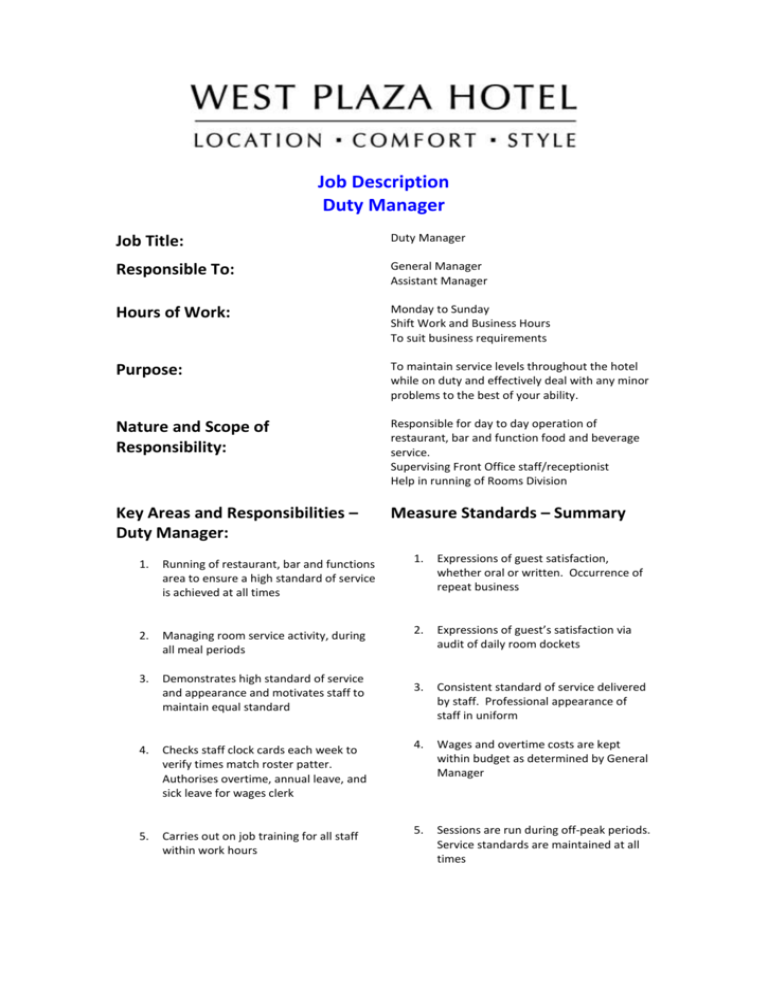 Job Description
Duty Manager
Job Title:
Duty Manager
Responsible To:
General Manager
Assistant Manager
Hours of Work:
Monday to Sunday
Shift Work and Business Hours
To suit business requirements
Purpose:
To maintain service levels throughout the hotel
while on duty and effectively deal with any minor
problems to the best of your ability.
Nature and Scope of
Responsibility:
Responsible for day to day operation of
restaurant, bar and function food and beverage
service.
Supervising Front Office staff/receptionist
Help in running of Rooms Division
Key Areas and Responsibilities –
Duty Manager:
Measure Standards – Summary
1.
Running of restaurant, bar and functions
area to ensure a high standard of service
is achieved at all times
1.
Expressions of guest satisfaction,
whether oral or written. Occurrence of
repeat business
2.
Managing room service activity, during
all meal periods
2.
Expressions of guest's satisfaction via
audit of daily room dockets
3.
Demonstrates high standard of service
and appearance and motivates staff to
maintain equal standard
3.
Consistent standard of service delivered
by staff. Professional appearance of
staff in uniform
4.
Checks staff clock cards each week to
verify times match roster patter.
Authorises overtime, annual leave, and
sick leave for wages clerk
4.
Wages and overtime costs are kept
within budget as determined by General
Manager
5.
Carries out on job training for all staff
within work hours
5.
Sessions are run during off-peak periods.
Service standards are maintained at all
times
6.
Handles client liaison relating to in
house functions in a professional and
courteous manner
6.
Expressions of guest satisfaction,
whether written of oral. Repeat business
7.
Informs General Manager when
crockery, glassware stocks need
replenishing
7. Sufficient supplies of crockery,
cutlery and glassware stocks are
on hand
8.
Ensures high level of hygiene at all times
in all service areas
8. Clean and orderly appearance
of Restaurant, Bar and Function
areas
Key Areas and Responsibilities –
Reception:
Measure Standards – Summary
1.
Reservations Backup
1.
Knowledge of all rates and promotions.
Assist Reservations Supervisor with taking
reservations, checking receptionist's
bookings, filing and travel agents
commissions. Assist with the groups and
ensure setup correctly
2.
Demonstrates knowledge of all guest
services in the hotel and local area
2.
Know hotel promotions, local attractions,
and all hotel guest services
3.
Operate and balance shift in front office
according to front office procedures
3.
Balance cashier at the end of every shift,
ensure all discrepancies are recorded and
communicated to the Rooms Division
Manager
4.
Health & Safety
4.
Ensure personal & guest safety at all times.
Report all incidents to Head of department,
and follow all safety procedures as trained
5.
Other duties as specified by the Rooms
Division Manager and members of hotel
management
5.
Carry out duties as directed by management
to the standard required
6.
Accounts Receivable
6. To learn the accounts receivable
process assisting the Rooms Division
Manager with the daily city ledgers
and banking
7. Training
7. Responsible for training all new front
office staff
Authority for Decision Making

Responsible for making day-to-day decisions
to operation of all service areas. Stock
ordering done in consultation with Assistant
Manager and Restaurant Manager.
Responsible for training of staff.
Expertise Required

Ability to relate and work effectively with
colleagues and clients.






Demonstrates a willingness to accept
responsibility and to act own initiative.
Ability to work and remain composed under
pressure and to ensure staff perform to
specified standards.
Maintains high standards of dress and
personal presentation at all times.
Excellent time management and
organisational skills.
Ability to perform end of month stocktaking
procedures.
Ability to produce crockery, cutlery and
glassware par level stock sheet.