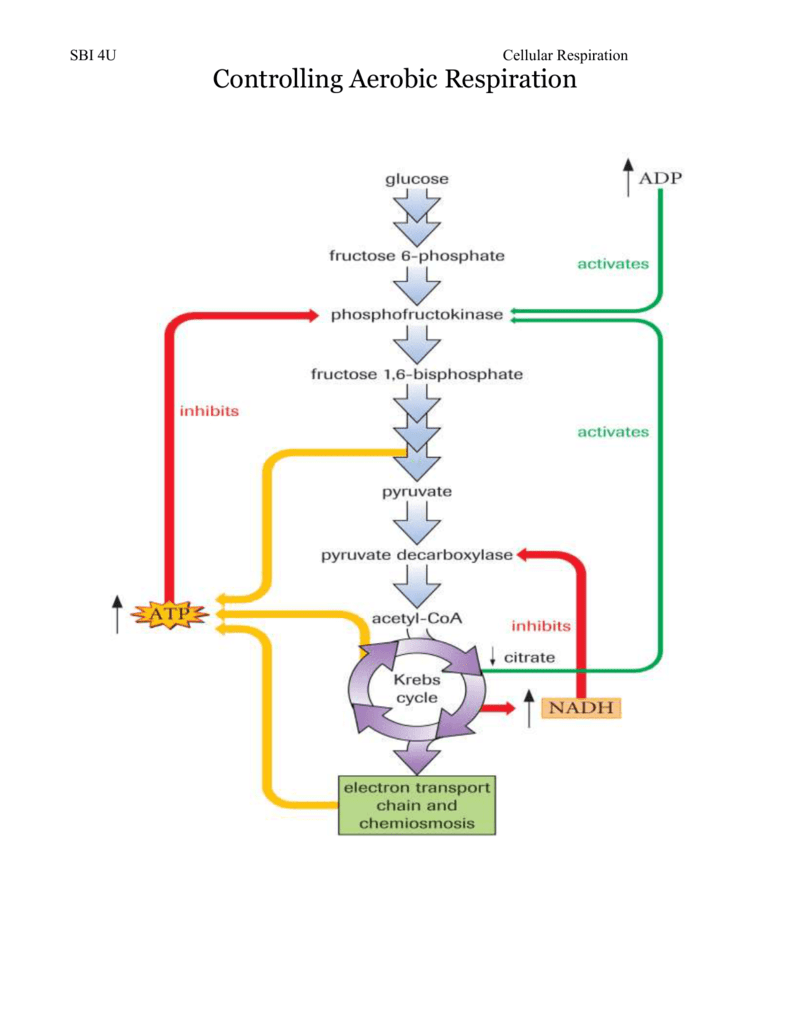 SBI 4U
Cellular Respiration
Controlling Aerobic Respiration
SBI 4U
Cellular Respiration
Metabolism of Nutrients Other Than Glucose
Proteins
Amino acids
Carbohydrates
Starch
Glucose
Lipids
Glycogen
Glycerol
Glucose-6phosphate
PGAL
Pyruvate
Acetyl-CoA
Kreb's
Cycle
NH3
CO2
H2O
Fatty
Acids
SBI 4U
Cellular Respiration
Anaerobic Pathways:
 Glycolysis (the same as for aerobic respiration)
 Fermentation: two types depending on the organism
1.
Alcoholic (Ethanol) Fermentation
glucose
2 pyruvic acid
2acetaldehyde
2 ethanol
 Occurs in yeasts and bacteria that live in absence of oxygen
 This form of fermentation allows us to produce wine from grapes and
beer from grains, make bread and pastries, and soy sauce.
 A large quantity of energy remains "locked" in the alcohol molecule; it
can therefore be used as fuel. Today, ethanol fuel is giving us new fuels
for our internal combustion engines, replacing the need for gasoline
from fossil fuels.
2. Lactic Acid Fermentation
 Occurs when there is an oxygen deficit
glucose
2 pyruvic acid
2 lactic acid
SBI 4U
Cellular Respiration
 As activity levels increase, muscles rapidly deplete the energy in the
available ATP; therefore, the cellular respiration rate increases (because
the need for O2 increases).
 The heart/lungs may not always be able to provide enough O2; if there is
a lack of O2, the mitochondria shut down, but glycolysis proceeds (if
there is enough glucose). However, as pyruvic acid molecules
accumulate in the cytoplasm, glycolysis slows down.
 Creatine phosphate (CP) provides the necessary energy to produce ATP
(short duration). Energy is stored in the muscle as CP.
CP breakdown is the fastest anaerobic method of ATP production
CP + ADP
C + ATP
 The body still needs to stop and rest. As lactic acid builds up, there is
increased muscle fatigue ("burn"), and as the acidity level in the cells
increases (pH ↓), muscles cannot contract.
 When O2 is again present, lactic acid diffuses into the blood where it is
carried to the liver to be converted back into glucose through the process
of gluconeogenesis. (Gluconeogenesis cannot take place in the muscles
because they lack the necessary enzyme for the reaction to proceed
 When activity levels decrease, enough O2 becomes available so cellular
respiration may take place, CP levels are replenished and lactic acid
(waste) is eliminated.