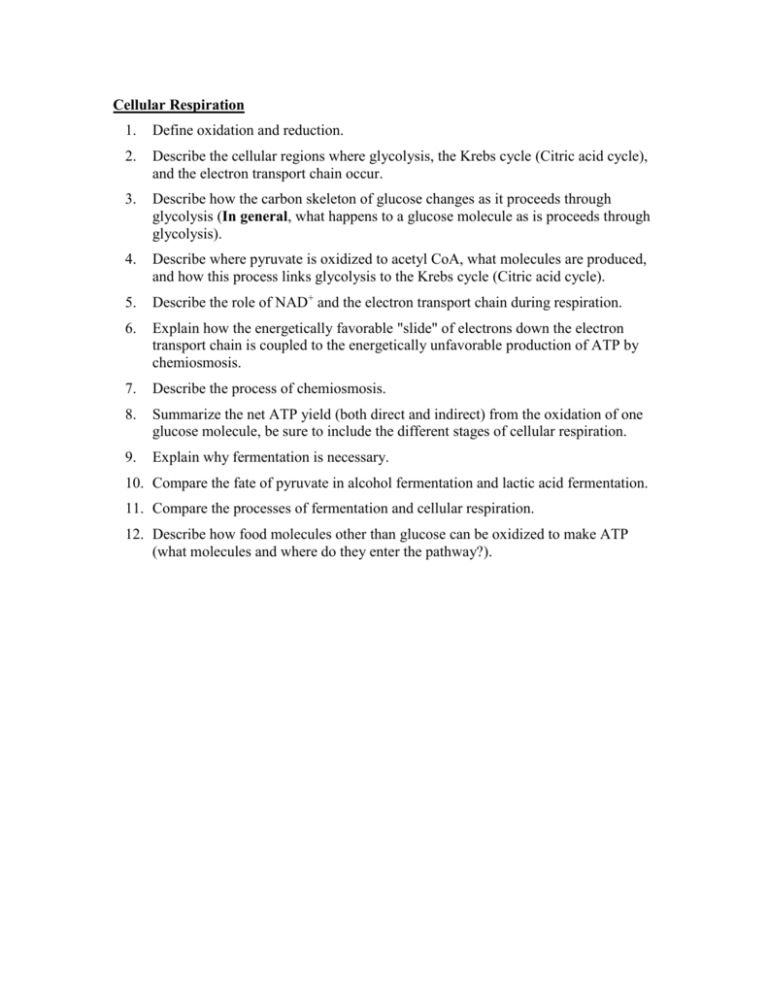 Cellular Respiration
1.
Define oxidation and reduction.
2.
Describe the cellular regions where glycolysis, the Krebs cycle (Citric acid cycle),
and the electron transport chain occur.
3.
Describe how the carbon skeleton of glucose changes as it proceeds through
glycolysis (In general, what happens to a glucose molecule as is proceeds through
glycolysis).
4.
Describe where pyruvate is oxidized to acetyl CoA, what molecules are produced,
and how this process links glycolysis to the Krebs cycle (Citric acid cycle).
5.
Describe the role of NAD+ and the electron transport chain during respiration.
6.
Explain how the energetically favorable "slide" of electrons down the electron
transport chain is coupled to the energetically unfavorable production of ATP by
chemiosmosis.
7.
Describe the process of chemiosmosis.
8.
Summarize the net ATP yield (both direct and indirect) from the oxidation of one
glucose molecule, be sure to include the different stages of cellular respiration.
9.
Explain why fermentation is necessary.
10. Compare the fate of pyruvate in alcohol fermentation and lactic acid fermentation.
11. Compare the processes of fermentation and cellular respiration.
12. Describe how food molecules other than glucose can be oxidized to make ATP
(what molecules and where do they enter the pathway?).