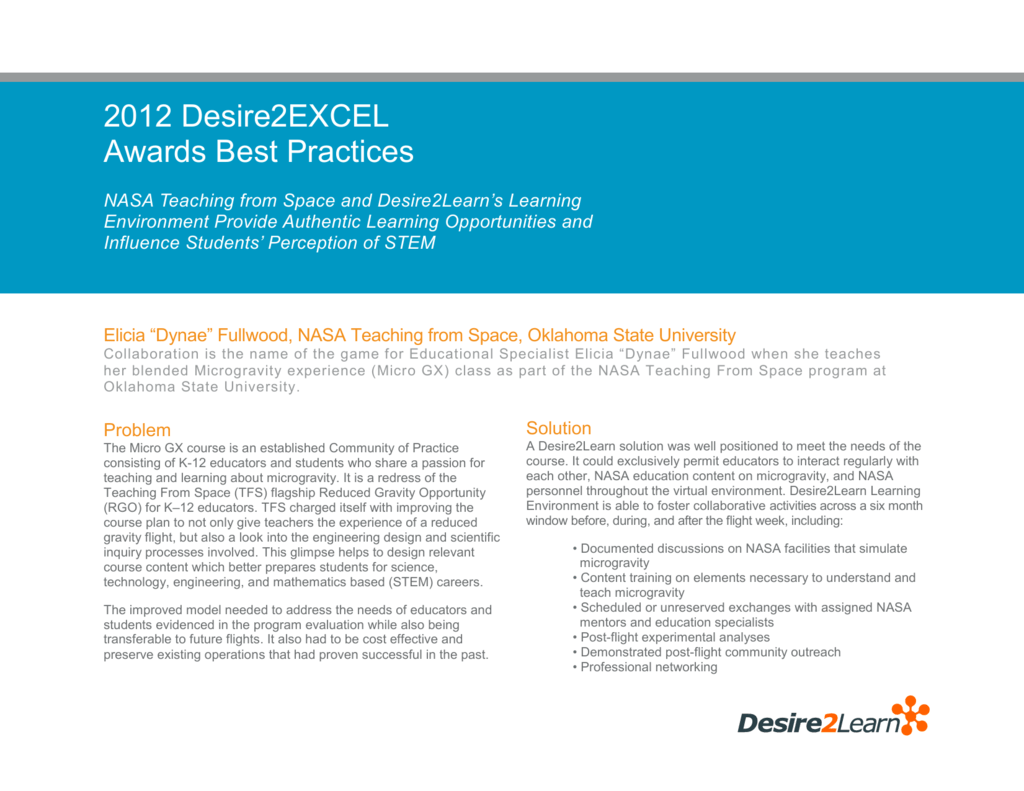 2012 Desire2EXCEL
Awards Best Practices
NASA Teaching from Space and Desire2Learn's Learning
Environment Provide Authentic Learning Opportunities and
Influence Students' Perception of STEM
Elicia "Dynae" Fullwood, NASA Teaching from Space, Oklahoma State University
Collaboration is the name of the game for Educational Specialist Elicia "Dynae" Fullwood when she teaches
her blended Microgravity experience (Micro GX) class as part of the NASA Teaching From Space program at
Oklahoma State University.
Problem
Solution
The Micro GX course is an established Community of Practice
consisting of K-12 educators and students who share a passion for
teaching and learning about microgravity. It is a redress of the
Teaching From Space (TFS) flagship Reduced Gravity Opportunity
(RGO) for K–12 educators. TFS charged itself with improving the
course plan to not only give teachers the experience of a reduced
gravity flight, but also a look into the engineering design and scientific
inquiry processes involved. This glimpse helps to design relevant
course content which better prepares students for science,
technology, engineering, and mathematics based (STEM) careers.
A Desire2Learn solution was well positioned to meet the needs of the
course. It could exclusively permit educators to interact regularly with
each other, NASA education content on microgravity, and NASA
personnel throughout the virtual environment. Desire2Learn Learning
Environment is able to foster collaborative activities across a six month
window before, during, and after the flight week, including:
The improved model needed to address the needs of educators and
students evidenced in the program evaluation while also being
transferable to future flights. It also had to be cost effective and
preserve existing operations that had proven successful in the past.
• Documented discussions on NASA facilities that simulate
microgravity
• Content training on elements necessary to understand and
teach microgravity
• Scheduled or unreserved exchanges with assigned NASA
mentors and education specialists
• Post-flight experimental analyses
• Demonstrated post-flight community outreach
• Professional networking
Process
Face-to-Face and Online
Thirty-four Micro GX participants were organized across seven teams
of four to five educators each. These teachers engaged 1600
students. Each team was built on varying compositions which included
representatives from a single school, a single district, or a collection of
schools. The participants collectively represented six states, three
elementary schools, four middle schools, and six high schools.
Face-to-face meetings involved a trip to NASA Johnson Space
Center in Houston for the reduced gravity flight and physiological
training as well as tours of NASA facilities.
Users of the community interacted based on requirements outlined for
completing checklist tasks made available to them in Desire2Learn.
The main banner and custom widgets on the Desire2Learn landing
page were populated with imagery of people in weightlessness that
uniquely branded the learning environment.
To encourage the integration of technology, custom widgets were
developed to showcase user websites and blogs, Twitter feeds, Flickr
slideshows, and media coverage. Any community user was able to
log in and participate in communication, locate resources, or obtain
updates. Materials were available for download in the content section
and users submitted links and photos associated with their
experience to shape and populate the homepage. Desire2Learn
features were also employed for self-assessment: attendance
records, course checklist, drop box, and incentive grades capabilities
allowed users to track their own progress around completed tasks in
order to earn a monthly reward.
Each team tested different subjects from a diverse list, including:
• The effects of microgravity on the control and practical use of a
remotely operated vehicle
• Electron flow in microgravity
• Convection in a sealed liquid model
• Whether a bubble formed around an electrode can stop electrolysis
• Multiple methods of wound closure (including stitching, stapling
and liquid adhesive)
• Density using liquid layering in microgravity making connections to
air circulation and convection currents in Native American tepees
• The formation of convection currents in microgravity and hyper
gravity environments
Micro GX uses a hybrid model where time was spent meeting both
virtually and face to face. Online meetings occurred twice monthly.
Four modules represented overarching themes from each of the
twelve online meetings, including: Overview (general information),
Guidance (questions and answers), Showcase (samples and
examples), and Content Training (education resources and
strategies).
The Experiment
Educators begin the experience by facilitating the design of an
experiment originally created by their students. Educators perform these
experiments on behalf of their students aboard an aircraft that performs
parabolic maneuvers and creates a simulated microgravity environment.
Micro GX permitted educators to interact regularly with each other,
NASA education content on microgravity, and NASA personnel
through the Desire2Learn environment. Oklahoma State University's
Desire2Learn implementation was used to facilitate and capture
collaborative communication.
Let's Collaborate!
Users interacted through six discussion boards highlighting
alternative methods for achieving and studying microgravity on Earth.
They interacted with each other, as well as NASA personnel, using
the chat rooms, synchronous online meeting spaces, and email
functionality. Online meetings using the Collaborate feature allowed
for exchanges that were archived for review, while a special
Collaborate room called "Playground" was opened so that any user
could meet at any time during the program.
Daily, the lead site manager would log in to provide service to other
users during typical business hours. Participants received content
training during which they interacted with six education concepts and
resources throughout three online meetings. These content
resources, as well as associated multimedia, were posted in the
Desire2Learn community for viewing or download on-demand.
Evidence of classroom interaction around one or more of these concepts
or resources was required via the submission of student work in the drop
box feature of the Desire2Learn platform. Desire2Learn technology
remained an important aspect of face-to-face interactions during the
reduced gravity flight at NASA Johnson. Beyond the physical experience
of participating in an experiment during thirty parabolic flight maneuvers,
users interacted with a collection of forms that demonstrated their flight
readiness, a technical document describing the details of their
experiment, a medical evaluation, and travel logistics.
After flight week, Desire2Learn hosted online meetings used as platforms
for presentations, final reporting, and evaluation focus groups. At the end
of the program, users were expected to maintain the relationships
developed within Desire2Learn. Special attention was given to user
communities with an online presence, the intention being to keep them
involved in NASA-sponsored education opportunities.
Outcome
Aspiring to maximize the value of a unique and authentic learning
opportunity, Micro GX aimed to extend a service to educators in the
areas of pedagogy, communication, and emerging technology.
Historically, while educators have found the reduced gravity flight to be
thrilling, attention has been more focused on ensuring that teachers
master the concept of microgravity prior to flying so that their
instruction to students would be enriched before, during, and after the
flight.
The use of Desire2Learn products improved on the model by
enriching educators' experiences on a reduced gravity flight. This
facilitation demonstrated the transferability of the Desire2Learn
platform to future reduced gravity flights and other NASA Education
program activities. Its cost-effectiveness and ability to preserve
existing operational tasks has been paramount in allowing Micro GX
participants to use an online community as the main source of
interaction.
Educators sought to influence student perceptions of STEM careers
based on their unique experiences associated with designing an
experiment to be performed on a flight in a microgravity environment.
According to feedback surveys, the use of Desire2Learn tools as the
main conduit for communication greatly increased the ease of the
collaboration between participants, their students, NASA mentors,
and NASA personnel.
The ability to deliver instruction through a virtual environment was both
convenient and cost-effective. Desire2Learn technology effectively
provided an avenue to exchange education resources, flight
documentation, samples of student work, and evidence of outreach
activities. The ability to hyperlink to mandated online surveys from the
Desire2Learn content area also supported the tracking and analysis of
groups affected by Micro GX activities, as indicated in the following
graphic.
Takeaways
About NASA Teaching from Space
Desire2Learn Learning Environment provides a wide range of
opportunities for collaboration and sharing throughout the learning
experience. The sharing of views, information, and expertise across
peers, mentors, faculty, and industry experts is inherent to the learning
process. With Desire2Learn Learning Environment, sharing
functionality is integrated directly with the learning tools. This provides
collaborative communication tools which can be customized to enforce
an institution's unique security policy while continuously promoting
engaging usage.
We are a team of former classroom teachers devoted to helping
educators make science, technology, engineering and mathematics,
or STEM, come alive for learners. Each experience and resource
offered through Teaching From Space is intended to be unique and
accessible and to provide real-life connections to the world of STEM.
As seen in this showcase, these capabilities were introduced through
a number of progressive activities which served as great examples of
collaboration and students constructing knowledge together.
For more information about Desire2Learn Learning Environment and
its collaboration tools, visit:
http://desire2learn.com/products/learningenvironment/features/collaborate-communicate/ or e-mail
[email protected]
About Desire2EXCEL Awards
Each year, Desire2Learn honors the best of the best with our
Desire2EXCEL Awards. These awards recognize organizations and
institutions using Desire2Learn technology to deliver innovative and
collaborative learning experiences that have had a high, significant, or
extraordinary impact. This white paper showcases one of the year's
nominees who have used Desire2Learn technology for instructional
purposes to enhance teaching and learning, focusing specifically on
high class interaction and collaboration with a unique twist. It is
through our clients that Desire2Learn succeeds, and because of our
clients that we continue to develop the best products possible in an
effort to transform education.
Teaching From Space offers experiences and resources not found
anywhere else. You can get involved in real NASA missions and
research, gain access to NASA experts, and use NASA equipment to
take learning to a new level. Imagine capturing images of Earth by
remotely programming a camera aboard the International Space
Station or launching your experiment on a NASA weather balloon.
Would you like to travel to a NASA center where you can test your
hypothesis in the same drop tower used by scientists for microgravity
research? It's all available. Teaching From Space even can put you in
touch with astronauts aboard the International Space Station to
answer questions related to your classroom studies. In addition to
hands-on activities, we offer electronic resources designed with busy
classrooms in mind. Quickly and easily find everything you need, from
short video clips to lesson plans, to infuse your classroom with NASAunique content.
About Elicia "Dynae" Fullwood
A native of Baton Rouge, Louisiana, Ms. Elicia Dynae Fullwood was the valedictorian of the 1994 Capitol Senior High School Class. She received a
Bachelor of Science degree in Biology from the University of Houston main campus in Houston, Texas and a Masters of Education degree with specialties
in secondary education and education administration from the University of St. Thomas in Houston, Texas. She is currently pursuing a Doctoral degree in
Instructional Technology and Distance Education from Nova Southeastern University in Miami, FL. Dynae is currently working as an Education Specialist
at the NASA Lyndon B. Johnson Space Center in Houston, TX in the Teaching From Space Office. Prior to this, Ms. Fullwood worked as an Aerospace
Education Specialist for six years at NASA Headquarters, Goddard Space Flight Center and Langley Research Center. Earlier on, she taught high school
science in the Houston Independent School District of Houston, Texas at James Madison High School and the School for Meteorology and Space
Science. With certifications in early childhood through twelfth grade level administration and secondary level biology, she was inducted into the National
Honor Society for Education, Kappa Delta Pi. She has been recognized for several Teacher of the Year, Assistant Coach of the Year, and Who's Who
Among America's Teachers awards throughout her career in education. Ms. Fullwood completed the 2011 Shamrock Marathon and the 2006 Honolulu
Marathon. She is also a member of Alpha Kappa Alpha Sorority, Inc. Her personal hobbies also include singing, song writing, paper crafts and playing
volleyball. Her future ambitions include learning to speak another language and continued international travel.
https://sites.google.com/site/dynaefullwood/
The Teaching From Space Office is located at NASA's Johnson Space Center in Houston, Texas.
You can contact us at:
Email: [email protected]
Phone: 281-244-2320
www.nasa.gov/education/tfs
Like us on Facebook. Follow us on Twitter. Join our group in NEON.
A global leader in cloud-based (SaaS) learning solutions, Desire2Learn
provides an open and extensible platform to more than 700 clients and 10
million learners in higher education, K-12, healthcare, government and the
corporate sector, including Fortune 100 companies. Desire2Learn has
personnel in the United States, Canada, Europe, Australia, Brazil and
Singapore.
Desire2Learn Incorporated
Phone:
1.519.772.0325 (Worldwide)
Fax:
1.519.772.0324
0.800.452.069 (New Zealand)
Email:
[email protected]
1.800.656.210 (Australia)
Web:
www.Desire2Learn.com
0.800.891.4507 (Brazil)
Toll Free:
1.888.772.0325 (North America)
0.808.234.4235 (United Kingdom & Europe)
Facebook: facebook.com/Desire2Learn
Twitter:
@Desire2Learn
Desire2Learn and the molecule logo are trademarks of Desire2Learn Incorporated, registered in the U.S. and
other countries. The Desire2Learn family of companies includes Desire2Learn Incorporated, D2L Ltd.,
Desire2Learn Australia Pty Ltd., Desire2Learn UK Ltd., Desire2Learn Singapore Pte. Ltd., and Desire2Learn
Brasil Soluções de Tecnologia para Educação Ltda.
NA | EXCEL | 0213
© 2013 Desire2Learn Incorporated. All rights reserved.
Desire2EXCEL Best Practices
Desire2Learn helps improve our world by pioneering innovative methods and
environments to engage and inspire learners throughout their lives. Making
education more accessible helps learners reach their full potential by
reflecting the unique needs of organizations, instructors, and students.