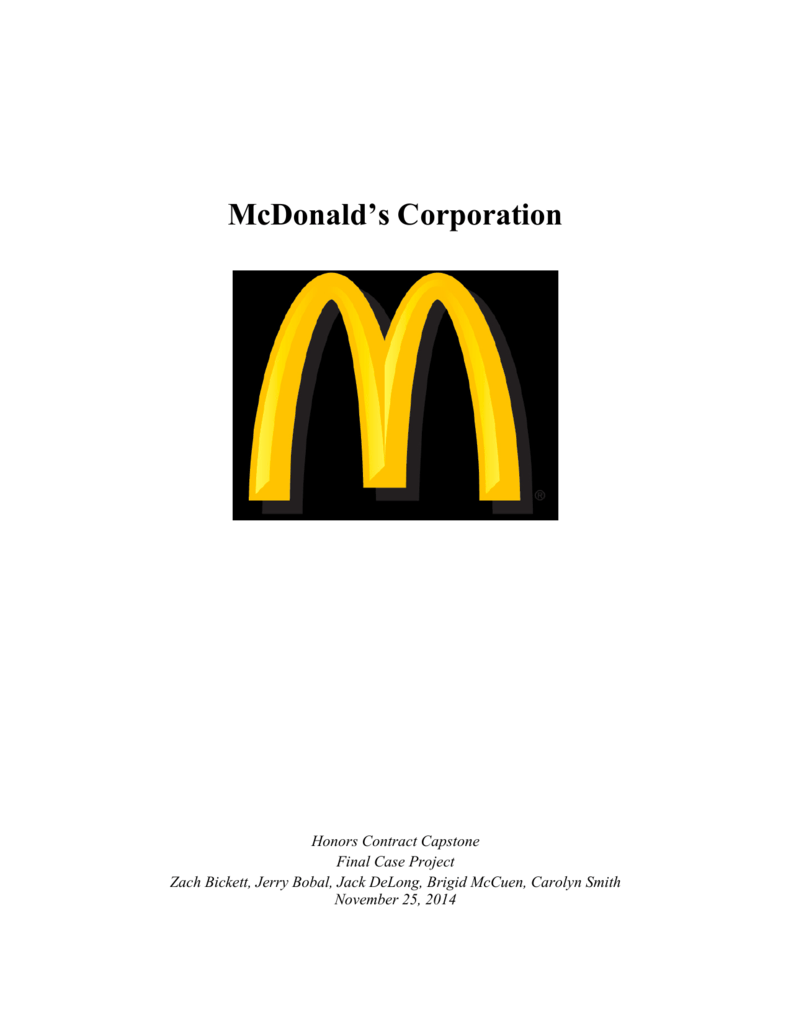 McDonald's Corporation
Honors Contract Capstone
Final Case Project
Zach Bickett, Jerry Bobal, Jack DeLong, Brigid McCuen, Carolyn Smith
November 25, 2014
The Biggest Alligator in the Swamp
At the McDonald's annual shareholder meeting in May 2013, CEO Dan Thompson was
confronted by a group of activists wanting answers.1 Does McDonald's target children and
African Americans? What is the company doing about its role in the obesity epidemic? How is
the company responding to protests about worker pay? Fronting the controversy was Tanya
Fields, who portrayed her neighborhood in the Bronx as a food swamp plagued with corner
stores and fast food restaurants. Tayna is a mother and executive director of the BLKProjek,
whose goal is to, "address food justice."2 She told the CEO that among the options within
walking distance from her house, McDonald's was "the biggest alligator in that swamp."3
As the largest QSR (quick-service restaurant) in the world, customers, lawmakers,
shareholders, and employees are looking to McDonald's to set the standard. The company has
faced controversy for decades, but has managed to remain on top and work to maintain their
public image. However, with the emergence of fast-casual restaurants, are minor adjustments and
a strong public relations team enough to deal with the changing industry environment?
Started from the Bottom
From humble beginnings as a small drive-in barbeque restaurant, McDonald's has built
itself to be the largest fast food service retailer in the world with over 35,000 stores worldwide,
serving nearly 70 million people daily.4 In 1940, Dick and Mac McDonald opened McDonald's
Bar-B-Q in San Bernardino, California. By 1948, McDonald's is founded, with a limited menu,
1
McDonald's CEO Fields Questions on Nutrition, Wages
The BLK Project
3
The 10 Most Absurd Lies Told by McDonald's CEO
4
Our Story
2
featuring the 15-cent hamburger.5 The brothers began franchising other McDonald's locations in
1952, starting with Neil Fox, who purchased the first franchise in Phoenix for $1000.6
Enter Ray Kroc
Before he pitched his vision for McDonald's to the McDonald brothers, Ray Kroc
worked as Red Cross ambulance driver, piano player, paper cup salesman, and finally, a multimixer salesman. It was his last job as a multi-mixer salesman that led to his involvement with
McDonald's. In 1954, he received a large order from the McDonald's brothers for 8 multimixers, who used them in making milkshakes. When Kroc went out to California, he was
instantly impressed with the brothers' quality and efficiency.7 He was so impressed that he
wanted to become involved in helping the brothers with their franchising goals. By 1955, Kroc
had opened his first McDonald's in Des Plaines, Illinois. Only four years later, the 100th location
opened in Fon Du Lac, Wisconsin.5 By 1961, Kroc had bought the exclusive rights to the
McDonald's name, along with Dick and Mac McDonald's stake in the company for $2.7 million
With Kroc at the helm, the company experienced substantial growth. In 1967, McDonald's
opened its first international location in British Columbia, Canada. By 1968, the 1000th
McDonald's restaurant opened up where Kroc had begun: Des Plaines, Illinois. One decade later,
the 5000th McDonald's location opened in Kanagawa, Japan.
According to Kroc's vision, McDonald's would become famous for its consistency and
high quality. He wanted a customer to be able to order a McDonald's hamburger that tasted the
same in Illinois as it did in California. In order to accomplish this, he needed franchisees and
5
McDonald's History
McDonald's first franchise restaurant was built in Phoenix
7
The Ray Kroc Story
6
suppliers to buy into his plan. He promoted his slogan, "In business for yourself, but not by
yourself."7
To succeed in creating a consistent product, McDonald's former senior chairman, Fred
Turner, founded a training program focused on managerial positions and called it Hamburger
University. To date, more than 275,000 have graduated the program8, including more than
80,000 restaurant managers, mid-managers, and owner/operators since 1961.9 Currently there
are seven Hamburger University campuses around the world.10 The University has 19 full-time
professors with restaurant expertise and boasts four curriculums: Crew Development, Restaurant
Managers, Mid-Management, and Executive Development.11
Although Kroc was focused on consistency, he also greatly valued innovation. Many
famous menu items were created by franchisees instead of upper management. The Filet-O-Fish
was invented in 1962 by Lou Groen and was inspired by the needs of the Catholic consumers in
Cincinnati. Ray Kroc wagered with Groen that if his fish sandwich outperformed Kroc's "hula
burger", which was an appetizing creation consisting of a cold bun and a slice of pineapple, then
McDonald's would keep it. Groen claims the Filet-o-Fish's success saved his franchise.12
The Big Mac, which reached international success, was invented by an early franchisee,
Jim Deligatti, in 1967. Delligatti himself claimed in an interview "I always felt it was going to be
a huge success, but I only thought in terms of the United States."13
8
Our Alumni
Hamburger University
10
Our Facility
11
Our Curriculum
12
No fish story: Sandwich saved his McDonald's
13
Golden Arch Angel
9
Menu Diversification
McDonald's Breakfast
Delligatti continued to make differences in the company when he altered the hours of
operation, opening at 7 AM versus the normal 11 AM. He began selling coffee, doughnuts, and
other common breakfast items. Five percent of Delligatti's business was conducted during these
morning hours, but other owner/operators could not be on board without double-digit sales gains.
The Egg McMuffin was the key to McDonald's breakfast success. New franchisee, Herb
Peterson, was excited to take advantage of this new breakfast market. He invented an egg
sandwich complimented by a slice of cheese between a warm English muffin. After Kroc
allowed the product to go nationwide, the breakfast business increased in popularity and now
represents 15% of McDonald's sales 14
Decades after breakfast was introduced, McDonald's announced the arrival of McCafé
coffees, including cappuccinos, lattes, and mochas. In addition, McDonalds began offering free
Wi-Fi in over 11,000 restaurants in the United States to stage a more coffeehouse-like
atmosphere. Kroc desired to take on the competition of chains such as Dunkin Donuts and
Starbucks.15
Happy Meals
1979, McDonald's added the Happy Meal to their menu with the help of Dick Brams,
known as the "father of the Happy Meal". Brams thought of the Happy Meal as a marketing
gimmick to drive up sales by targeting kids. Kid-sized portions and a toy made this idea a hit.
Though the food remained the same (Chicken McNuggets were added nationwide starting in
14
15
The Birth of the Egg McMuffin
Coffee Wars - The Big Three: Starbucks, McDonald's and Dunkin' Donuts
1983), the toys changed almost weekly. In 1987, McDonald's released Disney Happy Meals.
This marked the beginning of many different licensed Happy Meals.16
More Additions and The Dollar Menu
Among other additions, notable menu items that were added include the Quarter Pounder
in 1973, Chicken McNuggets in 1983, and fresh tossed (non-entrée) salads in 1987. Premium
salads were added to the menu in 2003.
In 2002, McDonald's further attracted the price-sensitive customer and launched the
Dollar Menu. Although it wasn't the first value menu to be launched in the industry, it was still
wildly successful, accounting for almost 15% of sales in 2013.17 The breakfast dollar menu
features the sausage McMuffin, a hashbrown, and a McCafé coffee. The dollar menu for the rest
of the day includes the McChicken, which is a chicken sandwich with mayonnaise and shredded
ice burg lettuce, Chicken McNuggets, several burger options, as well as ice cream and cookies.18
McDonald's is constantly working to provide new and interesting options to the customers for an
affordable price.
Ronald McDonald House
Much like other large corporations, McDonald's makes an effort to improve not only
their relations with the public but also their social impact. However instead of choosing a charity
to donate to, the company created its own. Thus the first Ronald McDonald House opened in
Philadelphia in 1973. The Ronald McDonald House Charities, or RMHC, was officially
established in 1984 in Memory of Ray Kroc. Although McDonald's is RMHC's largest
16
The Happy Meal
McDonald's Admits Salads Only Make Up 2 To 3 Percent Of Sales
18
Dollar Menu and More
17
corporate sponsor, it is, in fact, a registered non-profit 501(c) (3). RMHC's mission is to
"create, find and support programs that directly improve the health and wellbeing of children."19
RMHC has local chapters in more than 62 countries worldwide. Over $200 million has been
collected through RMHC Donation Boxes and 78% of the world's best children's hospitals have
RMHC programs.20
Competition
Burger King: Have It Your Way
Burger King, publicly traded hamburger fast food restaurant (NYSE: BKW), was
founded in 1954 in Miami, FL. The company's staple product, the Whopper, was introduced in
1957.21 The company then expanded into foreign markets in 1963 with a restaurant opening in
Puerto Rico. Pillsbury acquired Burger King in 1967 and at the time had 274 locations and over
8,000 employees. The 1970's led to many new and innovative programs that Burger King still
uses today. Some of these include the "Have it your way" campaign, first restaurant in Europe,
and the introduction of the drive-thru service. Burger King allowed customers to customize their
items, eventually forcing McDonald's to follow suit. The company has also developed several
successful short-term marketing campaigns but as seen in Exhibit 1, their long term growth still
puts them below McDonald's in terms of market share.
Burger King focused more on restaurant growth and menu expansion during the 1980s.
Breakfast was introduced in middle of the decade and a chicken nugget meal was introduced
shortly after as an alternate to a hamburger meal. 1986 was a huge year for Burger King, with
19
Mission and Vision
Our Relationship with McDonald's
21
Burger King History
20
over 500 new restaurants opening across the world that year (over 4,700 restaurants total in the
Burger King system). Burger King was operating in 25 different countries at the end of 1986.
In 1988, Grand Metropolitan LLC acquired Pillsbury, including its subsidiary Burger
King. Grand Metropolitan had more of an international focus and Burger King further expanded
into the Middle East, Eastern Europe, Latin America, etc. In 2002, Burger King was sold to the
private equity firms Texas Pacific Group, Bain Capital and Goldman Sachs Capital Partners.19 In
2006, Burger King successfully completed an initial public offering (IPO). In 2010, Burger King
went private again, only to go public again in 2012. In August 2014, Burger King announced its
intentions to purchase Tim Hortons.22 This will help lower Burger King's tax burden and help
grow the brand's breakfast offerings. Some speculate the move may also be a response to the
rise in "fast-casual" restaurants such as Chipotle.
Wendy's
Wendy's Old-Fashioned Hamburger Restaurant is a publicly traded fast food (NASDAQ:
WEN) restaurant that was founded in Columbus, OH in 1969 by Dave Thomas. Wendy's
entered the industry with a focus on providing fresh food at reasonable prices. Wendy's started
out as a hamburger restaurant but quickly expanded into other avenues, including a salad bar in
1979.23 Wendy's later added chili, chicken, and Frosty dessert products to further add to the
product line. Wendy's does not have a staple sandwich (like McDonalds and the Big Mac and
Burger King and the Whopper), but instead is known for having square burger patties.
Wendy's expanded quickly through the United States and the first foreign restaurant was
opened in 1975 in Ontario, Canada. Growth began to slow in the 1980s and Wendy's countered
22
23
Burger King-Tim Hortons Cross-Border Merger Much More Than Tax Inversion
Wendy's Timeline
this by trying a "Where's the Beef" commercial campaign. The commercials were successful
and eventually Dave Thomas starred in commercials, which helped to grow the Wendy's brand
and put a person behind the company. Over 90% of Americans knew who Dave Thomas was in
the 1990s, making him an integral part of their brand.
Starting in the mid-1990s, Wendy's began to expand, starting with the acquisition of Tim
Hortons in 1995. Wendy's later went on to acquire Arby's, only to sell the roast beef fast food
chain three years later. In March 1997, the 5,000th Wendy's location opened and the company
hit 6,000 restaurants a short time after that. Wendy's continued to expand overseas, later
focusing on certain Mexican cities.
The company began to revitalize its menu and strategy in the 2000s. The plan included a
focus on core business processes, modification and simplification of the value menu, and a plan
to attract younger customers that were leaning more towards fast-casual restaurants.24 A few
years ago, Wendy's changed how they made their French fries. Even more recently they have
added new menu items, focusing mainly on healthy or premium type of food products.
McDonald's Success: Now We're Here
Arguably the major reason McDonald's has been so successful is because of their
superior brand recognition. It was ranked number nine in Interbrand's 2014 Best Global Brand
rankings with a brand value of over $42 million.25 This high brand recognition allows
McDonald's to engage in profitable strategic partnerships with top brands such as Coca Cola and
Heinz as well as sponsorships with Disney and DreamWorks.26 When customers go to
24
Wendy's Is Changing Up Its Strategy To Attract Millennials
McDonald's – Best Global Brands
26
10 Secrets of McDonald's Success
25
McDonald's, they know exactly what it is they are going to receive: a fast, cheap, and consistent
quality meal, thus fulfilling Kroc's early visions.
McDonald's distinguishes its products to appeal to different consumers and their
changing preferences. This strategy shines through their global expansion and their ability to
alter menus to appeal to different cultures. The company offers of shrimp burgers and corn
alternatives to French fries in Hong Kong, even offering an item labeled the McSpaghetti in
Italy.27 These menu adaptations have been successful in areas that other QSRs lack because
McDonald's has been able to market these differentiated products to specific consumer groups.
An increasing trend toward nutrition and fitness, especially among the millennial generation, has
led to McDonald's adoption of healthier alternatives such as fruit and vegetables and
implementation of more visible and available nutritional information. In addition, the company
developed the dollar menu to appeal to lower income families and introduced new menu items
such as coffee and wraps. This allows McDonald's to expand its market share, avoid stagnation,
and obtain a completely different group of customers.28
The Industry
Suppliers
Most QSRs have a high volume of undifferentiated suppliers that provide the meat
products, buns, sauces and syrup, milk products, vegetables and fruits, pastries, coffee, soft
drinks, packaging and equipment.29 These products are considered commodities and the
suppliers are compelled to price similar to the market. Many industry players have strong brand
27
Why is McDonald's So Successful?
The McDonald's Success Story
29
SUPPLIERS AND PURCHASING
28
recognition and significant market share; McDonalds is the leader in the fast food industry with
over 21% of the market, which can be seen in Exhibit 1. McDonald's purchases supplies in bulk
to save money. Maintaining healthy supplier relationships is important as is in a business
relationship. Prices of these commodity supplies have risen in recent years due to rising prices of
livestock, corn, wheat, and other products. Due to the highly competitive industry environment,
the price increase has shrunk margins. Profit margins in the industry have been less than 10% in
recent years.30 In light of this trend, McDonalds tends to source its inventory from suppliers that
are located close to the operations. McDonald's has been able to maintain a very high profit
margin compared to the industry at 19.8%, which can be seen in Exhibit 3.
Soft-drink suppliers of the industry consist mainly of Coca-Cola and Pepsi, who are
powerful brands and dominate market share in the soft drink industry. They provide QSRs with
drink dispensers and the necessary syrups. Many QSRs have long-term contracts with these
suppliers due to the competitive nature of the soft drink industry.
Buyers
QSRs sell directly to consumers through chains across the country and internationally.
Buyers are extremely price-sensitive, and count on McDonald's and its competitors to give them
the most for their buck.
In recent years, the consumer has become increasingly health-conscious. A number of
books and documentaries have been released purporting the unhealthiness of the fast food
industry, and as a result customers have demanded healthier fast food options. QSRs thus have
responded by making healthier options available.
30
Fast Food Industry Report
Distribution and Technology
McDonald's has wide distribution channels spanning internationally, and has utilized
recent technological innovations, spanning from a mobile application to Point-of-Sales (POS)
technology. This POS platform makes kitchens more efficient by communicating with cooks
and lessening transaction time, thus increasing productivity and generating more sales. It also
collects sales data for use by managers to determine popular menu items and the busiest times of
day for each restaurant.31
Fast Casual Industry
The up-and-coming "fast-casual" industry poses a real threat to the QSRs. Some
successful examples of fast-casual restaurants include Panera Bread, Zaxby's chicken, and
Chipotle. In the first six months of 2014, McDonald's sales stagnated or stayed the same at over
14,000 of its restaurants. Meanwhile, the number of fast-casual chains has nearly doubled over
the past decade, while the number of McDonalds outlets has only grown slightly.32 Furthermore,
the changing consumer preference toward quality of food has been trumping price-consciousness
in recent years, as customers are willing to pay more for a "better quality" meal. A 2014
Consumer Report survey reported that out of 21 burger joints, McDonald ranked last on the list
in terms of Consumer Preference; Burger King and Jack in the Box also ranked very low.33
Meanwhile, fast-casual burger restaurants ranked highest.
Competition
31
McDonalds Wants It Their Way
McDonalds Real Trouble: Its Losing The Millennials
33
Consumer Reports Slams McDonalds, Taco Bell, KFC
32
There are now over 230,000 fast food companies competing for market share and the
same group of consumers.34 Fast food companies have to compete with similar quick service
restaurants as well as higher-end, non-traditional fast food franchises such as Starbucks. The
market is saturated with numerous competitors that offer comparable products, and thus there are
fewer customers per location.35 Quick service restaurants are constantly engaging in price wars
with each other, leading to more fickle customers. Morningstar analyst R.J Hottovy argued that
rivalry "appears to be on the rise, with chains increasingly competing with one another on the
basis of price and product differentiation."36 Changing consumer preferences towards healthier
options and non-traditional fast food have forced companies to be innovative and remain up to
date with these changes. QSRs need to respond with "new offerings, pricing and strategies to
lure consumers back-in."35 Rising costs of food, recessions, and the shift towards a more healthfocused society are all relevant in the current industry.
McDonald's Bad Perception
Despite its reign as the leading fast food company in the world, McDonald's has gone through its
fair share of legal trouble, which has affected its brand perception, both domestically and
internationally.
Super Size Me
In 2004, a man by the name of Morgan Spurlock starred in a documentary that changed
the perception of McDonald's, and the rest of the fast food industry, forever. Super Size Me
unveiled the unhealthy truths of the quality of McDonald's food, and its harmful effects on
34
Topic: Fast Food Industry
Fast Food Industry Analysis – Cost & Trends
36
Fast-Food Outlook: Intense Competition, Margin Pressures
35
Spurlock's body, as he ate nothing but the restaurant's food for 30 days. That same year,
McDonald's stock price tumbled by 56 percent in 10 months and reported their first quarterly
loss. Sales at existing stores were not growing, and in some instances, declining. 37
Interestingly enough, McDonald's turnaround was attributed to the popularity of the
Dollar Menu, which originally became a permanent part of the menu in 2002. It increased sales
by 33% while increasing share price by 170%.38 McDonald's also opened up fewer stores in
succeeding years, while improving the service and the aesthetics of the current
ones. Information on sales of premium, healthy options compared to Dollar Menu items can be
found in Exhibit 4.
The company responded to the allegations in the documentary in a number of ways.
First, the day before the movie opened to the public, they introduced a "Go Active" menu. It
included a "Happy Meal" for adults, consisting of a salad, water, and a "stepomoter" which
could be used to count the number of steps each customer took per day. McDonald's withdrew
the Super Size menu options altogether. They also released an "Eat Smart, Be Active" initiative,
and provided fruit, salads, vegetables, and yogurt in stores.38
McDonald's retooled its PR efforts to emphasize the larger debate on obesity and a
healthy diet. They released a series of newspaper ads that drew attention to the expanded salad
menu.40
37
38
Salads or No, Cheap Burgers Revive McDonald's
McDonalds Phasing Out Supersize Fries, Drinks
The documentary also had an effect on the corporation's sales internationally. In the UK,
pre-tax profits dropped 72%.39
McDonald's has since made efforts to appeal to a wide variety of customers through
menu variety. Exhibit 5 shows the ten most popular menu items at McDonald's. McDonald's
offers breakfast foods, salads, and café items, all in addition to their traditional menu. Customers
have been very loyal to McDonald's and their classic menu items despite the negative portrayal
of the nutrition in the media.
The McLibel Case
In 1986, a small group of activists, London Greenpeace, released a leaflet called "What's
Wrong with McDonald's" accusing McDonald's of corrupt practices. It discussed topics ranging
from the corporation's animal cruelty, to the destruction of rainforests, exploitations of staff, and
the sale of unhealthy food.
McDonald's responded by picking five individuals from the group and telling them to
apologize, or risk getting sued in court. (They could not sue London Greenpeace as a whole
because it was only an association of individuals.) Three of the accused stood down, but two,
Helen Steel and Dave Morris, refused to give in to McDonald's.
In 1990, McDonald's served libel writs to the pair, and the trials began in 1994.40 The
individuals were found guilty and were fined, but McDonald's didn't force them to pay the fined
amount. Regardless, the trial and its worldwide media coverage made McDonald's a symbol of
corrupt practices in the eyes of many.
39
40
The Aftermath: How Super Size Me Effected the Food Industry
Famous Cases: McLibel
Where's the Beef?
In 1990, McDonald's announced that it would no longer use beef fat as an ingredient in
its French fries, leading many to believe that their fries were now vegetarian. Throughout the
subsequent decade, multiple lawsuits were brought against the corporation for the continued use
of beef flavoring in the infamous fries.41 The lawsuits ended in 2002 when McDonald's agreed to
pay $100 million to vegetarians and religious groups, in addition to issuing an apology.
As a result of the many lawsuits against the company, McDonald's formed a Dietary
Practice/Vegetarian Advisory Panel to advise them on relevant dietary restrictions and
guidelines.41
McDonald's Business Model and Success Story
McDonald's, with its more than 35,000 restaurants worldwide in more than 100 countries
serving approximately 70 million people worldwide, earns its revenue through two sources: sales
from company operated McDonald's restaurants and rent and royalty payments from its
franchised stores.42 As seen in Exhibit 7, sales by the company owned restaurants for the nine
months ended 9/30/14 were $13.873 billion and revenues earned from franchised restaurants
were $6.997 billion, which is consistent with the former typically accounting for approximately
67% of revenue and the latter the other third of revenue.
41
42
McDonald's Settles Beef Over Fries
McDonald's: Not in the Burger Business
Sales by the company-owned restaurants are recognized on a cash basis and are presented
net of sales and other sales-related taxes. Revenues from the franchised restaurants from rent and
royalties are based on a percentage of sales in addition to minimum rent payments and initial
fees. Revenues from restaurants licensed to foreign affiliated and developmental licensees also
include a royalty as a percentage of sales and any initial fees.43 The rent and royalties are
recognized in the period earned whereas the initial fees are recognized when a new restaurant
opens or when McDonald's grants a new franchise term.38
Although sales from company owned restaurants accounts for the most significant
proportion of revenue, the franchises are the true source of profit for McDonald's in terms of
operating margin. As seen in Exhibit 8, over 80% of the McDonald's locations are franchised.
The company is able to retain bargaining power with franchisees because they can offer more
volume and profit for franchisees than any other global competitors.44 McDonald's business
model of franchising is low cost and a predictable and reliable source of cash flow for the
company. McDonald's owns the land and building that the franchise operates in, but the
restaurant is responsible for the costs associated with operations and daily management. This
allows McDonald's to be able to rely on low maintenance and reliable income, usually for a long
period of time such as 20-year franchise arrangements.39
Current Environment
Fast Casual Restaurants
43
44
McDonald's Corp. (MCD) | Revenues
McDonald's Analysis: I'm Still Lovin' It
Fast-casual restaurants provide an exciting, new middle ground between sit-down dining
and quick service restaurants. According to Exhibit 9, there was a larger increase in customer
traffic to fast-casual restaurants than there was for QSRs from the years 2009-2013. QSRs like
McDonald's have to decide how to deal with these newcomers in the market. Fast casual
restaurants blur the lines between a traditional fast food restaurant (Burger King, McDonalds)
and a traditional casual sit-down restaurant (Applebees, Chili's). Since fast casual is a relatively
new way to categorize restaurants, it can be difficult to determine what exactly qualifies a
restaurant as "fast casual." Fast Casual magazine presents four main qualities, service type, food
quality, atmosphere and décor, and menu prices; that separate a fast casual restaurant from a
traditional fast food or wait-service restaurant.45
A fast casual restaurant often provides limited table service but many utilize pick-up
areas. Most establishments will not have a drive-thru option. Although these factors are helpful
in determining what qualifies as "fast casual," one of the more distinguishing factors is the
quality of the food, including how it is prepared. Fast casual restaurants typically operate under a
"made to order" system and feature fresh food. Many boast organic ingredients or attempt to
limit preservatives in their food. Atmosphere characteristic of a fast casual restaurant is relaxed
but more up-scale than a fast food restaurant. They often feature paintings or a unique seating
area. Prices at fast casual restaurants tend to be higher than their fast food counterparts. This is to
reflect the slightly higher service, better ingredients, and perceived healthiness of the food
compared to fast food rivals. Fast casual restaurants are six times more likely to have wholegrain or whole-wheat items on their menu than their fast food rivals.46
45
46
Defining Fast Casual
Fast Casual Branches Out
Current examples of fast casual restaurants include Chipotle, Zaxby's, Five Guys Burgers
and Fries, Panera Bread, among others. Some in the industry say that only a majority of the
criteria have to be met for a restaurant to be classified as fast casual. Fast Casual magazine uses
Culver's as an example of a restaurant fitting most of the criteria.45 Culver's has a drive-thru and
seems like a typical fast food at quick glance. But the food is made to order, interior is typically
nicer, and it has a slightly higher price point. Fast Casual magazine says that a restaurant that has
a value or dollar menu is typically disqualified from being a fast casual restaurant.45
There is a gray area in what is considered a fast casual restaurant and what is not. Subway
is an example of a restaurant that fits many characteristics of a fast casual restaurant but is not
considered a fast casual restaurant by most people in the industry. Subway features fresh, healthy
food, and allows customers to customize their orders. But décor at most Subways is basic, menu
items are relatively affordable, and many Subways are located in gas stations or other combined
locations. The model that Subway uses to prepare and serve food is identical to many fast casual
restaurants. One food critic humorously noted that Subway "was using the assembly line process
when Chipotle's Steve Ells was in diapers".47 Recently the lines between traditional dining, fast
casual, and quick service are becoming even more indistinguishable. As mentioned before,
Culver's has a drive-thru and many consider it a fast casual restaurant. Panera Bread is starting to
experiment with a drive-thru option at restaurants and the initial stages of the trial have been
successful. Panera locations that add a drive-thru option see increases in sales by about 25%. 46
Fast casual restaurants only account for 6% of the current restaurant market share but
they are rapidly growing and expanding. It was the only segment of restaurant market that grew
47
The Term "Fast Casual" Has to Go Away
in the last five years.48 Fast casual restaurant's sales grew by 11% and individual restaurants
grew by 8% in 201349. Revenue numbers for a restaurant like Chipotle are lower than
McDonalds but Chipotle's revenue growth has been nearly 20% over the past five years. At
Chipotle, the average guest count per company store has risen by 5% and 2.3% over the last two
years.49 McDonalds, meanwhile, has seen a decrease in average guest count of 1.3% in the past
two years.
Do they change their base strategy and attempt to offer a comparable experience? How do the
companies draw their customers back from the fast-casual diners?
Mo' Money, Mo' Problems?
According to Business Insider, McDonald's is not only fighting an external battle with
fast-casual restaurant but is also facing serious internal problems. At 189.5 seconds from drivethru order to pick-up, McDonald's service is 9 seconds longer than the industry average.50 A
quick service restaurant without quick service leads to increasingly unhappy customers. Why is
a company known for it's speedy service losing in this category? A main component is
McDonald's increasingly complicated menu. The menu has expanded over 70% since 2007.51 A
large menu necessitates more knowledgeable employees; meaning increased training costs for
the company and further foreseeable complications.
In addition to service and competition challenges, customers are changing. Consumers
want to know details: what is in their food, how it is made, as well as its effect on their health.
This relatively new movement complicates the job of QSRs like McDonald's. In 2000, Eric
48
Fast Casual Restaurants Gobble up Market Share
How the Fast Casual Segment is Gaining Market Share
50
McDonald's Drive-Thrus Are Getting Slower
51
McDonald's CEO Reveals The Brand's 4 Biggest Problems
49
Schlosser wrote the book "Fast Food Nation," which was later released in documentary form in
2006. Schlosser performed extensive research using himself as a guinea pig. Schlosser
commented,
"During the two years spent researching this book, I ate an enormous amount of fast
food. Most of it tasted pretty good. That is one of the main reasons people buy fast food; it has
been carefully designed to taste good. It's also inexpensive and convenient. But the value meals,
two-for-one deals, and free refills of soda give a distorted sense of how much fast food actually
costs. The real price never appears on the menu."52
The law eventually responded to the uproar of the health-conscious. The "Patient
Protection and Affordable Care Act" (PPACA) became law in 2012 and required restaurant
chains with more than 20 locations to list their nutritional information at the point of purchase.53
The new demands on QSRs to be not only quick and delicious but also healthy mean expensive
advertising as well as revised processes, ingredients, and menu choices.
McDonald's problems do not end at changing customer tastes. Consumers are becoming
increasingly conscious of ethical standards and sustainability. Accusations of poor ethical
standards and adverse economic impact are flying towards McDonalds. People claim that
McDonald's targets children and allows cruelty to the animals, as well as hurts the economies of
third world countries. Not all claims can be supported, but the damage to public image is
important in the long-term success of the company.
Donald Thompson, the current CEO and President of McDonald's, was raised in the
infamous Cabrini-Green Chicago housing project. Thompson overcame the odds and studied
engineering at Purdue University before going on to start his career at a defense manufacturer
that is now a part of Northrup Grumman. Thompson joined McDonald's as a robotic engineer in
52
53
Fast Food Nation: The Dark Side of the All-American Meal
The Future of Quick-Service Restaurants (QSR)
199054, quickly rising through the ranks to become CEO in July 2012, succeeding Jim Skinner.
He is the company's first African-American CEO55. Thompson eats food from McDonald's
nearly everyday and claims to have lost twenty pounds last year56. Thompson has a tough job
ahead of him as he serves as CEO. He needs to create a plan for the company to face the
multitude of assertions against both its practices and its product.
As the leader in the fast food industry, lawmakers and consumers are looking to
McDonald's to set a better standard. Are the changes McDonald's are making enough to bring
back the health-conscious consumer or is their customer base shrinking in a changing
environment? How can the company respond to customers and go beyond legal requirements to
prove their nutritional value? McDonald's has to adapt to the continuously changing market and
avoid stagnation. They have been on top for years; the question is, can they stay on top and deal
with the challenges presented to them?
54
New McDonald's CEO Don Thompson's Path
McDonald's CEO Don Thompson Still Lovin' It
56
McDonald's CEO Claims to Have Lost Twenty Pounds
55
Exhibit 1
Top$50$Brands$of$Fast$Food/Casual$Dining$(2014)
RANK
COMPANY/CHAIN$NAME
1
2
3
4
5
6
7
8
9
10
11
12=(tie)
12=(tie)
14
15
16
17
18
19
20
21
22
23
24
25
26
27
28
29
30
31
32
33
34
35
36
37
38
39
40
41
42
43
44
45
46
47
48
49
50
McDonald's
Subway=*
Starbucks=*
Wendy's=*
Burger=King=*
Taco=Bell
Dunkin'=Donuts
Pizza=Hut
ChickOfilOA
KFC
Panera=Bread
Sonic=DriveOIn
Domino's=Pizza
Carl's=Jr./Hardee's
Chipotle=Mexican=Grill=*
Jack=in=the=Box=1
Arby's
Little=Caesars=*
Dairy=Queen=*
Papa=John's
Popeyes=Louisiana=Kitchen
Panda=Express
Whataburger
Jimmy=John's
Five=Guys=Burgers=&=Fries=*
Zaxby's
Bojangles'
Culver's
Steak='n=Shake
Church's=Chicken
Papa=Murphy's=*
Checkers/Rally's
Long=John=Silver's
Krispy=Kreme=*
Del=Taco
White=Castle
El=Pollo=Loco=*
Quiznos=*
Boston=Market
Qdoba=Mexican=Grill
Tim=Hortons=*
Jason's=Deli
Einstein=Bros.=Bagels=2
InONOOut=Burger=*
Wingstop=*
BaskinORobbins=1
Jamba=Juice
Moe's=Southwest=Grill
Captain=D's=*
McAlister's=Deli
2013$U.S.$SYSTEMWIDE$
SALES$(MILLIONS)
$35,856.30
$12,735.00
$11,723.00
$8,787.00
$8,502.50
$7,800.00
$6,700.00
$5,700.00
$5,052.60
$4,300.00
$4,284.00
$3,800.00
$3,800.00
$3,400.00
$3,169.00
$3,108.50
$3,032.00
$3,025.00
$2,985.00
$2,494.80
$2,179.70
$1,989.90
$1,588.40
$1,466.70
$1,138.20
$1,073.40
$925.20
$905.60
$895.00
$855.40
$779.70
$723.40
$663.00
$626.00
$622.50
$612.40
$604.00
$601.00
$600.90
$592.60
$589.50
$588.00
$573.00
$558.20
$540.20
$513.00
$500.00
$498.20
$477.50
$459.00
Source: "The QSR 50." Tory. N.p., n.d. Web. 04 Nov. 2014
%$MARKET$SHARE$(among$
top$50$only)
21.73%
7.72%
7.11%
5.33%
5.15%
4.73%
4.06%
3.45%
3.06%
2.61%
2.60%
2.30%
2.30%
2.06%
1.92%
1.88%
1.84%
1.83%
1.81%
1.51%
1.32%
1.21%
0.96%
0.89%
0.69%
0.65%
0.56%
0.55%
0.54%
0.52%
0.47%
0.44%
0.40%
0.38%
0.38%
0.37%
0.37%
0.36%
0.36%
0.36%
0.36%
0.36%
0.35%
0.34%
0.33%
0.31%
0.30%
0.30%
0.29%
0.28%
2013$U.S.$AVERAGE$ NUMBER$OF$
SALES$PER$UNIT$
FRANCHISED$
(THOUSANDS)
UNITS$IN$2013
$2,500.00
$490.00
$1,310.00
$1,510.00
$1,200.00
$1,406.00
$872.70
$861.00
$2,846.50
$942.00
$2,465.00
$1,109.00
$762.10
$1,310.00
$2,169.00
$1,380.90
$921.00
$800.00
$659.00
$837.00
$1,298.00
$1,285.00
$2,096.00
$878.80
$1,027.00
$1,845.40
$1,727.80
$1,875.40
$1,750.00
$713.70
$577.00
$930.40
$745.00
$2,565.00
$1,136.30
$1,268.20
$1,500.00
$360.00
$1,298.00
$1,017.00
$1,125.00
$2,399.80
$895.00
$1,955.00
$974.00
$207.90
$737.00
$1,007.00
$920.00
$1,511.40
12,739
26,427
4,408
4,745
7,103
4,878
7,648
7,355
1,713
4,285
910
3,126
4,596
1,964
0
1,786
2,313
3,310
4,527
2,542
2,172
60
125
1,774
805
497
349
487
103
946
1,327
449
890
155
247
0
237
1,400
0
317
857
106
392
0
569
2,460
535
524
243
275
Exhibit 2
Burger Segment of the Fast Food Market
2011
2012
2013—unavailable
2014
Source: "Top 50 Breakdown by Market Segments." Rosie. N.p., n.d. Web. 04 Nov. 2014.
Exhibit 3
Source: "Fast-Food Chains Aren't as Rich as Protesters Think." Yahoo Finance. N.p., n.d. Web.
23 Nov. 2014.
Exhibit 4
Dollar Menu Sales vs. Premium Option Sales (Daily Average) Menu Item Average Price Average Amount Sold Revenue/day Premium Chicken Sandwich Premium Salad Dollar Double Cheeseburger $4.20 $4.69 $1.00 50 50 400 $210 $235 $400 Source: Warner, Melanie. "Salads or No, Cheap Burgers Revive McDonald's." The New York
Times. The New York Times, 18 Apr. 2006. Web. 23 Nov. 2014.
Exhibit 5
Source: "10 Most Popular McDonald's Menu Items of All Time - HowStuffWorks." HowStuffWorks. N.p., n.d. Web.
04 Nov. 2014.
Exhibit 6
McDonald's Balance Sheet
Source: United States. U.S. Securities and Exchange Commission. EDGAR. McDonald's Corp Form 10K. N.p.:
n.p., n.d. Web. 04 Nov. 2014
Exhibit 7
McDonald's Income Statement
Source: United States. U.S. Securities and Exchange Commission. EDGAR. McDonald's Corp Form 10K. N.p.:
n.p., n.d. Web. 04 Nov. 2014
Exhibit 8
Franchise Units
YEAR
COMPANY
CANADIAN INTERNATIONAL OWNED
U.S.
2014
12,757
1,170
15,067
6,689
2013
12,678
1,114
14,459
6,642
2012
12,605
1,152
14,125
6,598
2011
12,546
1,125
13,407
6,439
2010
12,477
1,097
12,764
6,399
Percentage Franchised versus Percentage Company Owned
YEAR U.S.
TOTAL
CANADIAN INTERNATIONAL FRANCHISED
COMPANY
OWNED
2014 35.75%
3.28%
42.22%
81.25%
18.75%
2013 36.33%
3.19%
41.44%
80.96%
19.04%
2012 36.56%
3.34%
40.97%
80.86%
19.14%
2011 37.43%
3.36%
40.00%
80.79%
19.21%
2010 38.11%
3.35%
38.99%
80.45%
19.55%
Source: "McDonald's Franchise Information." Entrepreneur. N.p., n.d. Web. 19 Nov. 2014.
Exhibit 9
%(Change(in(Customer(Traffic
Year
2013
2012
2011
2010
2009
Fast(Casual
8%
9%
6%
6%
4%
QSR
0%
1%
0%
)1%
)3%
Source: "Key Trends Explaining Our $628 Price Valuation For Chipotle -- Trefis." Trefis. N.p.,
n.d. Web. 04 Nov. 2014.
Exhibit 10
Source: "IndexMundi Blog." IndexMundi Blog. N.p., n.d. Web. 23 Nov. 2014
Exhibit 11
Source: The Wall Street Journal. Dow Jones & Company, n.d. Web. 23 Nov. 2014.
ENDNOTES
1
"McDonald's CEO Fields Questions on Nutrition, Wages." Chicago Tribune. N.p., 23 May
2013. Web. 21 Nov. 2014.
2
"About Us." The BLK ProjeK. N.p., n.d. Web. 22 Nov. 2014.
3
"10 Most Absurd Lies Told By McDonald's CEO." Alternet. N.p., n.d. Web. 22 Nov. 2014.
4
"Our Story." :: McDonalds.com. N.p., n.d. Web. 06 Nov. 2014.
5
"History of McDonald's Restaurants :: AboutMcDonalds.com." History of McDonald's
Restaurants :: AboutMcDonalds.com. N.p., n.d. Web. 06 Nov. 2014.
6
"McDonald's First Franchise Restaurant Was Built in Phoenix." Examiner.com. N.p., n.d. Web.
06 Nov. 2014.
7
"The Ray Kroc Story." :: McDonalds.com. N.p., n.d. Web. 06 Nov. 2014.
8
"Our Alumni :: AboutMcDonalds.com." Our Alumni :: AboutMcDonalds.com. N.p., n.d. Web.
07 Nov. 2014.
9
"Hamburger University - McDonalds :: AboutMcDonalds.com." Hamburger University McDonalds :: AboutMcDonalds.com. N.p., n.d. Web. 06 Nov. 2014.
10
"Our Facility :: AboutMcDonalds.com." Our Facility :: AboutMcDonalds.com. N.p., n.d. Web.
07 Nov. 2014.
11
"Our Curriculum :: AboutMcDonalds.com." Our Curriculum :: AboutMcDonalds.com. N.p.,
n.d. Web. 07 Nov. 2014.
12
"No Fish Story: Sandwich Saved His McDonald's - USATODAY.com." No Fish Story:
Sandwich Saved His McDonald's - USATODAY.com. N.p., 20 Feb. 2007. Web. 06 Nov. 2014.
13
"Pittsburgh Post-Gazette - Google News Archive Search." Pittsburgh Post-Gazette - Google
News Archive Search. N.p., n.d. Web. 08 Nov. 2014.
14
"The Birth of the Egg McMuffin :: AboutMcDonalds.com." The Birth of the Egg McMuffin ::
AboutMcDonalds.com. N.p., n.d. Web. 05 Nov. 2014.
15
Brizek, Michael G. "Coffee Wars-The Big Three: Starbucks, McDonald's and
Dunkin'Donuts." Journal of Case Research in Business & Economics 5 (2012).
16
Webley, Kayla. "The Happy Meal." Time. Time Inc., 30 Apr. 2010. Web. 08 Nov. 2014.
17
Bradford, Harry. "McDonald's Admits Salads Only Make Up 2 To 3 Percent Of Sales." The
Huffington Post. TheHuffingtonPost.com, 29 May 2013. Web. 23 Nov. 2014.
18
"Dollar Menu and More." Dollar Menu & More. Web. 23 Nov. 2014.
19
"McDonald's Mission and Corporate Values :: AboutMcDonalds.com." McDonald's Mission
and Corporate Values :: AboutMcDonalds.com. N.p., n.d. Web. 04 Nov. 2014.
20
"FOR HELPING FAMILIES FIND STRENGTH IN NUMBERS." Our Relationship With
McDonald's. N.p., n.d. Web. 05 Nov. 2014.
21
"History." Burger King. N.p., 2012. Web. 04 Nov. 2014.
<http://investor.bk.com/burgerking/web/conteudo_en.asp?idioma=1&tipo=43564&conta=44>.
22
"Burger King-Tim Hortons Cross-Border Merger Much More Than Tax Inversion." Forbes.
Forbes Magazine, 29 Aug. 2014. Web. 09 Nov. 2014.
<http://www.forbes.com/sites/greatspeculations/2014/08/29/burger-king-tim-hortons-crossborder-merger-much-more-than-tax-inversion/>.
23
"Wendy's Timeline." The Columbus Dispatch. N.p., 28 Apr. 2008. Web. 5 Nov. 2014.
<http://www.dispatch.com/content/stories/local/2008/04/24/timeline.html>.
24
Lutz, Ashley. "Wendy's Is Changing Up Its Strategy To Attract Millennials."Business Insider.
Business Insider, Inc, 13 May 2014. Web. 07 Nov. 2014.
<http://www.businessinsider.com/wendys-strategy-to-attract-millennials-2014-5>.
25
"McDonald's - Best Global Brands." InterBrand, n.d. Web. 05 Nov. 2014.
26
Phillips, Scott. "10 Secrets of McDonald's Success." The Motley Fool. N.p., 31 Jan. 2012.
Web. 08 Nov. 2014
27
Mazelin, Ashley. "Why Is McDonald's So Successful? - Saltsha." Saltsha Why Is McDonalds
So Successful Comments. N.p., n.d. Web. 05 Nov. 2014.
28
40 Olson, Max. "The McDonald's Success Story « FutureBlind." FutureBlind. N.p., n.d. Web.
08 Nov. 2014
29
"SUPPLIERS AND PURCHASING." Suppliers and Purchasing. McDonald's. Web. 24 Oct.
2014. <http://www.mcspotlight.org/company/publications/mcfact_section5.html>.
30
Fast Food Industry Analysis 2014 - Cost & Trends. 1 Jan. 2014. Web. 24 Oct. 2014.
<https://www.franchisehelp.com/industry-reports/fast-food-industry-report/>.
31
McDonald's Wants It Their Way. Baseline Magazine, 2 July 2003. Web. 24 Oct. 2014.
<http://www.baselinemag.com/c/a/Past-News/McDonalds-Wants-It-Their-Way>.
32
Trachtenberg, Drew. "McDonald's Real Trouble: It's Losing Millennials." DailyFinance. 26
Aug. 2014. Web. 1 Nov. 2014. <http://www.dailyfinance.com/2014/08/26/mcdonalds-realtrouble-its-losing-the-millennials>.
33
Trachtenberg, Drew. "CR Readers Aren't Loving McDonald's, Say 'No Mas' to Taco Bell."
DailyFinance. 2 July 2014. Web. 1 Nov. 2014. <http://www.dailyfinance.com/on/consumerreports-slams-mcdonalds-taco-bell-kfc/>.
34
"Topic: Fast Food Industry." The Statistics Portal. Www.statista.com, Aug. 2014. Web. 08
Nov. 2014.
35
"Fast Food Industry Analysis 2014 - Cost & Trends." Fast Food Industry Analysis 2014 - Cost
& Trends. Franchise Help, n.d. Web. 08 Nov. 2014.
36
Spain, William. "Fast-food Outlook: Intense Competition, Margin Pressures." MarketWatch.
N.p., 14 Jan. 2010. Web. 09 Nov. 2014.
37
Warner, Melanie. "Salads or No, Cheap Burgers Revive McDonald's." The New York Times.
The New York Times, 18 Apr. 2006. Web. 23 Nov. 2014.
38
Msnbc.com. Associated Press, 3 Mar. 2004. Web. 24 Oct. 2014.
<http://www.nbcnews.com/id/4433307/ns/business-us_business/t/mcdonalds-phasing-outsupersize-fries-drinks/#.VGBASF7pXGk>.
39
"The Aftermath: How Super Size Me Effected the Fast Food Industry." Super Size Me. N.p.,
n.d. Web. 21 Nov. 2014.
40
"Famous Cases: McLibel." — Brightside. N.p., n.d. Web. 23 Nov. 2014.
41
"McDonald's Settles Beef Over Fries." CBSNews. CBS Interactive, n.d. Web. 21 Nov. 2014.
42
Buchanan, Benjamin. "McDonald's: Not in the Burger Business." Guardian Liberty Voice.
N.p., 5 Aug. 2014. Web. 18 Nov. 2014.
43
"McDonald's Corp. (MCD) | Revenues." Stock Analysis on Net. N.p., n.d. Web. 18 Nov. 2014.
44
"McDonald's Analysis: I'm Still Lovin' It." The Dividend Pig RSS. N.p., 17 Mar. 2011. Web.
18 Nov. 2014.
45
"Defining Fast Casual." Www.fastcasual.com. N.p., n.d. Web. 23 Nov. 2014.
46
"Fast Casual Branches out." Washington Restaurant Association Our Mission Is to Help Our
Members Succeed. N.p., n.d. Web. 23 Nov. 2014.
47
"The Term 'Fast Casual' Should Go Away." Restaurant Industry Insight News and Analysis The
Restaurant Finance Monitor Blog. N.p., n.d. Web. 23 Nov. 2014.
48
Hsu, Tiffany. "Fast-casual Restaurants Gobble up Market Share." Los Angeles Times. Los
Angeles Times, 22 Dec. 2011. Web. 23 Nov. 2014.
49
"How The Fast Casual Segment Is Gaining Market Share In The Restaurant Industry." Forbes.
Forbes Magazine, n.d. Web. 22 Nov. 2014.
50
Lutz, Ashley. "McDonald's Drive-Thrus Are Getting Slower." Business Insider. Business
Insider, Inc, 30 Sept. 2013. Web. 01 Nov. 2014.
51
Lutz, Ashley. "McDonald's CEO Reveals The Brand's 4 Biggest Problems." Business Insider.
Business Insider, Inc, 06 Aug. 2014. Web. 01 Nov. 2014.
52
Schlosser, Eric. Fast Food Nation: The Dark Side of the All-American Meal. Boston:
Houghton Mifflin, 2001. Print.
53
"The Future of Quick-Service Restaurants (QSR)." 590King. N.p., n.d. Web. 01 Nov. 2014.
54
"New McDonald's CEO Don Thompson's Path Began Three Blocks from Cabrini-Green on the
Wings of His Grandmother." Chicago Tribune. N.p., 23 Mar. 2012. Web. 23 Nov. 2014.
55
" McDonald's CEO Don Thompson Is Still Lovin' It." CBSNews. CBS Interactive, n.d. Web. 23
Nov. 2014.
56
Pow, Helen. "McDonald's CEO Claims He's Lost 20lbs in a Year despite Eating at the Chain
EVERYDAY as Company Reports Dismal Salad Sales." Mail Online. Associated Newspapers,
31 May 2013. Web. 23 Nov. 2014.