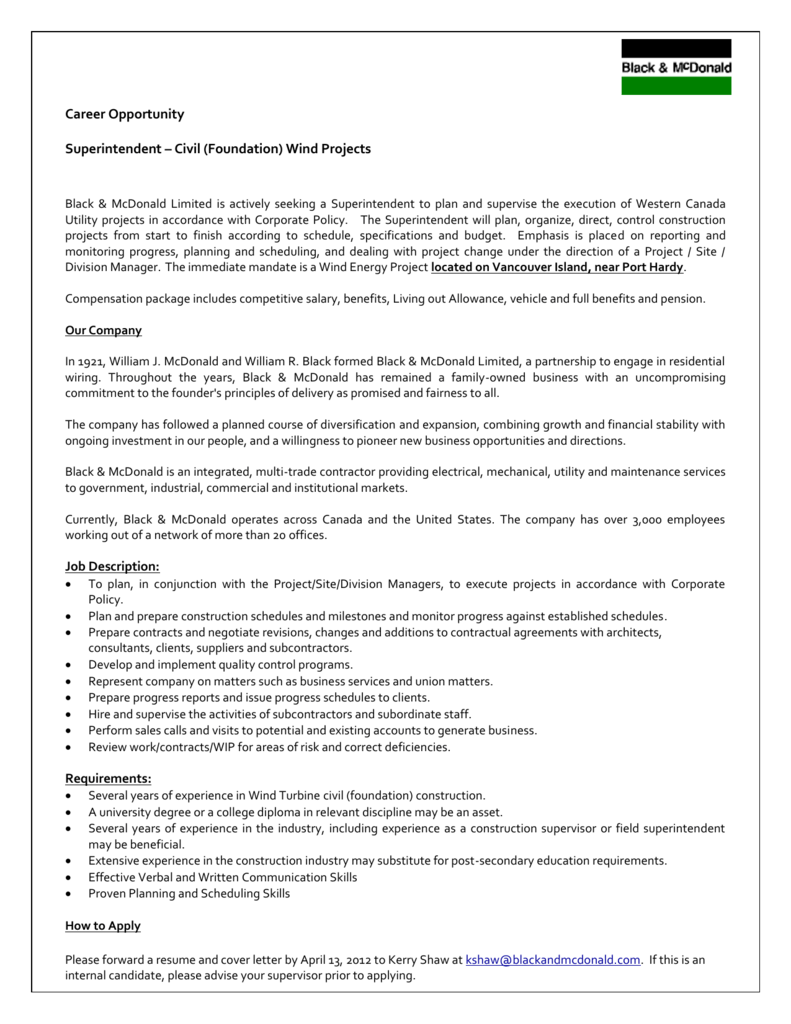 Career Opportunity
Superintendent – Civil (Foundation) Wind Projects
Black & McDonald Limited is actively seeking a Superintendent to plan and supervise the execution of Western Canada
Utility projects in accordance with Corporate Policy. The Superintendent will plan, organize, direct, control construction
projects from start to finish according to schedule, specifications and budget. Emphasis is placed on reporting and
monitoring progress, planning and scheduling, and dealing with project change under the direction of a Project / Site /
Division Manager. The immediate mandate is a Wind Energy Project located on Vancouver Island, near Port Hardy.
Compensation package includes competitive salary, benefits, Living out Allowance, vehicle and full benefits and pension.
Our Company
In 1921, William J. McDonald and William R. Black formed Black & McDonald Limited, a partnership to engage in residential
wiring. Throughout the years, Black & McDonald has remained a family-owned business with an uncompromising
commitment to the founder's principles of delivery as promised and fairness to all.
The company has followed a planned course of diversification and expansion, combining growth and financial stability with
ongoing investment in our people, and a willingness to pioneer new business opportunities and directions.
Black & McDonald is an integrated, multi-trade contractor providing electrical, mechanical, utility and maintenance services
to government, industrial, commercial and institutional markets.
Currently, Black & McDonald operates across Canada and the United States. The company has over 3,000 employees
working out of a network of more than 20 offices.
Job Description:









To plan, in conjunction with the Project/Site/Division Managers, to execute projects in accordance with Corporate
Policy.
Plan and prepare construction schedules and milestones and monitor progress against established schedules.
Prepare contracts and negotiate revisions, changes and additions to contractual agreements with architects,
consultants, clients, suppliers and subcontractors.
Develop and implement quality control programs.
Represent company on matters such as business services and union matters.
Prepare progress reports and issue progress schedules to clients.
Hire and supervise the activities of subcontractors and subordinate staff.
Perform sales calls and visits to potential and existing accounts to generate business.
Review work/contracts/WIP for areas of risk and correct deficiencies.
Requirements:






Several years of experience in Wind Turbine civil (foundation) construction.
A university degree or a college diploma in relevant discipline may be an asset.
Several years of experience in the industry, including experience as a construction supervisor or field superintendent
may be beneficial.
Extensive experience in the construction industry may substitute for post-secondary education requirements.
Effective Verbal and Written Communication Skills
Proven Planning and Scheduling Skills
How to Apply
Please forward a resume and cover letter by April 13, 2012 to Kerry Shaw at [email protected] If this is an
internal candidate, please advise your supervisor prior to applying.