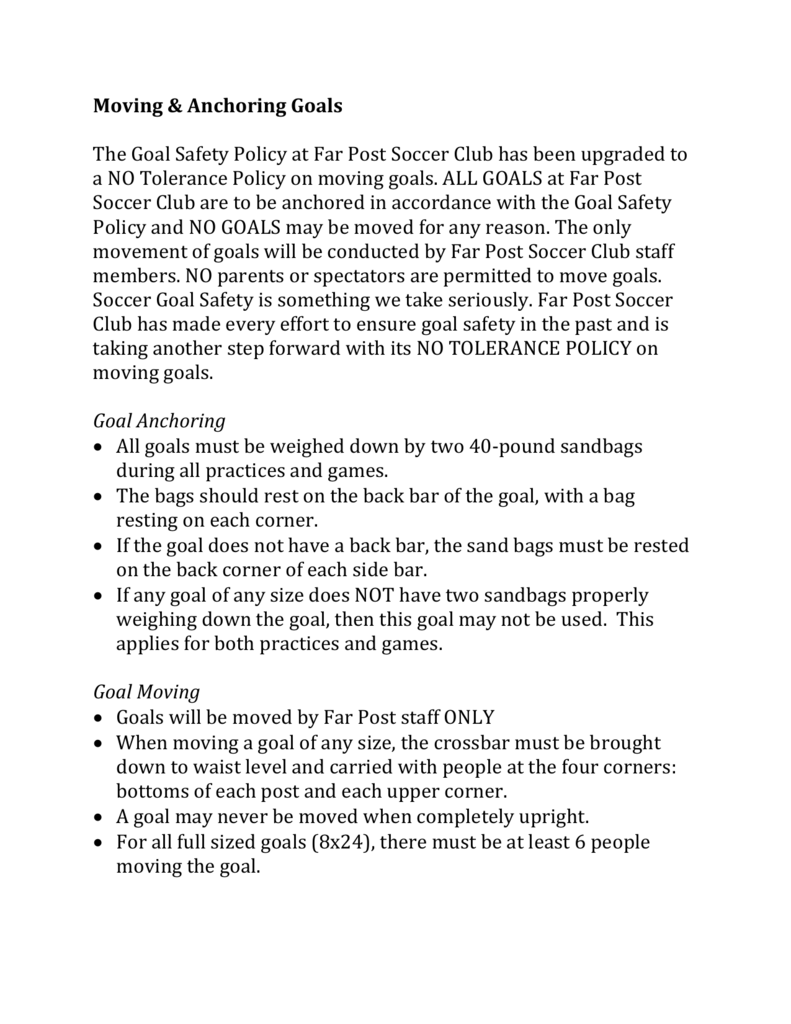 Moving & Anchoring Goals
The Goal Safety Policy at Far Post Soccer Club has been upgraded to
a NO Tolerance Policy on moving goals. ALL GOALS at Far Post
Soccer Club are to be anchored in accordance with the Goal Safety
Policy and NO GOALS may be moved for any reason. The only
movement of goals will be conducted by Far Post Soccer Club staff
members. NO parents or spectators are permitted to move goals.
Soccer Goal Safety is something we take seriously. Far Post Soccer
Club has made every effort to ensure goal safety in the past and is
taking another step forward with its NO TOLERANCE POLICY on
moving goals.
Goal Anchoring
• All goals must be weighed down by two 40-pound sandbags
during all practices and games.
• The bags should rest on the back bar of the goal, with a bag
resting on each corner.
• If the goal does not have a back bar, the sand bags must be rested
on the back corner of each side bar.
• If any goal of any size does NOT have two sandbags properly
weighing down the goal, then this goal may not be used. This
applies for both practices and games.
Goal Moving
• Goals will be moved by Far Post staff ONLY
• When moving a goal of any size, the crossbar must be brought
down to waist level and carried with people at the four corners:
bottoms of each post and each upper corner.
• A goal may never be moved when completely upright.
• For all full sized goals (8x24), there must be at least 6 people
moving the goal.