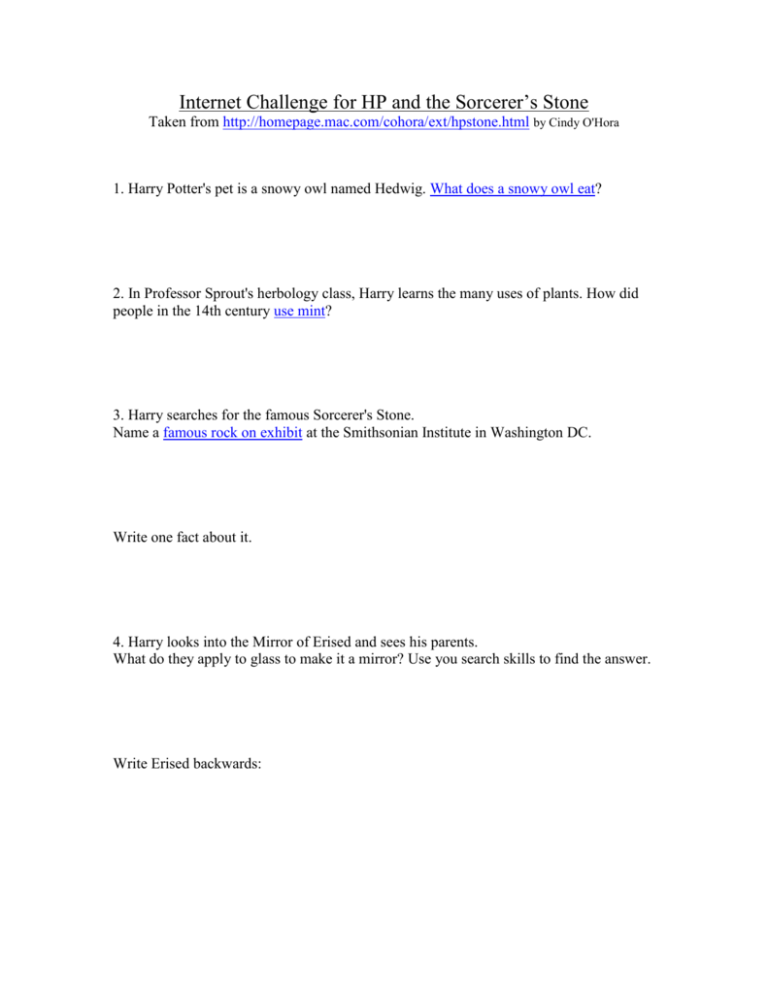 Internet Challenge for HP and the Sorcerer's Stone
Taken from http://homepage.mac.com/cohora/ext/hpstone.html by Cindy O'Hora
1. Harry Potter's pet is a snowy owl named Hedwig. What does a snowy owl eat?
2. In Professor Sprout's herbology class, Harry learns the many uses of plants. How did
people in the 14th century use mint?
3. Harry searches for the famous Sorcerer's Stone.
Name a famous rock on exhibit at the Smithsonian Institute in Washington DC.
Write one fact about it.
4. Harry looks into the Mirror of Erised and sees his parents.
What do they apply to glass to make it a mirror? Use you search skills to find the answer.
Write Erised backwards:
5. Fluffy guards the Sorcerer's Stone. Cerberus was the name of the three headed dog in
Greek mythology. What did Cerberus guard?
6. How old was J. K. Rowling when she wrote her first story?
7. At the zoo, Harry discovers he can talk to snakes.
What famous animal doctor character could talk to animals?
8. The ghost Peeves is a nasty fellow. If you have a pet peeve, what does that mean? Go
to: Merriam-Webster Online
9. Harry catches the train to Hogwarts. Suppose you wanted to catch a train going from
New York City to Orlando, FLA.
What time in the morning would the train leave NYC, NY?
What day and time would it arrive in Orlando, FLA?
10. What does Dumbledore mean?
11. Do this HP puzzle that is calculated to challenge you.