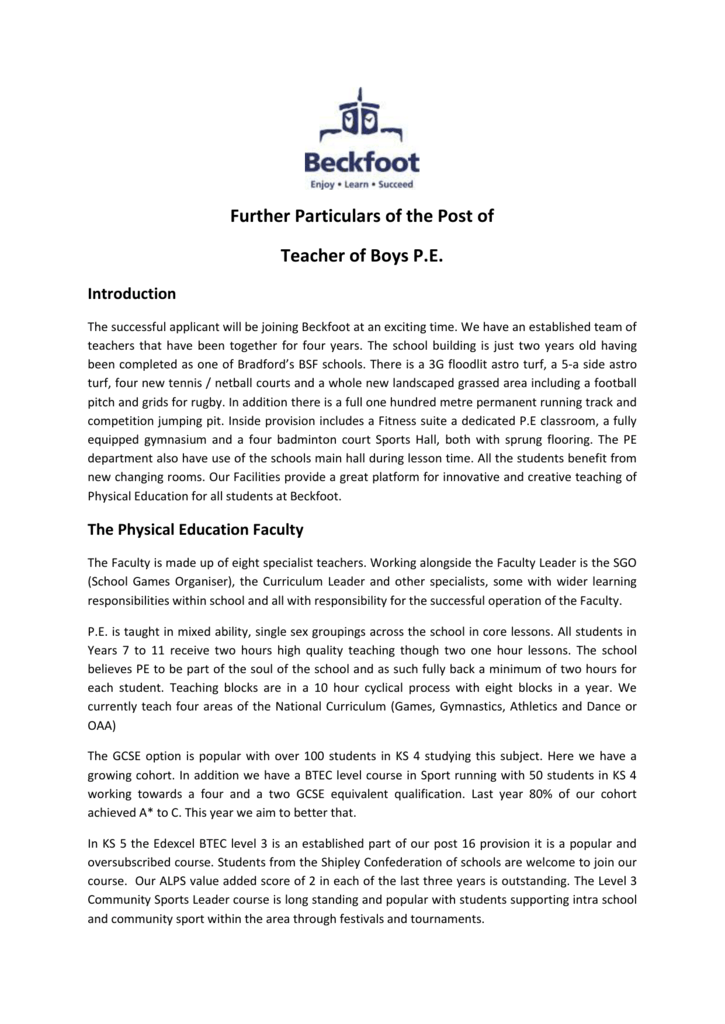 Further Particulars of the Post of
Teacher of Boys P.E.
Introduction
The successful applicant will be joining Beckfoot at an exciting time. We have an established team of
teachers that have been together for four years. The school building is just two years old having
been completed as one of Bradford's BSF schools. There is a 3G floodlit astro turf, a 5-a side astro
turf, four new tennis / netball courts and a whole new landscaped grassed area including a football
pitch and grids for rugby. In addition there is a full one hundred metre permanent running track and
competition jumping pit. Inside provision includes a Fitness suite a dedicated P.E classroom, a fully
equipped gymnasium and a four badminton court Sports Hall, both with sprung flooring. The PE
department also have use of the schools main hall during lesson time. All the students benefit from
new changing rooms. Our Facilities provide a great platform for innovative and creative teaching of
Physical Education for all students at Beckfoot.
The Physical Education Faculty
The Faculty is made up of eight specialist teachers. Working alongside the Faculty Leader is the SGO
(School Games Organiser), the Curriculum Leader and other specialists, some with wider learning
responsibilities within school and all with responsibility for the successful operation of the Faculty.
P.E. is taught in mixed ability, single sex groupings across the school in core lessons. All students in
Years 7 to 11 receive two hours high quality teaching though two one hour lessons. The school
believes PE to be part of the soul of the school and as such fully back a minimum of two hours for
each student. Teaching blocks are in a 10 hour cyclical process with eight blocks in a year. We
currently teach four areas of the National Curriculum (Games, Gymnastics, Athletics and Dance or
OAA)
The GCSE option is popular with over 100 students in KS 4 studying this subject. Here we have a
growing cohort. In addition we have a BTEC level course in Sport running with 50 students in KS 4
working towards a four and a two GCSE equivalent qualification. Last year 80% of our cohort
achieved A* to C. This year we aim to better that.
In KS 5 the Edexcel BTEC level 3 is an established part of our post 16 provision it is a popular and
oversubscribed course. Students from the Shipley Confederation of schools are welcome to join our
course. Our ALPS value added score of 2 in each of the last three years is outstanding. The Level 3
Community Sports Leader course is long standing and popular with students supporting intra school
and community sport within the area through festivals and tournaments.
Our extra-curricular programme is expansive and caters for the needs of all students. Whilst
competitive sport is important and encouraged, it does not exist at the expense of 'Sport for all.' We
enter teams in local and regional league and Cup competitions in a wide range of sports. Sports clubs
are accessible for students in: Athletics, Badminton, Basketball, Cheer Leading, Cricket, Dance,
Fitness, Football, Hockey, Netball, Rounders, Rowing, Rugby, Swimming, Table Tennis and
Trampolining. It would be expected that the successful candidate will both contribute towards these
activities and further develop extra-curricular work. We have had notable success in a number of
sports with regional team representation in Basketball, Cheerleading and Table Tennis with
individuals representing Bradford and West Yorkshire in a range of sports.
The department meets each Monday to discuss weekly agenda items and spends time on Monday
evenings planning as part of a whole school commitment to high quality provision for our students.
What do we seek from you?
We are seeking an innovative, forward thinking and dynamic teacher of Physical Education who will
contribute to the teaching of P.E. across the Key Stages; a teacher who can work collaboratively and
effectively with a range of colleagues. As a member of our faculty you will both give and receive a
great deal from working with Beckfoot colleagues and students.
The successful candidate will be expected to have a sound working knowledge of the National
Curriculum and current issues within Physical Education.
We would welcome a fresh perspective and would like to work with and alongside someone who is
creative and willing to make a positive contribution to the future progress of physical education
within Beckfoot School.
Mike Barnes - Head of PE Faculty.