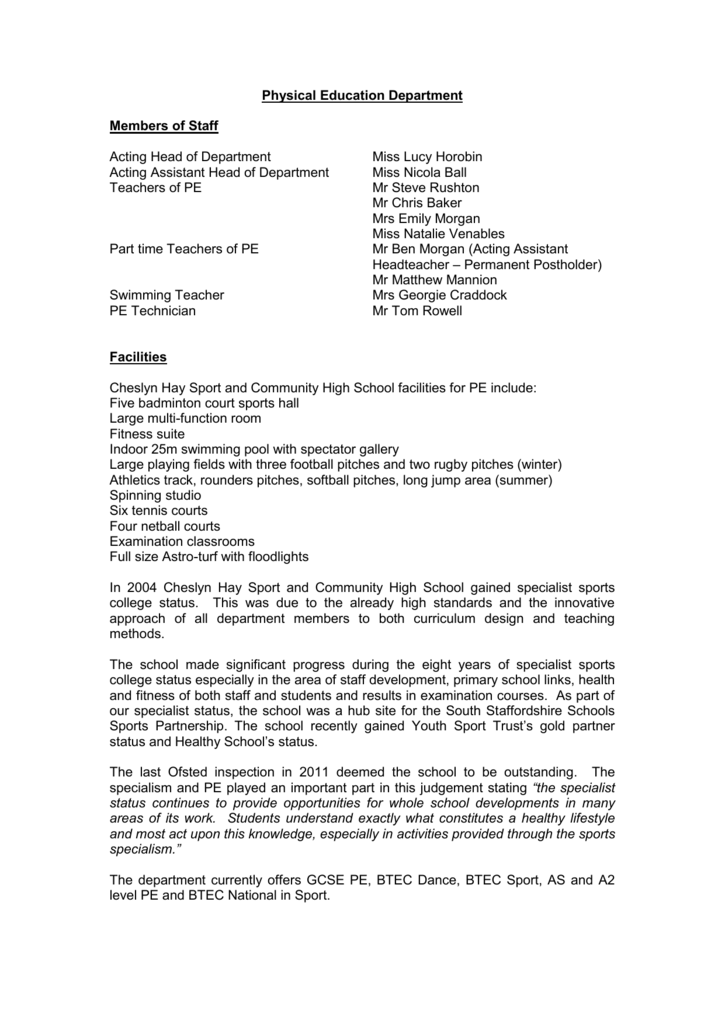 Physical Education Department
Members of Staff
Acting Head of Department
Acting Assistant Head of Department
Teachers of PE
Part time Teachers of PE
Swimming Teacher
PE Technician
Miss Lucy Horobin
Miss Nicola Ball
Mr Steve Rushton
Mr Chris Baker
Mrs Emily Morgan
Miss Natalie Venables
Mr Ben Morgan (Acting Assistant
Headteacher – Permanent Postholder)
Mr Matthew Mannion
Mrs Georgie Craddock
Mr Tom Rowell
Facilities
Cheslyn Hay Sport and Community High School facilities for PE include:
Five badminton court sports hall
Large multi-function room
Fitness suite
Indoor 25m swimming pool with spectator gallery
Large playing fields with three football pitches and two rugby pitches (winter)
Athletics track, rounders pitches, softball pitches, long jump area (summer)
Spinning studio
Six tennis courts
Four netball courts
Examination classrooms
Full size Astro-turf with floodlights
In 2004 Cheslyn Hay Sport and Community High School gained specialist sports
college status. This was due to the already high standards and the innovative
approach of all department members to both curriculum design and teaching
methods.
The school made significant progress during the eight years of specialist sports
college status especially in the area of staff development, primary school links, health
and fitness of both staff and students and results in examination courses. As part of
our specialist status, the school was a hub site for the South Staffordshire Schools
Sports Partnership. The school recently gained Youth Sport Trust's gold partner
status and Healthy School's status.
The last Ofsted inspection in 2011 deemed the school to be outstanding. The
specialism and PE played an important part in this judgement stating "the specialist
status continues to provide opportunities for whole school developments in many
areas of its work. Students understand exactly what constitutes a healthy lifestyle
and most act upon this knowledge, especially in activities provided through the sports
specialism."
The department currently offers GCSE PE, BTEC Dance, BTEC Sport, AS and A2
level PE and BTEC National in Sport.
Extra curricular activities play a very important role in the life of Cheslyn Hay Sport
and Community High School. The department offers activities before school, at
lunchtime and after school. These clubs are open access and used for all pupils to
develop their knowledge, understanding and skills. Inter school fixtures are also
offered to students – a very wide range of activities including:
Football (girls and boys)
Rugby (girls and boys)
Hockey (girls and boys)
Netball
Basketball
Badminton
Gymnastics
Tennis
Athletics
Rounders
Handball
Boxercise
Trampolining
Rebound
Spinning
Table-tennis
Golf
Swimming
Cricket
There is also a very successful and popular annual performing arts show that the
department co-ordinates and a sports day in which the whole school participates.
The department also leads/co-leads several educational trips and visits including a
Y8 sports tour to Barcelona, a Y7 team building trip to Standon Bowers, a Y11 GCSE
orienteering residential trip, Ski trip and Y9 trip to Venice.
It would be essential that the successful candidate could contribute to this extensive
extra-curricular programme.