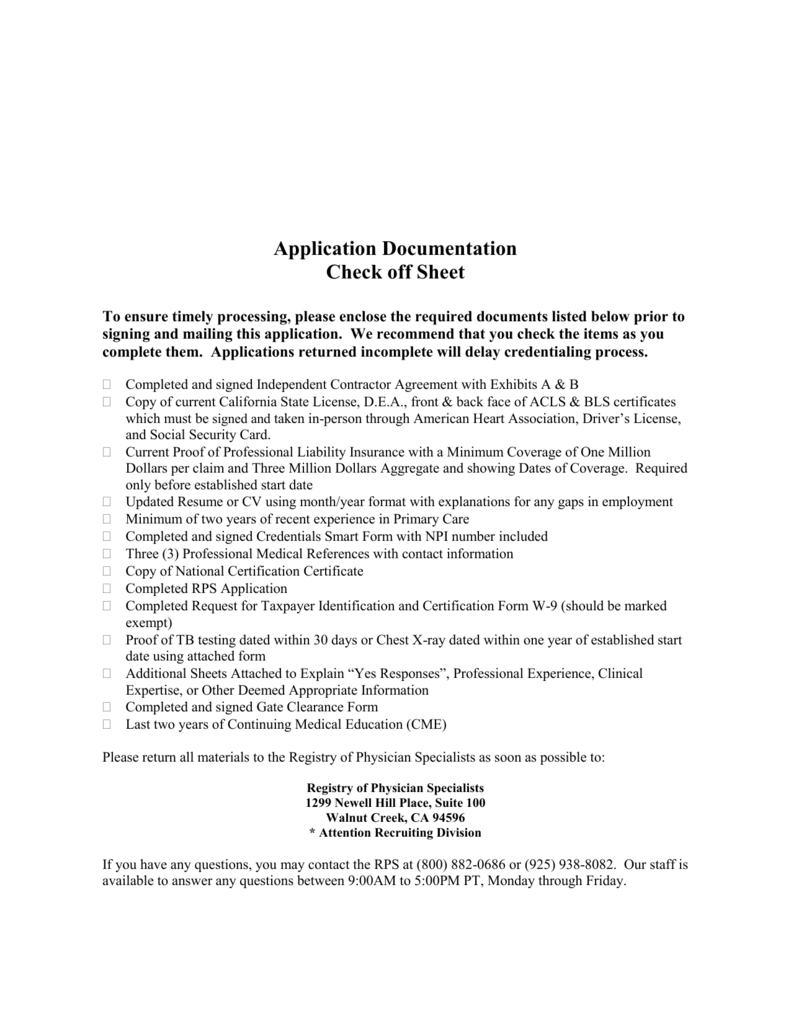 Application Documentation
Check off Sheet
To ensure timely processing, please enclose the required documents listed below prior to
signing and mailing this application. We recommend that you check the items as you
complete them. Applications returned incomplete will delay credentialing process.














Completed and signed Independent Contractor Agreement with Exhibits A & B
Copy of current California State License, D.E.A., front & back face of ACLS & BLS certificates
which must be signed and taken in-person through American Heart Association, Driver's License,
and Social Security Card.
Current Proof of Professional Liability Insurance with a Minimum Coverage of One Million
Dollars per claim and Three Million Dollars Aggregate and showing Dates of Coverage. Required
only before established start date
Updated Resume or CV using month/year format with explanations for any gaps in employment
Minimum of two years of recent experience in Primary Care
Completed and signed Credentials Smart Form with NPI number included
Three (3) Professional Medical References with contact information
Copy of National Certification Certificate
Completed RPS Application
Completed Request for Taxpayer Identification and Certification Form W-9 (should be marked
exempt)
Proof of TB testing dated within 30 days or Chest X-ray dated within one year of established start
date using attached form
Additional Sheets Attached to Explain "Yes Responses", Professional Experience, Clinical
Expertise, or Other Deemed Appropriate Information
Completed and signed Gate Clearance Form
Last two years of Continuing Medical Education (CME)
Please return all materials to the Registry of Physician Specialists as soon as possible to:
Registry of Physician Specialists
1299 Newell Hill Place, Suite 100
Walnut Creek, CA 94596
* Attention Recruiting Division
If you have any questions, you may contact the RPS at (800) 882-0686 or (925) 938-8082. Our staff is
available to answer any questions between 9:00AM to 5:00PM PT, Monday through Friday.