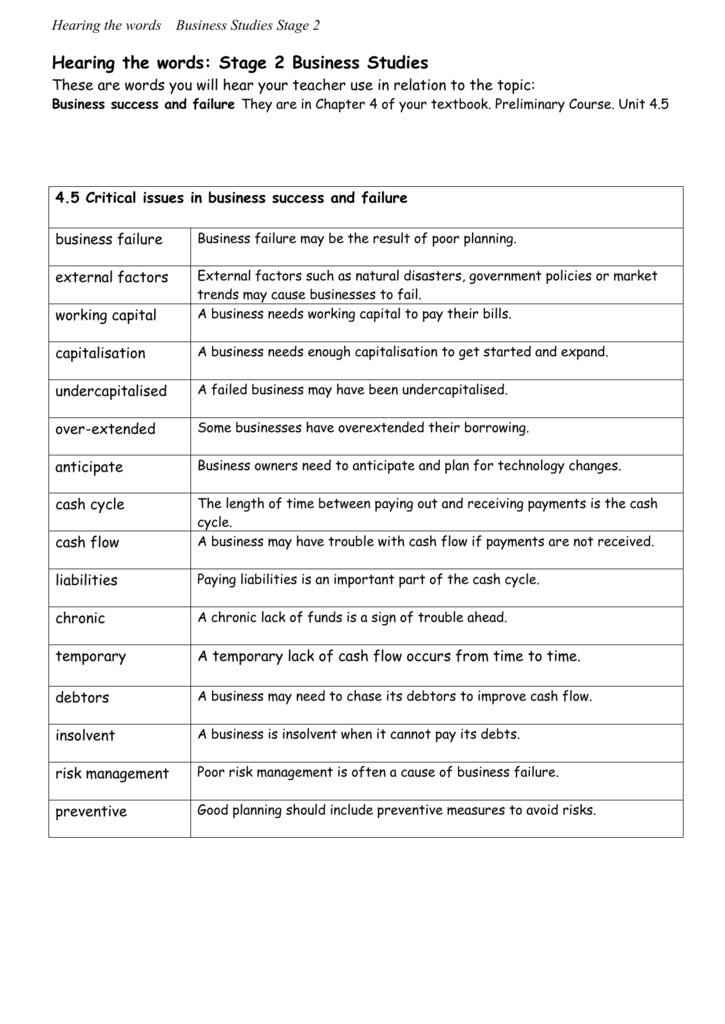 Hearing the words
Business Studies Stage 2
Hearing the words: Stage 2 Business Studies
These are words you will hear your teacher use in relation to the topic:
Business success and failure They are in Chapter 4 of your textbook. Preliminary Course. Unit 4.5
4.5 Critical issues in business success and failure
business failure
Business failure may be the result of poor planning.
external factors
working capital
External factors such as natural disasters, government policies or market
trends may cause businesses to fail.
A business needs working capital to pay their bills.
capitalisation
A business needs enough capitalisation to get started and expand.
undercapitalised
A failed business may have been undercapitalised.
over-extended
Some businesses have overextended their borrowing.
anticipate
Business owners need to anticipate and plan for technology changes.
cash cycle
cash flow
The length of time between paying out and receiving payments is the cash
cycle.
A business may have trouble with cash flow if payments are not received.
liabilities
Paying liabilities is an important part of the cash cycle.
chronic
A chronic lack of funds is a sign of trouble ahead.
temporary
A temporary lack of cash flow occurs from time to time.
debtors
A business may need to chase its debtors to improve cash flow.
insolvent
A business is insolvent when it cannot pay its debts.
risk management
Poor risk management is often a cause of business failure.
preventive
Good planning should include preventive measures to avoid risks.