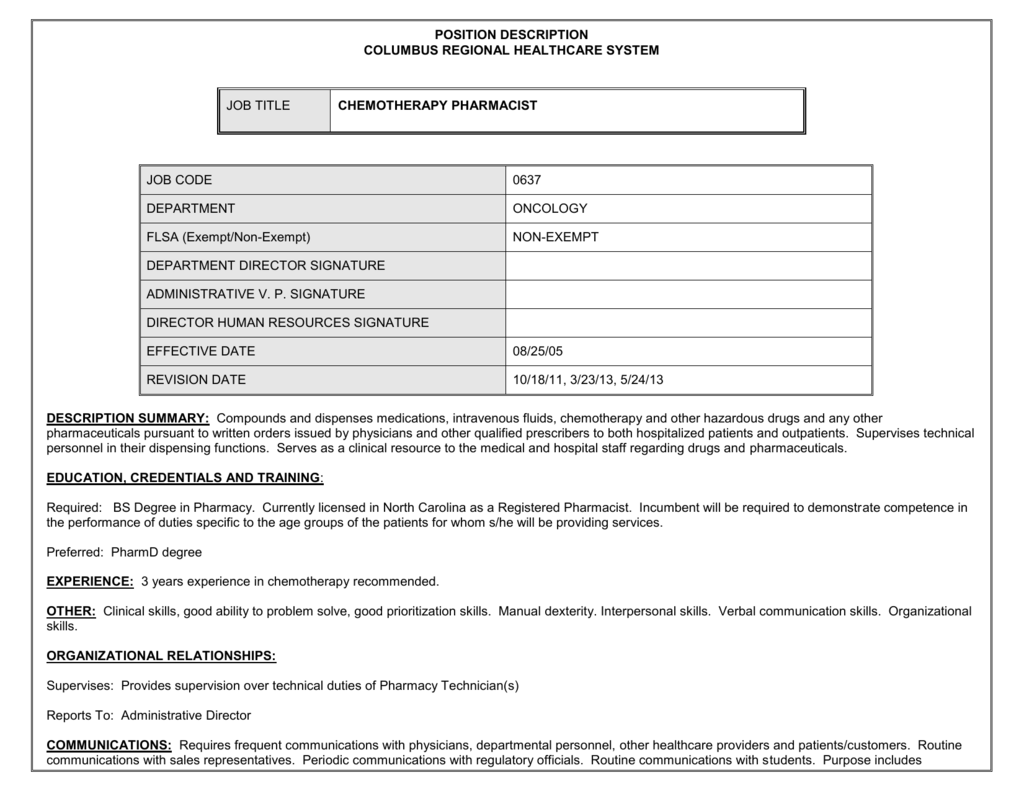 POSITION DESCRIPTION
COLUMBUS REGIONAL HEALTHCARE SYSTEM
JOB TITLE
CHEMOTHERAPY PHARMACIST
JOB CODE
0637
DEPARTMENT
ONCOLOGY
FLSA (Exempt/Non-Exempt)
NON-EXEMPT
DEPARTMENT DIRECTOR SIGNATURE
ADMINISTRATIVE V. P. SIGNATURE
DIRECTOR HUMAN RESOURCES SIGNATURE
EFFECTIVE DATE
08/25/05
REVISION DATE
10/18/11, 3/23/13, 5/24/13
DESCRIPTION SUMMARY: Compounds and dispenses medications, intravenous fluids, chemotherapy and other hazardous drugs and any other
pharmaceuticals pursuant to written orders issued by physicians and other qualified prescribers to both hospitalized patients and outpatients. Supervises technical
personnel in their dispensing functions. Serves as a clinical resource to the medical and hospital staff regarding drugs and pharmaceuticals.
EDUCATION, CREDENTIALS AND TRAINING:
Required: BS Degree in Pharmacy. Currently licensed in North Carolina as a Registered Pharmacist. Incumbent will be required to demonstrate competence in
the performance of duties specific to the age groups of the patients for whom s/he will be providing services.
Preferred: PharmD degree
EXPERIENCE: 3 years experience in chemotherapy recommended.
OTHER: Clinical skills, good ability to problem solve, good prioritization skills. Manual dexterity. Interpersonal skills. Verbal communication skills. Organizational
skills.
ORGANIZATIONAL RELATIONSHIPS:
Supervises: Provides supervision over technical duties of Pharmacy Technician(s)
Reports To: Administrative Director
COMMUNICATIONS: Requires frequent communications with physicians, departmental personnel, other healthcare providers and patients/customers. Routine
communications with sales representatives. Periodic communications with regulatory officials. Routine communications with students. Purpose includes
explaining services, rules or procedures, or providing instructions of directive regarding policies or standards of care. Requires extensive communication skills,
tact and discretion in order to obtain cooperation and understanding, discuss and resolve complex problems, make recommendations and maintain goodwill.
WORKING HOURS AND OVERTIME STATUS: Normally scheduled to a day shift, Monday through Friday. May be required to alternate schedules and
additional hours as the workload demands. Incumbent is classified as non-exempt for purposes of overtime.
DRESS POLICY: White lab coat over street attire or other professional attire. Closed-toe shoes with non-slip soles.
WORKING ENVIRONMENT: Spends almost all of the time in light and temperature controlled environment. Routine exposure to fumes, cleaning/sanitizing
agents/supplies, needles and hazardous, cytotoxic substances. Slight potential exposure to blood borne pathogens when handling used returned IV supplies and
equipment and assisting in the treatment area.
EXPOSURE DETERMINATION: OSHA requires an exposure determination concerning which employees may incur occupational exposure to blood or other
potentially infectious materials. The exposure determination is made without regard to the use of personal protective equipment (i.e. employees are considered to
be exposed even if they wear personal protective equipment.) This exposure determination is required to list all job classifications in which all employees may be
expected to incur such occupational exposure, regardless of frequency. It is the department's responsibility to perform exposure determination for all employees
and to list job classifications in one of three categories.
Category 1 includes employees who are routinely exposed to blood borne pathogens
Category 2 includes employees who are not usually exposed, but for whom contact with infectious materials can be reasonably anticipated during the course of
their duties.
Category 3 is for employees who are not exposed to infectious materials during the normal operations of their job duties.
This job is rated as a category __2___ (1, 2, or 3).
BIOHAZARDOUS DRUGS: As a health care facility which dispenses drugs, some of which have been identified as hazardous by NIOSH, our goal is to provide
training and where necessary, personal protective equipment (PPE) to insure employee safety. *See list of hazardous drugs in Pharmacy Policy Manual,
Chemotherapy Preparation section. Warning labels will be used to identify drugs requiring special handling or waste disposal procedures. It is the department's
responsibility to train in safe handling and disposal. It is the employee's responsibility to follow policies and procedures, and to report situations and/or make
recommendations to improve safety.
It is also the department's responsibility to perform exposure determination for all employees and to list job classifications in one of three categories.
Category 1 includes employees who are routinely exposed to hazardous drugs.
Category 2 includes employees who are not usually exposed, but for whom contact with hazardous drugs can be reasonably anticipated during the course of their
duties.
Category 3 is for employees who are not exposed to hazardous drugs during the normal operations of their job duties.
This job is rated as a category __1___ (1, 2, or 3).
WORK AIDS: Flow and Isolator Hood. Computer and accessories, including internet access and required software. Fax machine and telephone. Calculator.
Other pharmacological supplies and equipment. Administrative supplies, records and reports. Patient medical and medication records.
B. Key Performance Outcomes
1)
Ensures that dispensing functions, inspections and out-of-date surveys are preformed by self and assigned personnel
without error in content, quantity, timeliness or documentation, with no more than 1 noted exception per year found in
monthly QA audits, on average, per assigned employee.
2)
Appropriately evaluates, advises physicians and nursing staff, and documents action taken on pharmaceutical therapies,
with no more than 1 noted exception per year, and no exceptions resulting in deterioration in patient condition as the result
of an overlooked or inaccurately evaluated therapy.
JOB ACCOUNTABILITIES
1.
Fills and dispenses prescriptions and orders issued by physicians.
-Interprets and evaluates accuracy/appropriateness of physicians orders for the course of therapy
-Considers diagnosis, allergies, possible drug interaction and dosage in relation to patient age when evaluating pharmaceutical care
-Dispenses and controls all controlled substances and maintains required documentation
-Prepares special medication, intravenous admixtures and chemotherapy/hazardous drugs, prepackaging and manufacturing of all pharmaceutical
preparations.
-Dispenses all medications according to medical staff according to pharmacokinetics, drug interactions, poison control and drug information
a. Ensures that all physician's orders meet requirements for accuracy/appropriateness before processing.
b. Alerts appropriate individuals of potential drug incompatibilities, interactions, potential adverse drug reactions, and other elements which might
affect prescribing decisions in accordance with procedure.
c.
Complies with departmental, hospital and medical staff policies with respect to the dispensing of pharmaceuticals, without noted exception.
d. Manufactures pharmaceutical products in accordance with professional standards for quality and efficacy.
e. Properly labels and packages dispensed items.
f.
Appropriately prioritizes dispensing activities so that established pharmaceutical administration schedules can be followed, and/or patient needs are
met within the time frames required.
g. Ensures, as much as possible, the proper handling and securing, preparation, administration and disposal of hazardous drugs.
2.
Serves as a clinical resource with healthcare providers.
-Serves as clinical resource to medical and hospital staff regarding pharmacokinetics, drug interactions, and drug information
-Functions as clinical consultant reviewing laboratory data assisting physicians with dosage calculation and consulting in the selection of drug therapy
-Develops and conducts pharmaceutical-related in-service classes for healthcare providers
-Serves as a clinical resource to physicians, patients, and employees for medication selection with regard to efficiency, tolerance and cost considerations
3.
4.
5.
a.
Skillfully evaluates and resolves drug therapy problems as they arise.
b.
Communicates accurate and appropriate information to others regarding pharmacology, chemistry, toxicology, routes of administration, stability,
incompatibility, federal and state laws, accreditation standards and other information relating to drugs on the formulary.
c.
Willingly and patiently provides education, advice and/or assistance to patients and other healthcare providers.
Supervises the activities of assigned staff and assumes responsibility for the accuracy of their work.
a.
Ensures the accuracy and adequacy of all work performed by supervised personnel, by observing work, checking work, answering questions,
explaining procedures, demonstrating techniques and intervening where necessary, to correct deficiencies.
b.
Ensures that personnel comply with established policies and procedures, providing interpretation and instruction, as appropriate, and reporting to
supervisor as warranted.
c.
Provides substantiated input into the performance review process for personnel on an ongoing basis.
Responsible for the verification, preparation, processing and maintenance of computerized patient profiles, order entry and other associated automated or
hard copy records.
a.
Required recordkeeping and data entry is accurate and up-to-date.
b.
Immediately investigates and reports any breaches or irregularities in controlled substance records and reports to Administrative Director.
c.
Verify testing is done
d.
Verify out of date is performed
e.
Update area according to new guidelines issued by USP 797 and NIOSH
Sets up, utilizes and/or maintains equipment, supplies, drug inventories and work areas.
a.
Utilizes supplies and equipment in an economical and efficient manner, so that waste is avoided and damage to equipment is prevented.
b.
Routinely checks equipment for proper operation, and immediately removes malfunctioning equipment from use and reports to appropriate person,
when found.
c.
As assigned, follows established procedures for the procurement of pharmaceutical products and supplies. Understands ordering processes and
the different programs used for ordering as well as compliance with various buying/purchasing programs (ex: 340B).
d.
Monitors designated inventories on an on-going basis, ensuring that par levels are maintained, and that out-of-date items are purged within a
week of their expiration date.
e.
Ensures that procured items meet requirements for quality, quantity, safety and cost prior to accepting.
6.
Participates in quality assurance and quality improvement activities.
-Participates in quality assurance and drug utilization evaluation activities
7.
Maintains skill competence and is responsible for own on-going professional development.
a.
Maintains the necessary skill level required to prepare all forms of medication therapy under pharmacy services responsibility.
8.
9.
b.
Maintains necessary/required knowledge base to communicate effectively with healthcare providers regarding medications therapies.
c.
Maintains annual continuing education requirement of 10 hours for the state of NC.
Maintains continuous knowledge and expertise to perform duties safely and accurately.
a.
Maintains necessary knowledge base to perform drug preparation responsibilities and to notify the professional staff of incorrect dosage, drug
duplication and other factors that must be considered.
b.
Maintains the expertise to utilize automated processes associated with medication therapy for patients within the hospital environment.
Performs miscellaneous duties as needed.
-Handles routine operational matters, assuming responsibility for pharmacy services for the Cancer Center Pharmacy
-Handles routine operational matters for the department in the absence of the Director and Assistant Director
-Assumes responsibility for Pharmacy Service in the absence of Director or Assistant Director
-Performs other duties as assigned
a.
Competently handles the routine pharmacy operations of the Cancer Center.
b.
Accomplishes routine and non-routine miscellaneous duties and assignments in accordance with procedure or instructions, and time frames.