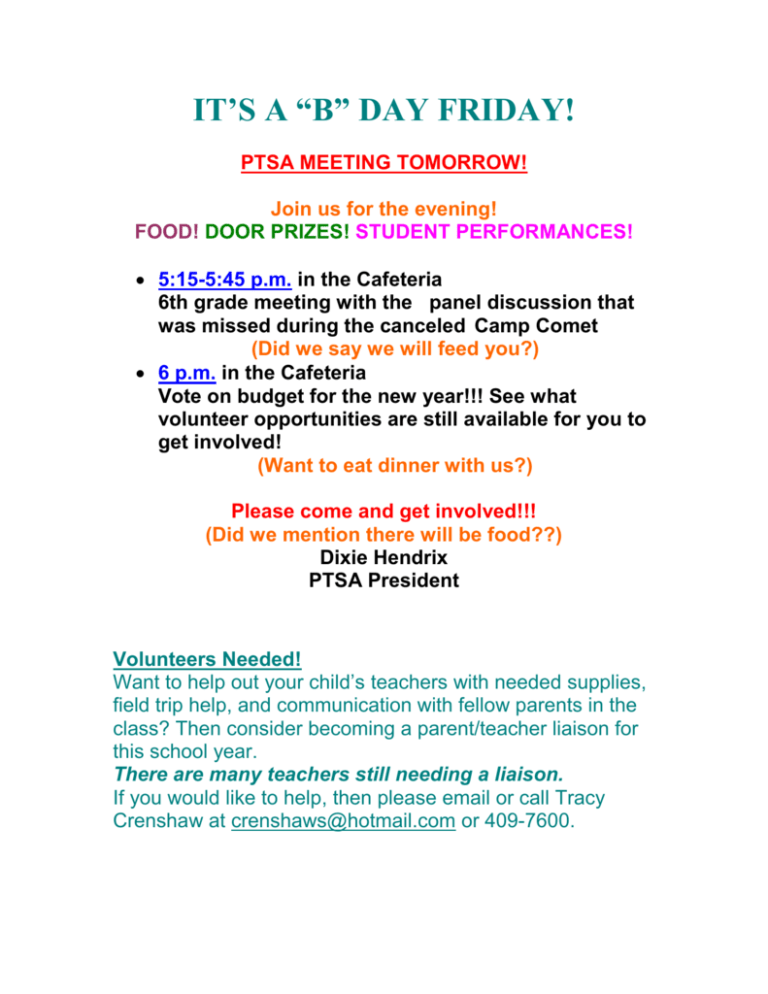 IT'S A "B" DAY FRIDAY!
PTSA MEETING TOMORROW!
Join us for the evening!
FOOD! DOOR PRIZES! STUDENT PERFORMANCES!
 5:15-5:45 p.m. in the Cafeteria
6th grade meeting with the panel discussion that
was missed during the canceled Camp Comet
(Did we say we will feed you?)
 6 p.m. in the Cafeteria
Vote on budget for the new year!!! See what
volunteer opportunities are still available for you to
get involved!
(Want to eat dinner with us?)
Please come and get involved!!!
(Did we mention there will be food??)
Dixie Hendrix
PTSA President
Volunteers Needed!
Want to help out your child's teachers with needed supplies,
field trip help, and communication with fellow parents in the
class? Then consider becoming a parent/teacher liaison for
this school year.
There are many teachers still needing a liaison.
If you would like to help, then please email or call Tracy
Crenshaw at crenshaws@hotmail.com or 409-7600.
STUDENT CORNER:
POT LUCK BARBECUE!
The summer heat is finally going down, and Pot Luck wants
to celebrate it! The theme for the week is BARBECUE. This
includes anything that is of the barbecue-style or sides that
go with those classic barbecue foods! Both 1st and 2nd lunch
are meeting this Friday the 18th in Mrs. Cole's Room (A207).
PICTURE THIS!
Picture Day is August 27th. Your student will receive a
picture packet the week of Aug. 13th!
Retakes & Senior Gown Portraits will be October 1st!
**If you are taking your gown photo for the yearbook at
Prestige/Lifetouch it must be taken by Oct. 1st. We can not
use photos from any other studio for the gown photo. One
free photo will be taken at school on Oct. 1st for those who
were unable to take a photo at the studio. If you have any
questions feel free to contact Mrs. Madron
atlsmadron@okcps.org.
Builders Club
Attention Middle School Students! Want to make new
friends? Build Leadership Skills? Then join Builders Club!
Meeting first lunch, Tuesday, in room B306. Come be a part
of the fun!
Earth Club Meeting this Thursday during 2nd lunch in B203.
GAPP T-SHIRTS ON SALE!
Help welcome our German visitors to Class by wearing the
GAPP 2012 T-shirts. The Germans will be here from
September 22 through October 18. These shirts are on sale
for the bargain price of $8.00.
SCIENCE T-SHIRTS!
The science department still has T-shirts for sale. There are
two different designs from which to choose! A bargain at only
$10 each or 2 for $18! See Mrs. Cole to see the shirts or get
yours today.
DEBATE THIS!
Debate Club will begin meeting on Mondays from 2:30 to
3:30 in A308.
Middle School Guitarists
Do you need help with guitar if so meet in Room E102 during
1st lunch every Wednesday. Students may want to bring their
lunch.
ALL HIGH SCHOOL STUDENTS:
Are you a in a VPA program, but you are a high achiever in
your core classes? Are you an IB Major who also is
interested in the arts, music and pop culture? Do you
constantly amaze your friends with your knowledge of trivial
oddities? You might be perfect for the quiz bowl team.
See Mr. Jones in A309 for more information. HS students
only, please.
THE PATRON PLAYBILL PROGRAM!
The Department of Theatre at Classen began its annual two
week fundraiser last week.
The Patron Playbill Program seeks individual and corporate
sponsors for the season playbill. Students will be asking past
and future patrons for their new and continued support.
Individual and family sponsors are asked to make a
minimum $5.00 donation (corporate sponsors $50.00) for
acknowledgement in the season program. The goal for
donations has been set at $5,000.00. This goal will enable
the theatre Department to subsidize renovations NOT
fulfilled by the MAPS project—including lights, sound and
curtain rigging. The funds will also enable the Department of
Theatre to continue producing exceptional educational
programming.
Additional questions can be answered by Michael Payne at
jmpayne@okcps.org. Thanks again for making what we do
possible.
PANCAKE BREAKFAST!!
Help the Classen SAS High School Choirs Perform at the
Kennedy Center in Washington, DC. Purchase an all-youcan-eat Applebee's pancake breakfast ticket from any high
school choir student. The breakfast is Saturday, September
8th, 8:00 - 10:00AM at the Applebee's at 6020 S.W. 3rd
Street. Tickets are $7.00 each.
$$ For Classen!
Target Facebook Campaign
Want to help our kids? It's easy. Our school can receive up
to $10,000 in Target GiftCards® for books or any supplies we
need. Wouldn't that be great? All we need to do is vote for
our school each week until September 8. It's part of Give
With Target®. For every 25 votes our school receives,
Target will send a $25 gift card. Find out more and vote at
Facebook.com/Target. All it takes is a click!
2013 SENIORS
This is a special announcement for parents of the 2013
Senior Class. Now is your opportunity to purchase a Senior
Ad for your child in the 2012-213 yearbook. Senior Ads
include photos submitted by you and your special message
to your senior. Ads are available in quarter page, half page
and full page sizes. There are only 12 pages available so it
is first come, first serve. Bring cash, check or money order
payable to Classen SAS. We will start selling ads Sept. 3rd.
All photo and message submissions will be due Oct. 1st.
¼ page is $75.00
½ page is $150.00
Full page is $300.00
For more information, contact Mrs. Madron at
lsmadron@okcps.org or go to room A308.
ALL HIGH SCHOOL STUDENTS
Improve your college acceptances and scholarships by
taking the LAUZY ACT Test Prep course! Our next course
beings September 1st, and we will get you ready for the
October 27th ACT! Past courses have averaged increases of
4 to 6 composite points!
For details, contact Mr. Lau at AlexanderLau03@gmail.com.
COUNSELOR'S CORNER:
(From Terri Schuelein 11th & 12th Grade Counselor)
Freshman, Sophomore & Junior Parents:
Have your student sign up for the PSAT starting Monday,
August 27th in the Counseling Office. Send a $14 check with
them made out to Classen SAS. The PSAT will be given at
Classen on Wednesday, October 17th, 2012. Sign up
Monday!
Junior & Senior Parents: The deadline for signing up for
the upcoming September 8th ACT test is Friday, August 17th.
Cost is $35 or $50 for ACT plus writing. A $22 late fee will be
charged for late registration (August 18th-24th). Register
online at: http://www.actstudent.org
Junior Parents:
NOW is the time to enroll in ACT or SAT prep classes to
help prepare your student to take these standardized tests.
Students may take these tests in their junior year. You will
be receiving a letter from the counselor's office outlining
steps to take as juniors for college admission and
scholarship applications.
Senior Parents:
OCCC College Fair permission slips are due on Friday,
August 24th so appropriate buses can be reserved for the
trip. Permission slips went home this week—ask your
student.
Below is a list of upcoming Universities and Colleges that will
visit Classen. Seniors will have the opportunity to talk to their
representatives and inquire about the University, the
courses, classes, scholarships and more. The upcoming
dates are:
 August 21st: University of Arkansas at 12:30 P.M.
 September 4th: Hendrix University at 12:30 P.M.
 September 5th: Vanderbilt University at 2:30 P.M.
 September 7th: Rhodes University at 2:30 P.M.
 September 10th: Birmingham Southern University at
12:30
 September 12th: Washington University-St. Louis at
2:30
 September 13th: College Fair at OCCC
The Counseling Office is also looking for at least one parent
each day to volunteer. It will take 2 hours of your time, and
you will help welcome the representative of the University,
help them set up and deal with the students as they
approach to ask questions. If you see your alma mater in the
list, consider volunteer so you can add your personal input of
your days in campus. This is a wonderful opportunity to help,
find out for yourself also a little bit more about the College
your son or daughter may be interested in and also show the
Universities that Classen Parents are involved in the
education, activities and future of our students. For
volunteering, contact armitagecatherine@yahoo.com or
isipi@hotmail.com.
PRINCIPAL HARRIS' CORNER:
In the next weeks staff and administration will address dress
code violations focusing on dresses and shorts that are too
short. Students and parents are reminded that shorts and
dresses should be as long as the middle finger when arms
are straight at your side. Students who are in dress code
violation will have parents called for an appropriate change
of clothes.
COMET SPORTS CORNER:
***The Athletic Department needs a refrigerator! WILL
PICK UP! Contact Mrs. Harris for more information!
Classen Lady Comets Softball Schedule
8/16 vs Millwood at 4:00 p.m. (Varsity)
8/23 vs Northeast at 3:30 p.m. (Varsity)
8/30 at John Marshall at 3:30 and 5:00 p.m. (JV &Varsity)
9/4 vs Star Spencer at 3:30 (Varsity)
9/10 at OK Centennial at 3:30 and 5:00 p.m. (JV & Varsity)
9/13 vs US Grant at 3:30 p.m. (Varsity)
9/14 at Southeast TBA (Varsity)
9/17-18 All City Tournament TBA (Varsity)
9/25 at Northeast at 3:30 p.m. (Varsity)
Classen Lady Comets HS Volleyball Schedule
8/17 vs Millwood at 4:00 p.m.
8/21 at US Grant at 4:00 p.m.
8/23 at Oklahoma Christian TBA
8/27 vs Northwest at 4:00 p.m.
8/31 at Northeast HSDH 4:00 and 3:00 p.m.
9/06 at Capitol Hill at 4:00 p.m.
9/07 vs Harding Charter Prep 4:00 and 5:30 p.m.
9/10 at John Marshall HSDH at 4:00 and 5:00 p.m.
9/12 at Star Spencer at 4:00 p.m.
9/17 vs OK Centennial HSDH at 4:00 and 5:30 p.m.
9/18 at Harding Charter Prep at 4:00 p.m.
9/19 vs Douglass at 4:00 p.m.
Classen Lady Comets MS Volleyball Schedule
8/24 vs Jackson at 5:00 p.m.
8/28 at Independence Charter at 5:00 p.m.
8/31 at Norheast HSDH at 6:30 p.m.
9/04 at Millwood at 5:00 p.m.
9/07 vs Rogers at 6:30 p.m.
9/10 at John Marshall HSDH at 5:00 p.m.
9/13 vs Roosevelt at 5 p.m.
9/14 at Webster at 5:00 p.m.
9/17 vs OK Cetnennial HSDH at 6:30 p.m.
9/21 vs Taft at 5:00 p.m.
9/24 at Jefferson at 5:00 p.m.
KUDOS CORNER:
The Middle School Softball team had their first game
yesterday against Jackson Middle School. The ladies scored
2 runs in the last inning to win the game 7 to 6. Way to go
ladies! They have two games on Thursday starting at 5:00
p.m. at Wheeler Park, come cheer on the Middle School
Softball Team.
Congratulations to the following students who are the newly
elected leaders of the 6th grade class:
President: Austin Wilke
Vice President: Greyson Carter
Secretary: Riley Sutton
Treasurer: Abbey Joshi
Historian: Lily Morrison
Representative: Caprie Gordon, Emily Hamilton, Juliet
Parrish
The Classen softball team faced a big challenge when they
went to play the Millwood Falcons on Thursday. After the 3rd
inning the Lady Comets trailed 4-9. But in the 4th inning the
ladies rallied, scoring 5 runs to tie the game. The rally
continued into the 5th inning with 6 more runs and then 3
runs in the final inning to defeat Millwood 18-10. After the
game Coach Young said, "it was a team effort, the ladies
kept playing hard, and wouldn't give up!" The next softball
game is at 3:30 next Thursday, August 23 at Wheeler Park.
The ladies would love to have fans come and cheer them on
to victory! GREAT JOB, LADY COMETS!!
PARENT CORNER:
Need After-School Help? Check this out!
The Boys and Girls Club of Oklahoma County offers afterschool care for only $10 a year membership fee and $10 a
month for your child to ride a bus to their facility from
Classen SAS. Check them out at www.bgcokc.org or call
521-9292 for more information.
DRIVERS NEEDED (4 families willing to pay)
*Still in desperate need for rideshare for my 9th grader to
Classen SAS from Midwest City. I am willing to pay up to
$50 per week for your help. Please email me at
Kallin.Curry@tinker.af.mil or Kalkc10@gmail.com, or call my
cell (405) 204-6611 and leave a message.
**I am in desperate need of someone to drive my 11th
grader to and from school until December. She lives in
Southwest Oklahoma City near Panera Bread and
Homeland off of SW 104th and Penn. Or if someone would
be willing to drop my daughter off at this address after school
3320 N. Robinson Ave. Oklahoma City. This is
approximately 1.5 miles from Classen. I would appreciate it.
We can discuss compensation for time and gas if this turns
into a workable situation. Please email me at
maximail4u@hotmail.com or call my cell (405) 919-6339.
***I have two boys attending Classen this year—a 9th grader
and a 7th grader. I'd really appreciate finding them a ride
after school and am pretty easy-going when it comes to
payment. Would anyone be able to give these two a ride to
either the downtown library (where I work) or The Village
(where we live)?
I do know about the city bus route but we'd really prefer
paying for someone to drive them.
Thanks!
Lisa Coker
gienahghurab@yahoo.com
****We have a Classen 6th grader and a 5th grader at
Sequoyah Elementary at NW 36th and Villa(ish). We are
seeking a Classen Junior or Senior who can drive our 6th
grader home (close to Sequoyah), and then pick up our 5th
grader, Tuesdays and Fridays. We offer $40 per week.
And, if you can tutor, we can discuss that too.
Eddie Walker
Eddiewalker01@gmail.com or 405-630-9266
*****I am looking for other families in the Edmond area
interested in discussing carpooling. I am located near the
intersection of Waterloo Rd and Kelly (Oak Tree
Subdivision). Please contact Lauren at 405-657-1287 or
email lepflesch@yahoo.com.
National Junior Cotillion Classes Offered
"Your child has impeccable manners and is so confident!"
Do you want friends, colleagues, or future college recruiters
to say this about your son or daughter?
Enroll in National Junior Cotillion where students learn
courtesy, social skills and business etiquette taught by an
award-winning etiquette and professionalism coach.
Open to 5th-12th graders—even boys!
Classes begin in September so call now!
Learn more at www.Careysuevega.com or Carey Sue Vega
at Home/Office 405-721-1467 and Cell 405-520-3527
Architect Needed!
My son, Nico Govan, is an 8th grader who is interested in
becoming an architect/interior designer. I am desperately
looking for someone in the Classen family that is an architect
or interior designer that would not mind having a non-paid
assistant a couple afternoons (after-school) a week. Call
Debra Autrey at 405-881-2214.
PTSA CORNER:
Get Involved! Come Vote on the PTSA Budget!
Volunteer Your Time! And Enjoy a Student Performance
Showcase too!
THIS Thursday, August 23rd at 6 p.m.
Communications Meeting
Interested in helping communications at Classen work
better? Have some great ideas and time to help?
Come to a meeting, and let's make it even better!
Tuesday, August 28th, 6:00 p.m.
Office of Virginia Holleman – 2807 Classen Blvd.
Can't come but want to help?
Email Virginia Holleman at vholleman@cathcartdooley.com
or call 637-9455
Directory Committee Meeting
Do you want to be a part of producing the Student Directory?
Then come to a meeting, and let's get it done!
Thursday, September 6th, 5:30 p.m.
Office of Virginia Holleman – 2807 Classen Blvd.
Can't come but want to help?
Email Virginia Holleman at vholleman@cathcartdooley.com
or call 637-9455
Details to come for the following meetings!
Thursday, September 20th at 6 p.m.
Thursday, November 15th at 6 p.m.
Thursday, February 21st at 6 p.m.
Thursday, April 4th at 6 p.m.
Thursday, May 2nd at 6 p.m.
CLASSEN CORNER:
HELP NEEDED!
We are looking for a donation of 3 white wood blinds and
help installing them in our classroom. We need to block the
West sun in the afternoon to accommodate our Visually
Impaired students. We have 2 windows at 30x72 and 1
window at 32x72. Lowes has a 35x72 blind that is cut to fit.
The price is $48.27. If you know anyone that could help we
sure would appreciate it.
Contact Pat Martinez at pmmartinez@okcps.org if you can
help!
Have you checked the Classen website recently??
Staff has been busy adding to the calendar, working on
teacher websites, and updating information. Parents have
complained (and rightfully so) about the lack of usable
information of the website. Administration is listening and
trying to add information as it becomes available.
If you see information that needs to be updates, please
contact Valerie Harris at vmharris@okcps.org
Important Classen Phone Numbers:
Main Number: 587-5400 Tammy Hazelrigg
Attendance: 587-5425 Marguerite Russell (call before 10 a.m.)
Principal Secretary: 587-5426 Beth Stanbrough
Counselor Secretary: 587-5422 Katelyn Stewart
Registrar: 587-5424 Pamela Gray
Financial Secretary: 587-5427 Chris Harris
Vice Principal: 587-5463 Gina Bonner
Vice Principal: 587-5469 Scott McAdoo
Vice Principal: 587-5462 John Tsotigh
MS Counselor: 587-5420 Glen Gean
HS Counselor: 587-5419 Robin Lindsey (Freshmen & Sophomores)
HS Counselor: 587-5418 Terri Schuelein (Juniors & Seniors)
Important Classen Websites:
Classen PTSA http://classensasptsa.net
PTSA Project Parking Lot http://projectparkinglot.bbnow.org/
OKCPS District Website www.okcps.org
Classen SAS http://okcs.classenmh.schooldesk.net/
-The Classen SAS PTSA BoardClassen News is created and edited by the Classen PTSA.
To submit Information, subscribe OR unsubscribe to the
Classen News, send an email to classenptsa@yahoo.com .