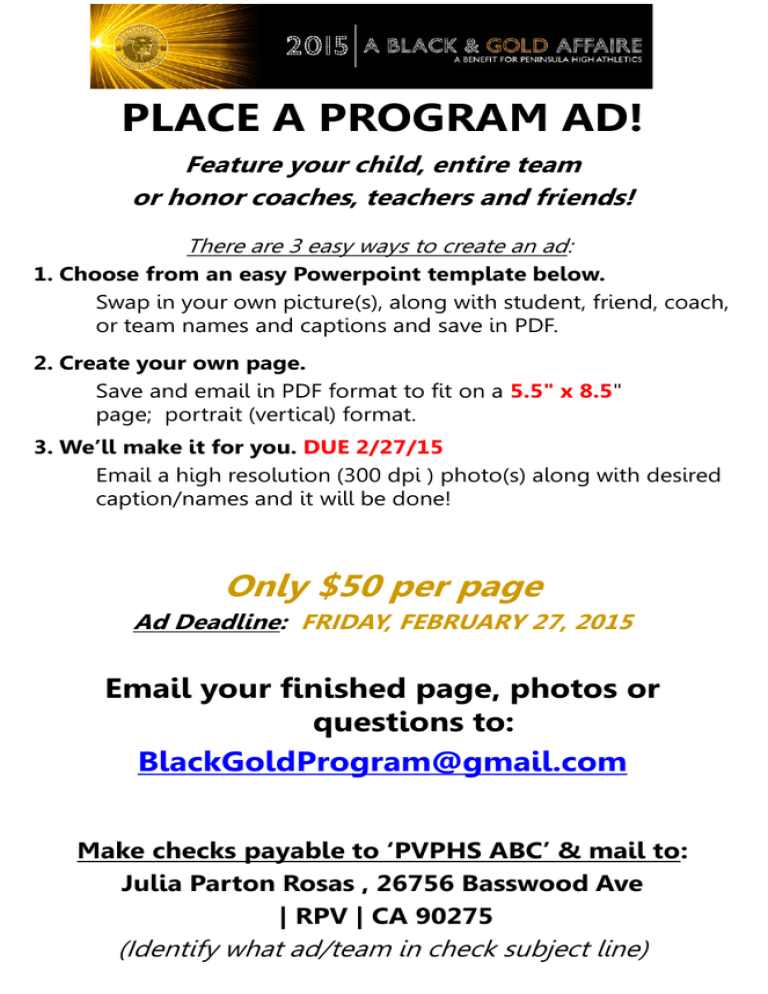 PLACE A PROGRAM AD!
Feature your child, entire team
or honor coaches, teachers and friends!
There are 3 easy ways to create an ad:
1. Choose from an easy Powerpoint template below.
Swap in your own picture(s), along with student, friend, coach,
or team names and captions and save in PDF.
2. Create your own page.
Save and email in PDF format to fit on a 5.5" x 8.5"
page; portrait (vertical) format.
3. We'll make it for you. DUE 2/27/15
Email a high resolution (300 dpi ) photo(s) along with desired
caption/names and it will be done!
Only $50 per page
Ad Deadline: FRIDAY, FEBRUARY 27, 2015
Email your finished page, photos or
questions to:
BlackGoldProgram@gmail.com
Make checks payable to 'PVPHS ABC' & mail to:
Julia Parton Rosas , 26756 Basswood Ave
| RPV | CA 90275
(Identify what ad/team in check subject line)
GIRLS TENNIS ROARS
CIF CHAMPIONS 2013!
Hayden Hinsch, Class of 2013
Varsity Cross Country
Varsity Track
Congratulations
on a great season!
Boys Basketball
2014
GO PANTHERS!