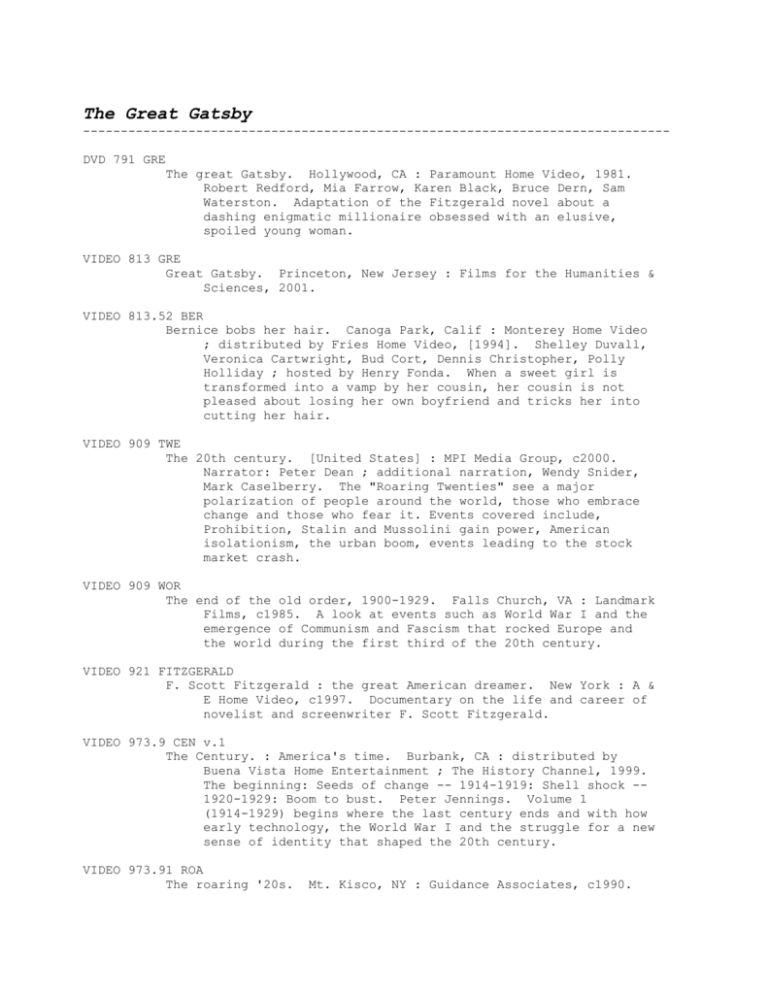 The Great Gatsby
-----------------------------------------------------------------------------DVD 791 GRE
The great Gatsby. Hollywood, CA : Paramount Home Video, 1981.
Robert Redford, Mia Farrow, Karen Black, Bruce Dern, Sam
Waterston. Adaptation of the Fitzgerald novel about a
dashing enigmatic millionaire obsessed with an elusive,
spoiled young woman.
VIDEO 813 GRE
Great Gatsby. Princeton, New Jersey : Films for the Humanities &
Sciences, 2001.
VIDEO 813.52 BER
Bernice bobs her hair. Canoga Park, Calif : Monterey Home Video
; distributed by Fries Home Video, [1994]. Shelley Duvall,
Veronica Cartwright, Bud Cort, Dennis Christopher, Polly
Holliday ; hosted by Henry Fonda. When a sweet girl is
transformed into a vamp by her cousin, her cousin is not
pleased about losing her own boyfriend and tricks her into
cutting her hair.
VIDEO 909 TWE
The 20th century. [United States] : MPI Media Group, c2000.
Narrator: Peter Dean ; additional narration, Wendy Snider,
Mark Caselberry. The "Roaring Twenties" see a major
polarization of people around the world, those who embrace
change and those who fear it. Events covered include,
Prohibition, Stalin and Mussolini gain power, American
isolationism, the urban boom, events leading to the stock
market crash.
VIDEO 909 WOR
The end of the old order, 1900-1929. Falls Church, VA : Landmark
Films, c1985. A look at events such as World War I and the
emergence of Communism and Fascism that rocked Europe and
the world during the first third of the 20th century.
VIDEO 921 FITZGERALD
F. Scott Fitzgerald : the great American dreamer. New York : A &
E Home Video, c1997. Documentary on the life and career of
novelist and screenwriter F. Scott Fitzgerald.
VIDEO 973.9 CEN v.1
The Century. : America's time. Burbank, CA : distributed by
Buena Vista Home Entertainment ; The History Channel, 1999.
The beginning: Seeds of change -- 1914-1919: Shell shock -1920-1929: Boom to bust. Peter Jennings. Volume 1
(1914-1929) begins where the last century ends and with how
early technology, the World War I and the struggle for a new
sense of identity that shaped the 20th century.
VIDEO 973.91 ROA
The roaring '20s.
Mt. Kisco, NY : Guidance Associates, c1990.
Narrator, Andrew Macmillan. This video provides an overview
of the history of the 1920s.
VIDEO 973.913 TWE
Twenties. Alexandria, VA : PBS, 1984. Documentary on the many
forces at work during the 1920's, a decade of great
prosperity, which ended in a great depression.