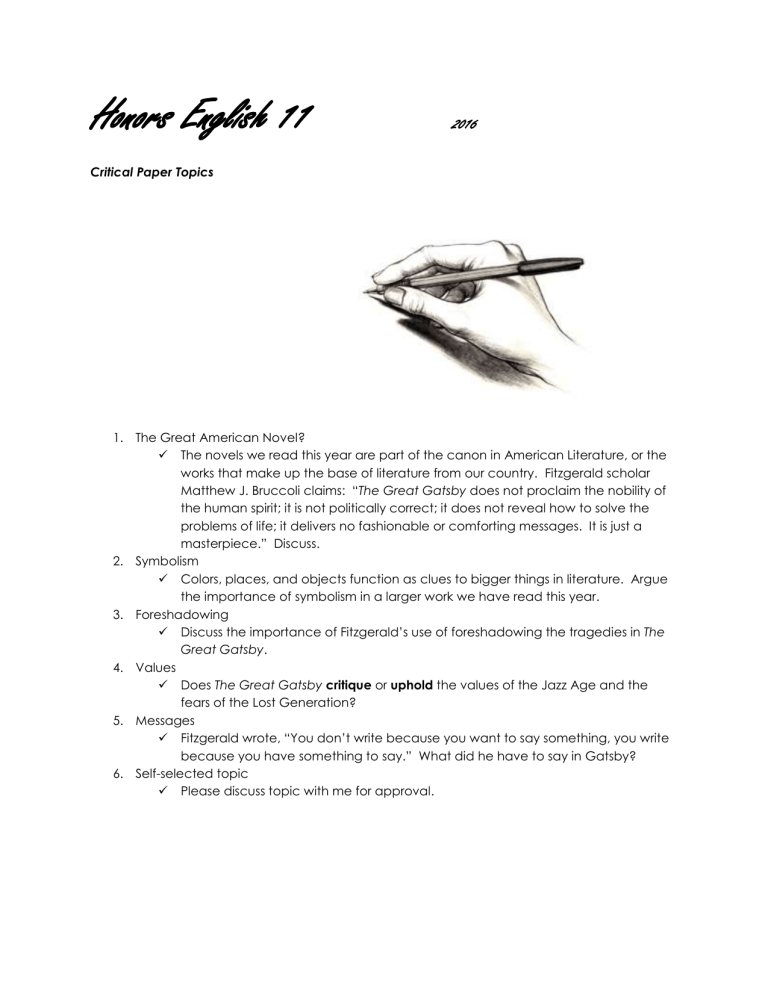 Honors English 11
2016
Critical Paper Topics
1.
The Great American Novel?
 The novels we read this year are part of the canon in American Literature, or the works that make up the base of literature from our country. Fitzgerald scholar
Matthew J. Bruccoli claims: "The Great Gatsby does not proclaim the nobility of the human spirit; it is not politically correct; it does not reveal how to solve the problems of life; it delivers no fashionable or comforting messages. It is just a masterpiece." Discuss.
2.
Symbolism
 Colors, places, and objects function as clues to bigger things in literature. Argue the importance of symbolism in a larger work we have read this year.
3.
Foreshadowing
 Discuss the importance of Fitzgerald's use of foreshadowing the tragedies in The
Great Gatsby.
4.
Values
 Does The Great Gatsby critique or uphold the values of the Jazz Age and the fears of the Lost Generation?
5.
Messages
 Fitzgerald wrote, "You don't write because you want to say something, you write because you have something to say." What did he have to say in Gatsby?
6.
Self-selected topic
 Please discuss topic with me for approval.