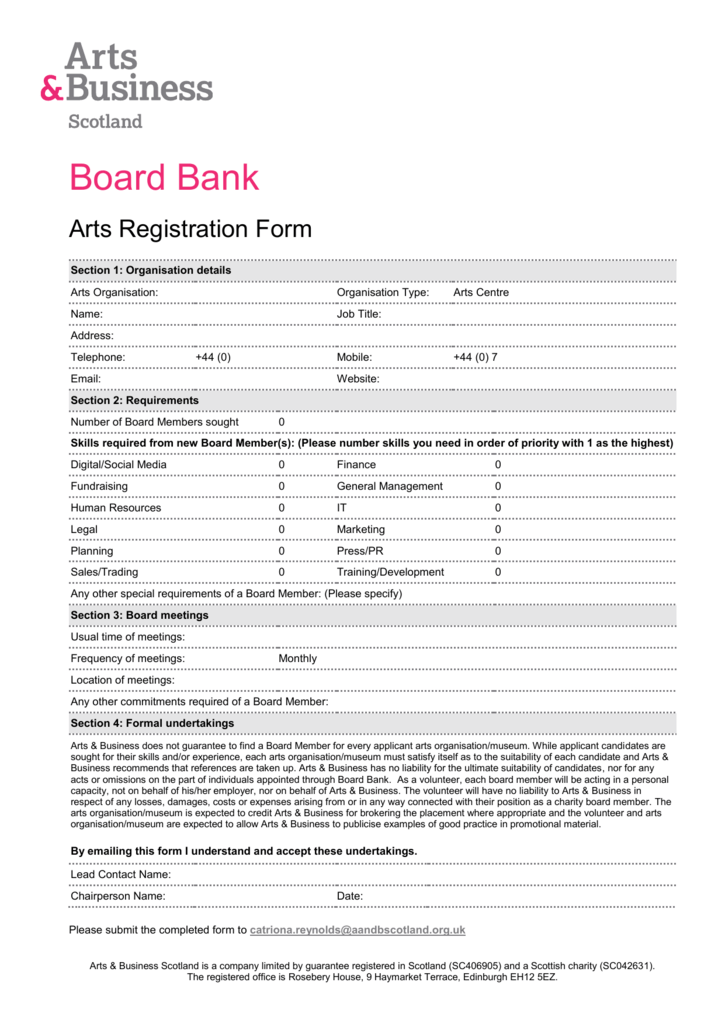 Board Bank
Arts Registration Form
Section 1: Organisation details
Arts Organisation:
Organisation Type:
Name:
Job Title:
Arts Centre
Address:
Telephone:
+44 (0)
Mobile:
Email:
+44 (0) 7
Website:
Section 2: Requirements
Number of Board Members sought
0
Skills required from new Board Member(s): (Please number skills you need in order of priority with 1 as the highest)
Digital/Social Media
0
Finance
0
Fundraising
0
General Management
0
Human Resources
0
IT
0
Legal
0
Marketing
0
Planning
0
Press/PR
0
Sales/Trading
0
Training/Development
0
Any other special requirements of a Board Member: (Please specify)
Section 3: Board meetings
Usual time of meetings:
Frequency of meetings:
Monthly
Location of meetings:
Any other commitments required of a Board Member:
Section 4: Formal undertakings
Arts & Business does not guarantee to find a Board Member for every applicant arts organisation/museum. While applicant candidates are
sought for their skills and/or experience, each arts organisation/museum must satisfy itself as to the suitability of each candidate and Arts &
Business recommends that references are taken up. Arts & Business has no liability for the ultimate suitability of candidates, nor for any
acts or omissions on the part of individuals appointed through Board Bank. As a volunteer, each board member will be acting in a personal
capacity, not on behalf of his/her employer, nor on behalf of Arts & Business. The volunteer will have no liability to Arts & Business in
respect of any losses, damages, costs or expenses arising from or in any way connected with their position as a charity board member. The
arts organisation/museum is expected to credit Arts & Business for brokering the placement where appropriate and the volunteer and arts
organisation/museum are expected to allow Arts & Business to publicise examples of good practice in promotional material.
By emailing this form I understand and accept these undertakings.
Lead Contact Name:
Chairperson Name:
Date:
Please submit the completed form to [email protected]
Arts & Business Scotland is a company limited by guarantee registered in Scotland (SC406905) and a Scottish charity (SC042631).
The registered office is Rosebery House, 9 Haymarket Terrace, Edinburgh EH12 5EZ.