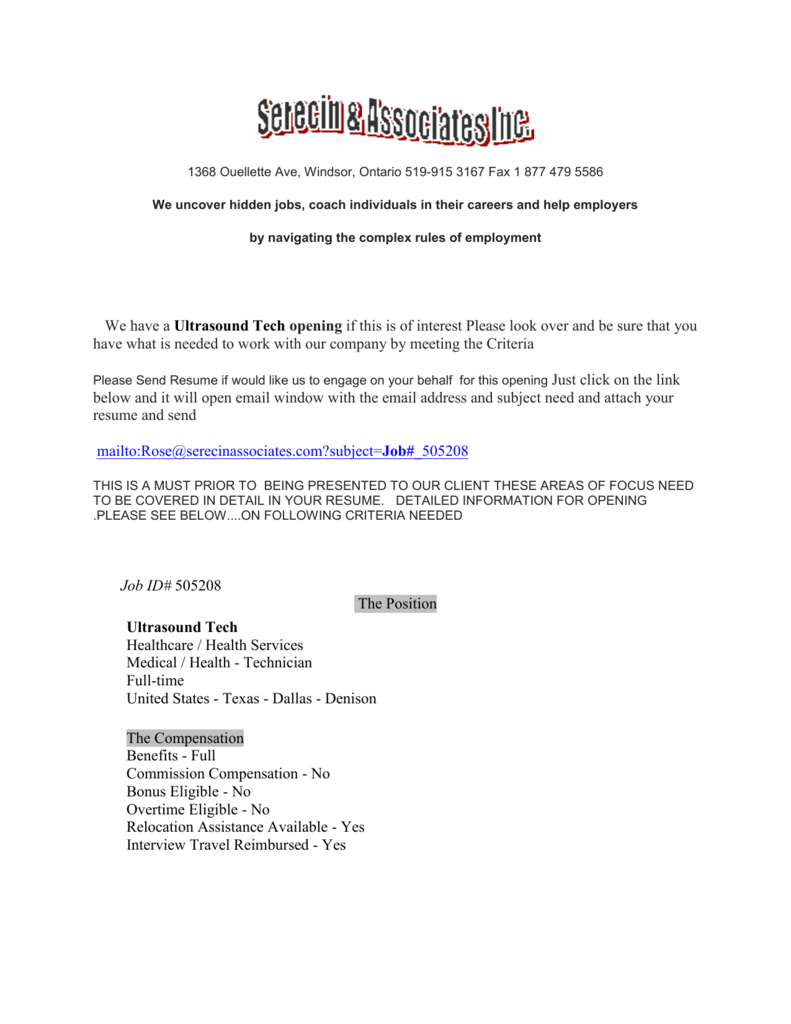 1368 Ouellette Ave, Windsor, Ontario 519-915 3167 Fax 1 877 479 5586
We uncover hidden jobs, coach individuals in their careers and help employers
by navigating the complex rules of employment
We have a Ultrasound Tech opening if this is of interest Please look over and be sure that you
have what is needed to work with our company by meeting the Criteria
Just click on the link
below and it will open email window with the email address and subject need and attach your
resume and send
Please Send Resume if would like us to engage on your behalf for this opening
mailto:[email protected]?subject=Job#_505208
THIS IS A MUST PRIOR TO BEING PRESENTED TO OUR CLIENT THESE AREAS OF FOCUS NEED
TO BE COVERED IN DETAIL IN YOUR RESUME. DETAILED INFORMATION FOR OPENING
.PLEASE SEE BELOW....ON FOLLOWING CRITERIA NEEDED
Job ID# 505208
The Position
Ultrasound Tech
Healthcare / Health Services
Medical / Health - Technician
Full-time
United States - Texas - Dallas - Denison
The Compensation
Benefits - Full
Commission Compensation - No
Bonus Eligible - No
Overtime Eligible - No
Relocation Assistance Available - Yes
Interview Travel Reimbursed - Yes
The Ideal Candidate
2+ to 5 years of experience
Management Experience Required - No
Minimum Education - Associate's Degree
Willingness to Travel - Never
Detailed Description
Performs duties directly involved with a variety of technical
procedures for the demonstration/evaluation of general,
obstetrical, vascular, and small parts imaging. Assists in
invasive procedures as needed.
Requires graduation from an accredited Medical Ultrasonography
program and have at least 3 years experience performing all
ultrasound procedures in a hospital setting. Must be ARDMS
certified within six months of hire and maintain healthcare
provider CPR certification. Must be capable of making independent
decisions, work under stress at times, and have excellent
interpersonal skills.