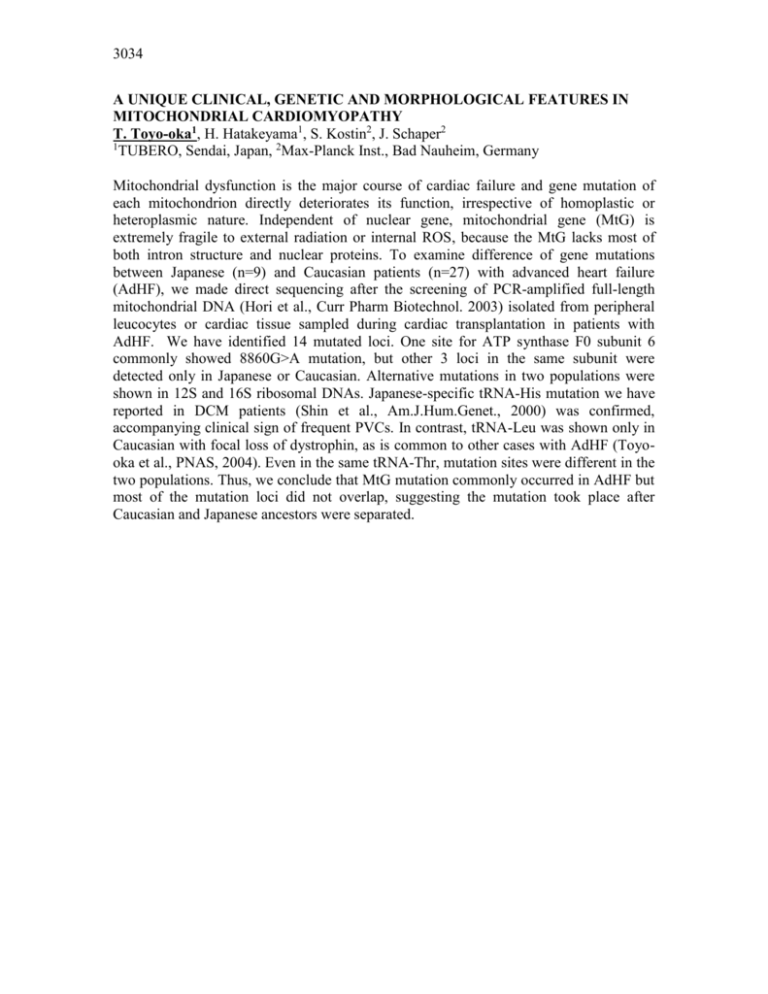 3034
A UNIQUE CLINICAL, GENETIC AND MORPHOLOGICAL FEATURES IN
MITOCHONDRIAL CARDIOMYOPATHY
T. Toyo-oka1, H. Hatakeyama1, S. Kostin2, J. Schaper2
1
TUBERO, Sendai, Japan, 2Max-Planck Inst., Bad Nauheim, Germany
Mitochondrial dysfunction is the major course of cardiac failure and gene mutation of
each mitochondrion directly deteriorates its function, irrespective of homoplastic or
heteroplasmic nature. Independent of nuclear gene, mitochondrial gene (MtG) is
extremely fragile to external radiation or internal ROS, because the MtG lacks most of
both intron structure and nuclear proteins. To examine difference of gene mutations
between Japanese (n=9) and Caucasian patients (n=27) with advanced heart failure
(AdHF), we made direct sequencing after the screening of PCR-amplified full-length
mitochondrial DNA (Hori et al., Curr Pharm Biotechnol. 2003) isolated from peripheral
leucocytes or cardiac tissue sampled during cardiac transplantation in patients with
AdHF. We have identified 14 mutated loci. One site for ATP synthase F0 subunit 6
commonly showed 8860G>A mutation, but other 3 loci in the same subunit were
detected only in Japanese or Caucasian. Alternative mutations in two populations were
shown in 12S and 16S ribosomal DNAs. Japanese-specific tRNA-His mutation we have
reported in DCM patients (Shin et al., Am.J.Hum.Genet., 2000) was confirmed,
accompanying clinical sign of frequent PVCs. In contrast, tRNA-Leu was shown only in
Caucasian with focal loss of dystrophin, as is common to other cases with AdHF (Toyooka et al., PNAS, 2004). Even in the same tRNA-Thr, mutation sites were different in the
two populations. Thus, we conclude that MtG mutation commonly occurred in AdHF but
most of the mutation loci did not overlap, suggesting the mutation took place after
Caucasian and Japanese ancestors were separated.