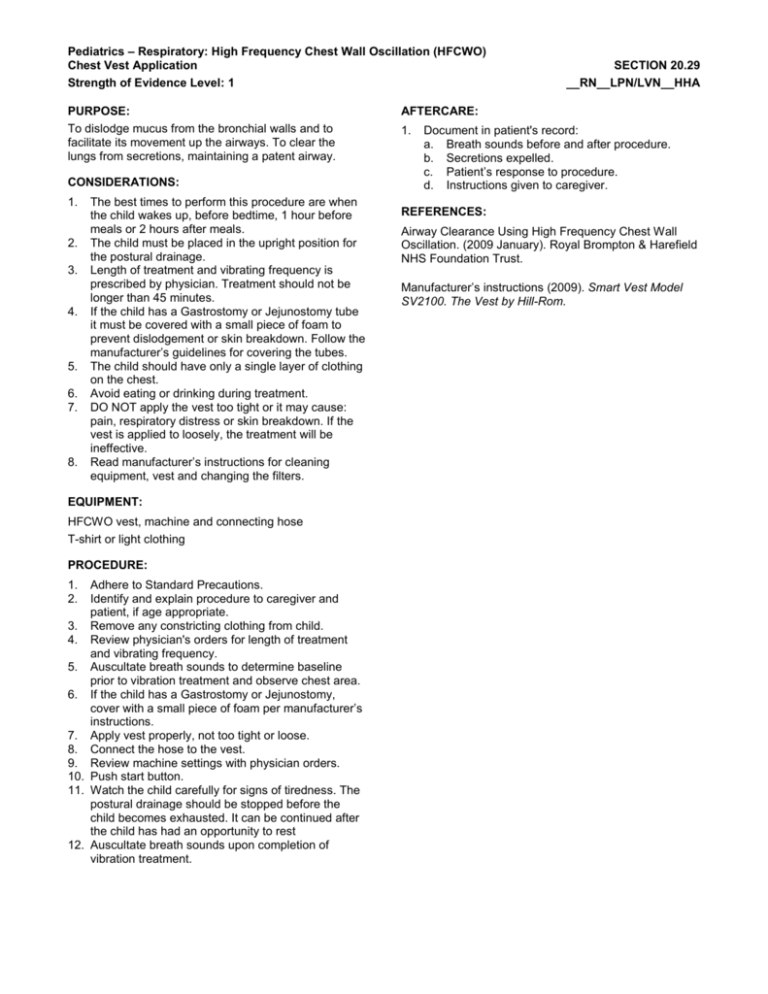 Pediatrics – Respiratory: High Frequency Chest Wall Oscillation (HFCWO)
Chest Vest Application
Strength of Evidence Level: 1
PURPOSE:
To dislodge mucus from the bronchial walls and to
facilitate its movement up the airways. To clear the
lungs from secretions, maintaining a patent airway.
CONSIDERATIONS:
1.
2.
3.
4.
5.
6.
7.
8.
The best times to perform this procedure are when
the child wakes up, before bedtime, 1 hour before
meals or 2 hours after meals.
The child must be placed in the upright position for
the postural drainage.
Length of treatment and vibrating frequency is
prescribed by physician. Treatment should not be
longer than 45 minutes.
If the child has a Gastrostomy or Jejunostomy tube
it must be covered with a small piece of foam to
prevent dislodgement or skin breakdown. Follow the
manufacturer's guidelines for covering the tubes.
The child should have only a single layer of clothing
on the chest.
Avoid eating or drinking during treatment.
DO NOT apply the vest too tight or it may cause:
pain, respiratory distress or skin breakdown. If the
vest is applied to loosely, the treatment will be
ineffective.
Read manufacturer's instructions for cleaning
equipment, vest and changing the filters.
EQUIPMENT:
HFCWO vest, machine and connecting hose
T-shirt or light clothing
PROCEDURE:
1.
2.
Adhere to Standard Precautions.
Identify and explain procedure to caregiver and
patient, if age appropriate.
3. Remove any constricting clothing from child.
4. Review physician's orders for length of treatment
and vibrating frequency.
5. Auscultate breath sounds to determine baseline
prior to vibration treatment and observe chest area.
6. If the child has a Gastrostomy or Jejunostomy,
cover with a small piece of foam per manufacturer's
instructions.
7. Apply vest properly, not too tight or loose.
8. Connect the hose to the vest.
9. Review machine settings with physician orders.
10. Push start button.
11. Watch the child carefully for signs of tiredness. The
postural drainage should be stopped before the
child becomes exhausted. It can be continued after
the child has had an opportunity to rest
12. Auscultate breath sounds upon completion of
vibration treatment.
SECTION 20.29
__RN__LPN/LVN__HHA
AFTERCARE:
1.
Document in patient's record:
a. Breath sounds before and after procedure.
b. Secretions expelled.
c. Patient's response to procedure.
d. Instructions given to caregiver.
REFERENCES:
Airway Clearance Using High Frequency Chest Wall
Oscillation. (2009 January). Royal Brompton & Harefield
NHS Foundation Trust.
Manufacturer's instructions (2009). Smart Vest Model
SV2100. The Vest by Hill-Rom.