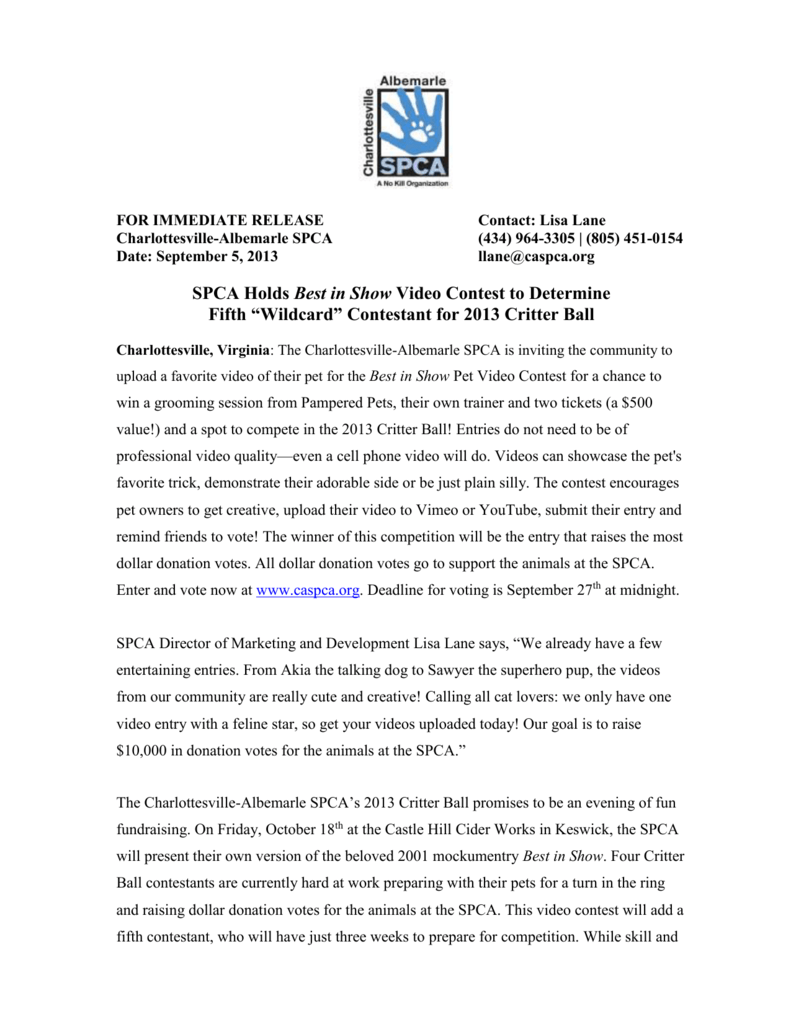 FOR IMMEDIATE RELEASE
Charlottesville-Albemarle SPCA
Date: September 5, 2013
Contact: Lisa Lane
(434) 964-3305 | (805) 451-0154
[email protected]
SPCA Holds Best in Show Video Contest to Determine
Fifth "Wildcard" Contestant for 2013 Critter Ball
Charlottesville, Virginia: The Charlottesville-Albemarle SPCA is inviting the community to
upload a favorite video of their pet for the Best in Show Pet Video Contest for a chance to
win a grooming session from Pampered Pets, their own trainer and two tickets (a $500
value!) and a spot to compete in the 2013 Critter Ball! Entries do not need to be of
professional video quality—even a cell phone video will do. Videos can showcase the pet's
favorite trick, demonstrate their adorable side or be just plain silly. The contest encourages
pet owners to get creative, upload their video to Vimeo or YouTube, submit their entry and
remind friends to vote! The winner of this competition will be the entry that raises the most
dollar donation votes. All dollar donation votes go to support the animals at the SPCA.
Enter and vote now at www.caspca.org. Deadline for voting is September 27th at midnight.
SPCA Director of Marketing and Development Lisa Lane says, "We already have a few
entertaining entries. From Akia the talking dog to Sawyer the superhero pup, the videos
from our community are really cute and creative! Calling all cat lovers: we only have one
video entry with a feline star, so get your videos uploaded today! Our goal is to raise
$10,000 in donation votes for the animals at the SPCA."
The Charlottesville-Albemarle SPCA's 2013 Critter Ball promises to be an evening of fun
fundraising. On Friday, October 18th at the Castle Hill Cider Works in Keswick, the SPCA
will present their own version of the beloved 2001 mockumentry Best in Show. Four Critter
Ball contestants are currently hard at work preparing with their pets for a turn in the ring
and raising dollar donation votes for the animals at the SPCA. This video contest will add a
fifth contestant, who will have just three weeks to prepare for competition. While skill and
looks can help, the winner of the Best in Show title will be the pair that raises the most
money for the animals at the SPCA. Details about Critter Ball can be found at
www.caspca.org
The mission of the Charlottesville-Albemarle SPCA is to provide a safe and nurturing
environment for the lost, abandoned, and homeless animals of the City of Charlottesville
and the County of Albemarle and to increase the number of these animals being placed in
appropriate, loving, and permanent homes through adoptions, foster care, and outreach and
to set a standard of excellence and leadership in shelter animal care, humane education, and
progressive animal welfare programs. For more information about the SPCA call 434-9735959 or visit our website at www.caspca.org.