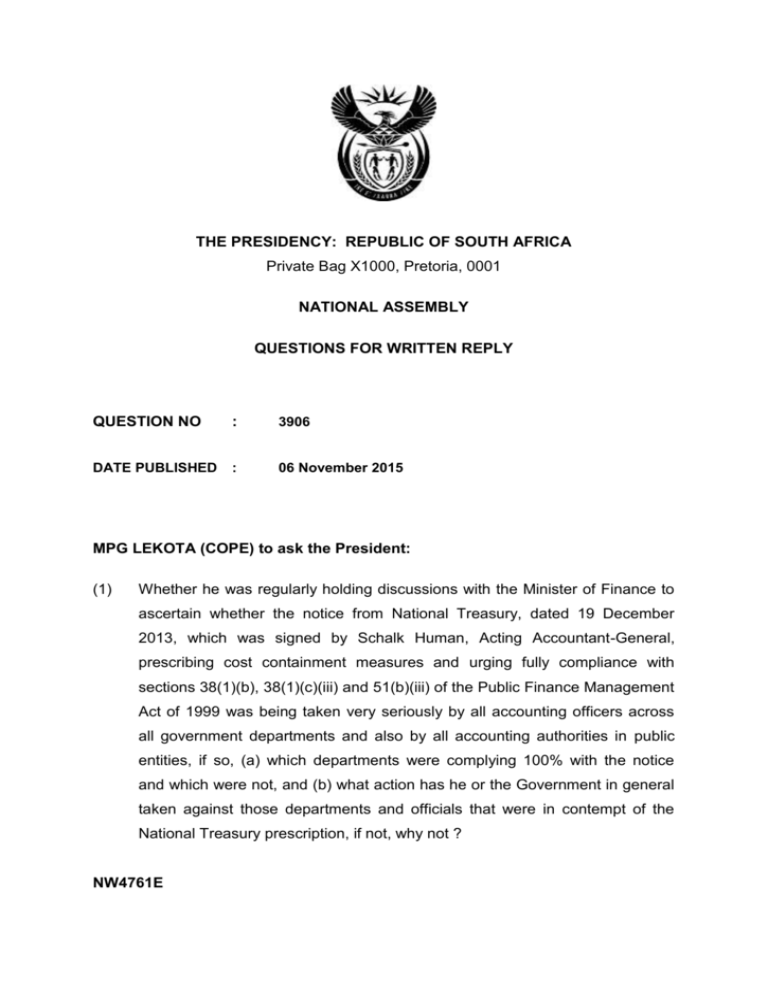 THE PRESIDENCY: REPUBLIC OF SOUTH AFRICA
Private Bag X1000, Pretoria, 0001
NATIONAL ASSEMBLY
QUESTIONS FOR WRITTEN REPLY
QUESTION NO
:
3906
DATE PUBLISHED
:
06 November 2015
MPG LEKOTA (COPE) to ask the President:
(1)
Whether he was regularly holding discussions with the Minister of Finance to
ascertain whether the notice from National Treasury, dated 19 December
2013, which was signed by Schalk Human, Acting Accountant-General,
prescribing cost containment measures and urging fully compliance with
sections 38(1)(b), 38(1)(c)(iii) and 51(b)(iii) of the Public Finance Management
Act of 1999 was being taken very seriously by all accounting officers across
all government departments and also by all accounting authorities in public
entities, if so, (a) which departments were complying 100% with the notice
and which were not, and (b) what action has he or the Government in general
taken against those departments and officials that were in contempt of the
National Treasury prescription, if not, why not ?
NW4761E
REPLY:
(1) (a) There is evidence that National Treasury Instruction 01 of 2013/2014
related to the cost containment measures is being taken seriously by
accounting officers of departments. When comparing actual expenditure of
departments for the financial periods 2013/2014 and 2014/2015, it is clear
that a saving of R5 billion, which represents a saving of 20% was realised.
Savings in respect of constitutional institutions and public entities are not
available since these institutions use financial systems that are different to
that of departments and which the National Treasury does not have direct
access to.
(b) Non-compliance with the Treasury Instruction on Cost Containment shall
result in irregular expenditure. Section 38(1)(h)(iii) and section 51(1)(e)(iii) of
the PFMA requires accounting officers of departments and constitutional
institutions and accounting authorities of public entities to take effective and
appropriate disciplinary steps against any official(s) in the service of the
department, constitutional institution or public entity who makes or permits
irregular expenditure. Transgressions of the Treasury Instruction shall only be
known at institutional level and it is the responsibility of the respective
accounting officer or accounting authority to take the necessary action for
non-compliance with the Treasury Instruction.