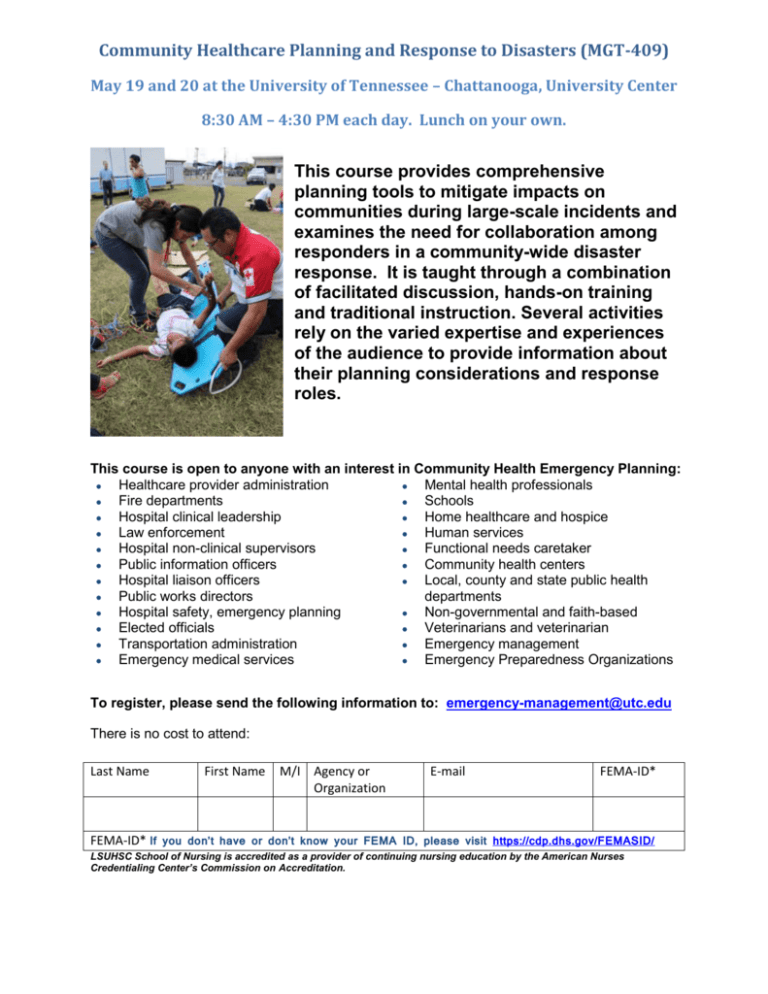 Community Healthcare Planning and Response to Disasters (MGT-409)
May 19 and 20 at the University of Tennessee – Chattanooga, University Center
8:30 AM – 4:30 PM each day. Lunch on your own.
This course provides comprehensive
planning tools to mitigate impacts on
communities during large-scale incidents and
examines the need for collaboration among
responders in a community-wide disaster
response. It is taught through a combination
of facilitated discussion, hands-on training
and traditional instruction. Several activities
rely on the varied expertise and experiences
of the audience to provide information about
their planning considerations and response
roles.
This course is open to anyone with an interest in Community Health Emergency Planning:

Healthcare provider administration

Mental health professionals

Fire departments

Schools

Hospital clinical leadership

Home healthcare and hospice

Law enforcement

Human services

Hospital non-clinical supervisors

Functional needs caretaker

Public information officers

Community health centers

Hospital liaison officers

Local, county and state public health

Public works directors
departments

Hospital safety, emergency planning

Non-governmental and faith-based

Elected officials

Veterinarians and veterinarian

Transportation administration

Emergency management

Emergency medical services

Emergency Preparedness Organizations
To register, please send the following information to: emergency-management@utc.edu
There is no cost to attend:
Last Name
First Name
M/I Agency or
Organization
E-mail
FEMA-ID*
FEMA-ID* If you don't have or don't know your FEMA ID, please visit https://cdp.dhs.gov/FEMASID/
LSUHSC School of Nursing is accredited as a provider of continuing nursing education by the American Nurses
Credentialing Center's Commission on Accreditation.