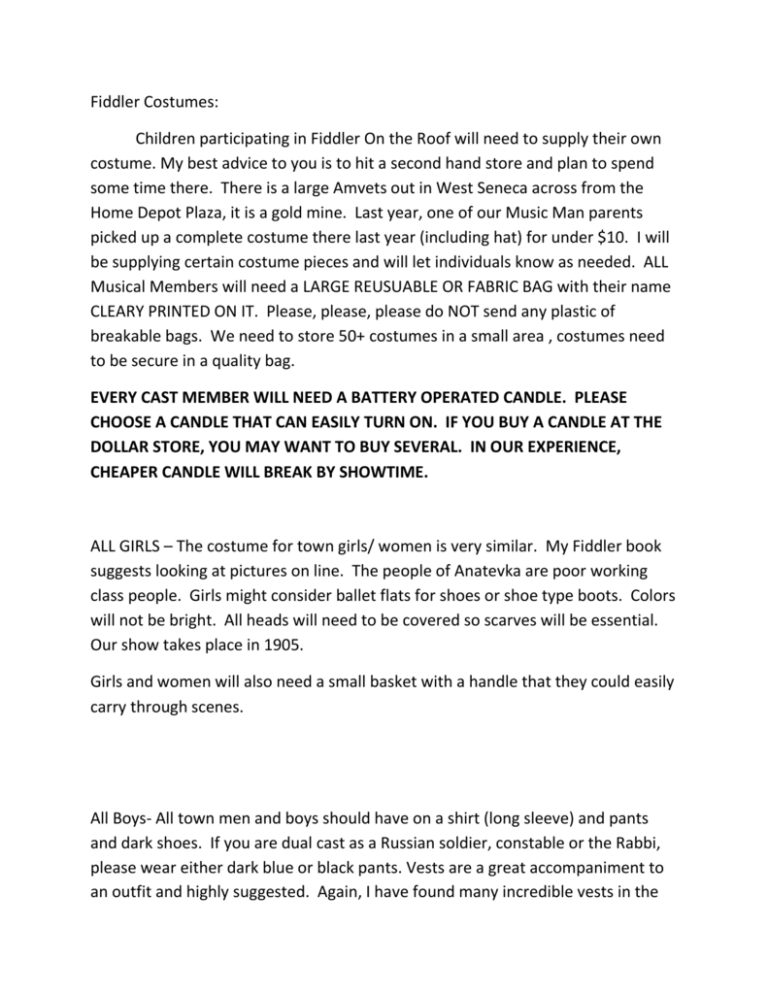 Fiddler Costumes:
Children participating in Fiddler On the Roof will need to supply their own
costume. My best advice to you is to hit a second hand store and plan to spend
some time there. There is a large Amvets out in West Seneca across from the
Home Depot Plaza, it is a gold mine. Last year, one of our Music Man parents
picked up a complete costume there last year (including hat) for under $10. I will
be supplying certain costume pieces and will let individuals know as needed. ALL
Musical Members will need a LARGE REUSUABLE OR FABRIC BAG with their name
CLEARY PRINTED ON IT. Please, please, please do NOT send any plastic of
breakable bags. We need to store 50+ costumes in a small area , costumes need
to be secure in a quality bag.
EVERY CAST MEMBER WILL NEED A BATTERY OPERATED CANDLE. PLEASE
CHOOSE A CANDLE THAT CAN EASILY TURN ON. IF YOU BUY A CANDLE AT THE
DOLLAR STORE, YOU MAY WANT TO BUY SEVERAL. IN OUR EXPERIENCE,
CHEAPER CANDLE WILL BREAK BY SHOWTIME.
ALL GIRLS – The costume for town girls/ women is very similar. My Fiddler book
suggests looking at pictures on line. The people of Anatevka are poor working
class people. Girls might consider ballet flats for shoes or shoe type boots. Colors
will not be bright. All heads will need to be covered so scarves will be essential.
Our show takes place in 1905.
Girls and women will also need a small basket with a handle that they could easily
carry through scenes.
All Boys- All town men and boys should have on a shirt (long sleeve) and pants
and dark shoes. If you are dual cast as a Russian soldier, constable or the Rabbi,
please wear either dark blue or black pants. Vests are a great accompaniment to
an outfit and highly suggested. Again, I have found many incredible vests in the
women's section of the second hand stores. Sometimes they fit the smaller boys
better and don't need much tweaking. All heads will need to be covered. Please
check out the hats from the Fiddle movie on line. The 'newsboy' type hat will
work. Costumes really do not need to match, the only exception to this might be
Lazar Wolf. Lazar is a slightly wealthy town man and his outfit may reflect this.
Please email Mrs. Darling if you have any questions about costumes.