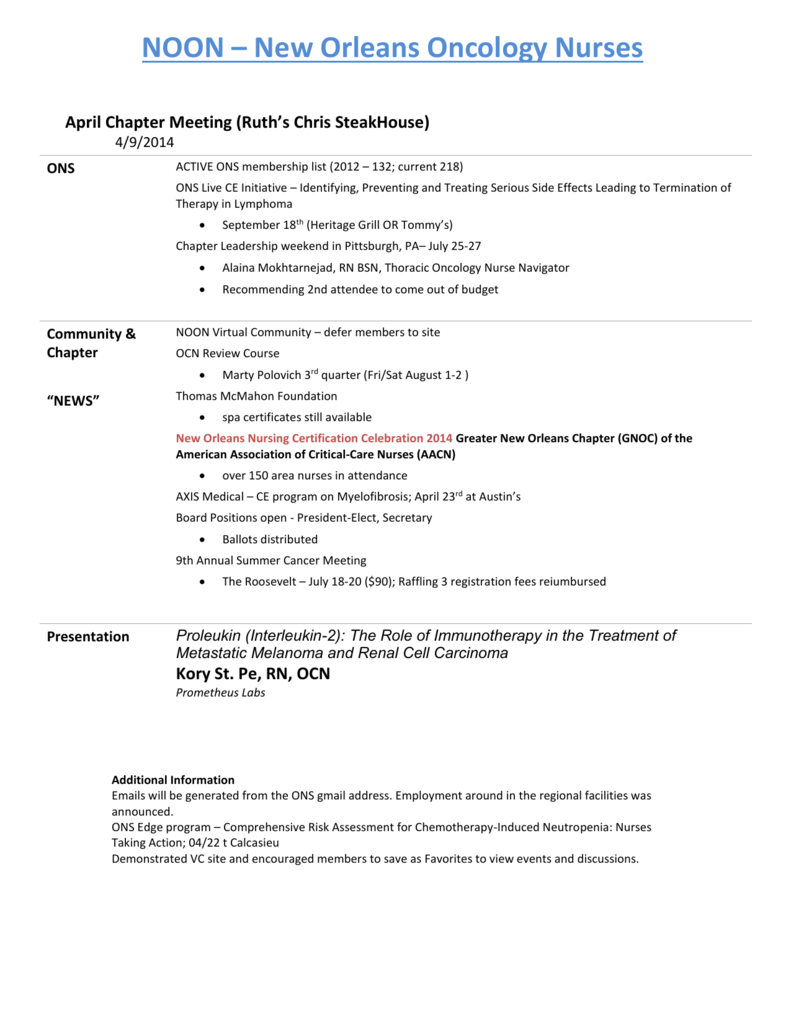 NOON – New Orleans Oncology Nurses
April Chapter Meeting (Ruth's Chris SteakHouse)
4/9/2014
ACTIVE ONS membership list (2012 – 132; current 218)
ONS
ONS Live CE Initiative – Identifying, Preventing and Treating Serious Side Effects Leading to Termination of
Therapy in Lymphoma

September 18th (Heritage Grill OR Tommy's)
Chapter Leadership weekend in Pittsburgh, PA– July 25-27
Community &
Chapter

Alaina Mokhtarnejad, RN BSN, Thoracic Oncology Nurse Navigator

Recommending 2nd attendee to come out of budget
NOON Virtual Community – defer members to site
OCN Review Course

Marty Polovich 3rd quarter (Fri/Sat August 1-2 )
Thomas McMahon Foundation
"NEWS"

spa certificates still available
New Orleans Nursing Certification Celebration 2014 Greater New Orleans Chapter (GNOC) of the
American Association of Critical-Care Nurses (AACN)

over 150 area nurses in attendance
AXIS Medical – CE program on Myelofibrosis; April 23rd at Austin's
Board Positions open - President-Elect, Secretary

Ballots distributed
9th Annual Summer Cancer Meeting

Presentation
The Roosevelt – July 18-20 ($90); Raffling 3 registration fees reiumbursed
Proleukin (Interleukin-2): The Role of Immunotherapy in the Treatment of
Metastatic Melanoma and Renal Cell Carcinoma
Kory St. Pe, RN, OCN
Prometheus Labs
Additional Information
Emails will be generated from the ONS gmail address. Employment around in the regional facilities was
announced.
ONS Edge program – Comprehensive Risk Assessment for Chemotherapy-Induced Neutropenia: Nurses
Taking Action; 04/22 t Calcasieu
Demonstrated VC site and encouraged members to save as Favorites to view events and discussions.